A record 7 million Americans have stopped paying their car loans, and even economists are surprised
This article by Tanza Loudenback for Business Insider may be of interest to subscribers. Here is a section:
The delinquency figure represents a new high in the auto-loan market — more than 1 million more people are behind on auto-loan payments now than at the end of 2010. More people have auto loans now than in 2010, so while the overall rate of delinquency is down, the total number of people who have fallen at least 90 days behind their payments is higher.

The Fed has been tracking the auto-loan industry for more than five years, the economists said in the blog post, and it's not the first time the group has sounded the alarm. In 2017, a quarterly report from the Fed highlighted the near doubling of the rate of delinquencies in subprime auto loans originated by auto-finance companies since 2011, Business Insider's Matt Turner reported.

Turner also reported at the time that Wall Street was expressing concern over the subprime-auto-loan market as well. Meanwhile, Business Insider's Lauren Lyons Cole reported that Americans borrowed more money to buy cars than to attend college between 2016 and 2017.
There are a couple of points that immediately come to mind on reading this article. The first is that the delinquency rate for auto loans is definitely climbing and number of auto loans outstanding has increased substantially.


However, the fact that it is mostly subprime borrowers that are falling behind on their payments and that the creditors are non-banks suggests this is a problem, but is unlikely to cause the kind of feedback loop into the broader financial system that the subprime mortgages problem did.
Credit conditions for consumers have tightened up considerably since the credit crisis with conventional banks being more disciplined. The fact that car loans and student debt, which generally have lower balances than houses, are the focus of attention today is a testament to the fact that lower income people do not have the financial resources to borrow more money not least because wealthy savers have been among the biggest beneficiaries of extraordinary monetary policy.
Today, the number of job openings exceeds the number of people available to work so it is unlikely the rising delinquency rate is ready to become a problem just yet.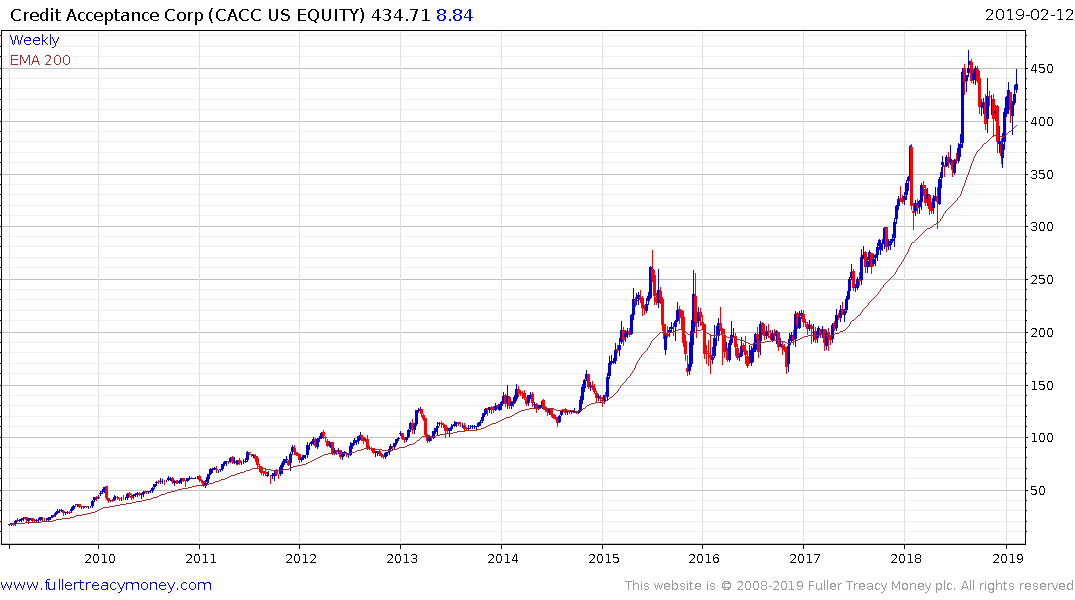 The car companies themselves are among the biggest auto lenders. Meanwhile, Credit Acceptance Corp is effectively a pureplay on the sector. The share (Est P/E 13.56, DY N/A) remains in a consistent uptrend. When that condition changes, we will have evidence the rising threat of delinquency is moving front and centre.
Back to top