A Dangerous Cyberattack On A Petrochemical Plant Could Be The First Of Many
This article from futurism may be of interest to subscribers. Here is a section:
You probably didn't hear about it at the time, but in August 2017, there was an attack on a petrochemical plant in Saudi Arabia. It was meant to cause a cascading explosion, experts determined. The only reason it didn't (and that you didn't already hear about it) is because there was a mistake in the assailant's code.

This may feel far away, but such an attack could have easily happened more locally. Russians are hacking the U.S. electric grid. The greatest fear is that they are able to access American nuclear plants, which could wreak devastation rarely seen on some of the country's most populated areas.

A new kind of attack has made its way into the world. And, frankly, it's terrifying.

Experts are learning a lot from this foiled attack in Saudi Arabia. The New York Times reports that the attack required a level of sophistication that shows the attackers had government backing, though the individual hackers and the country backing them are still unknown.
This attack failed because of a typo. That's not a comforting thought. The introduction of cyberattacks into the arsenal of sovereign states represents a major issue from the perspective of investors. That is particularly true because they are close to the perfect weapon. They have the ability to strike at the heart of an enemy's domestic architecture, require no loss of munitions or personnel, are comparatively cheap to deploy and for the most part are anonymous.
When trading Japanese shares, it is always advisable to have a stop, however loose, just in case a catastrophic earthquake strikes Tokyo. This story sets me to wondering about the risks in shorting oil contracts when there is a possibility that a refinery or other oil infrastructure could blow up at any time.
This article from GizMag earlier in the week discussing the work IBM is doing on encryption and cybersecurity. It suggests there is room for optimism but it can't come soon enough.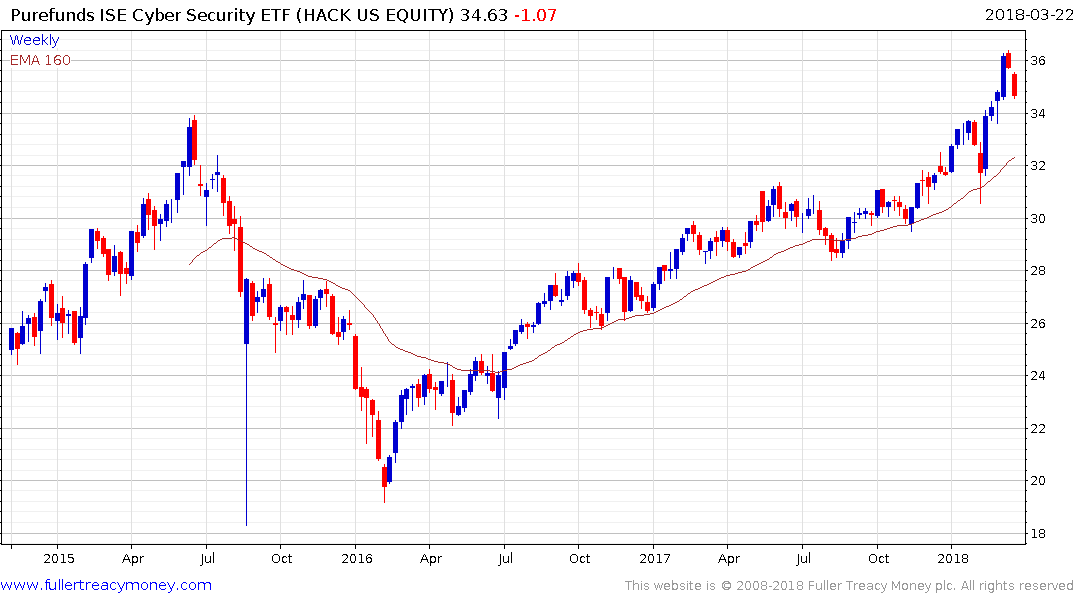 The ETFMG Prime Cyber Security ETF is currently somewhat overextended relative to the trend mean but a sustained move below $32 would be required to question medium-term scope for additional upside.
Back to top