A Chipmaker's Advice to the Auto Industry
This interview with the head of automotive at Global Foundries (ahead of the company's IPO) may be of interest to subscribers.
Fixing The Chip Crisis
It's been almost five months since the global chip shortage surfaced as a serious problem for the auto industry. Some experts say it could take a year before automakers emerge from this expensive supply-chain hell.

The consequences will last much longer as the pandemic forces car companies to rethink how they manage their supply chains. Lead times for automotive chips already were lengthening before Covid-19 lockdowns, as the auto industry became a bigger semiconductor customer than ever before. That's because systems that alert drivers when they drift out of a lane and better harness an EV battery require more data processing than yesterday's power windows and car radios.

I recently spoke with Mike Hogan, the head of automotive at Global Foundries, a chipmaker that has plants in the U.S., Europe, and Asia. Since autos consume just 10% of global chip production, car companies usually buy consumer electronics chips off the shelf. Hogan says that with electrification and autonomy transforming vehicles, automakers have to look more deeply into their supplier networks.

Here are excerpts from our discussion, edited for length and clarity:
Where are we now, is this going to get worse? When will the shortage ease?
The first wave of help [for automakers] is probably a third-quarter thing.

It's very hard to tell if there's a shortage hiding behind a worse shortage. Because auto is so diverse, there are so many different kinds of semiconductors that go in there — if the auto guys don't know what they need, how do they know they don't need something else that they don't see yet? That's the real concern.

So I think it could be very lumpy trying to get out of this. Is that unique to the auto guys — versus someone who makes a smartphone or an iPad?

The folks who make smartphones, they don't outsource the design to a bunch of people. They tightly control everything that goes in that smartphone. Even to the point where they say, 'Look, Global Foundries, I want to make sure it's there, so I'll prepay for it, I will reserve the capacity. If I don't take it on the day, you thought I was showing up, it doesn't go anywhere because we've already pre-paid.'
People often talk about how making cars is such a low-margin business, it has to be done this way.

Do you think that's true?
If you can't build a $50,000 car and ship it and put all those people to work because you don't have $15 worth of semiconductors...I think it's time to shift that and say, 'No, we're the auto market, we have very unique needs, we need an architectural approach to building our cars, we don't need to
buy retail off-the-shelf stuff.' Then you have the real conversation ahead of time, versus, 'Hey you don't know me but I'm out of chips and it's your fault buddy.'

Is that starting to happen?
There are a lot of good, smart people in auto that have seen this. This is the moment that gives that cohort within those companies the voice to say, 'This is exactly why we needed to think different.' I think you'll see more of this direct relationship between autos and semiconductors.

Can chip factories in the U.S. compete with lower-cost producers in Asia?
We built a factory from the ground up in upstate New York. It cost billions, but there's over 3,000 people working there. Are those 3,000 people getting paid a little more than the 3,000 people in Korea? Yeah, probably. But if you build enough wafers, it's still very competitive. Part of this might be tilting some advantage for folks to use the domestic supply that we create, but that's how it is everywhere in the world.

The global automotive sector is totally reliant on just in time sourcing of materials and components. They don't hold inventory and are used to squeezing suppliers so they don't have to. As they stray into the world of technology where there is competition for supply, they will have no choice but to compete. That means investing in additional supply and paying upfront.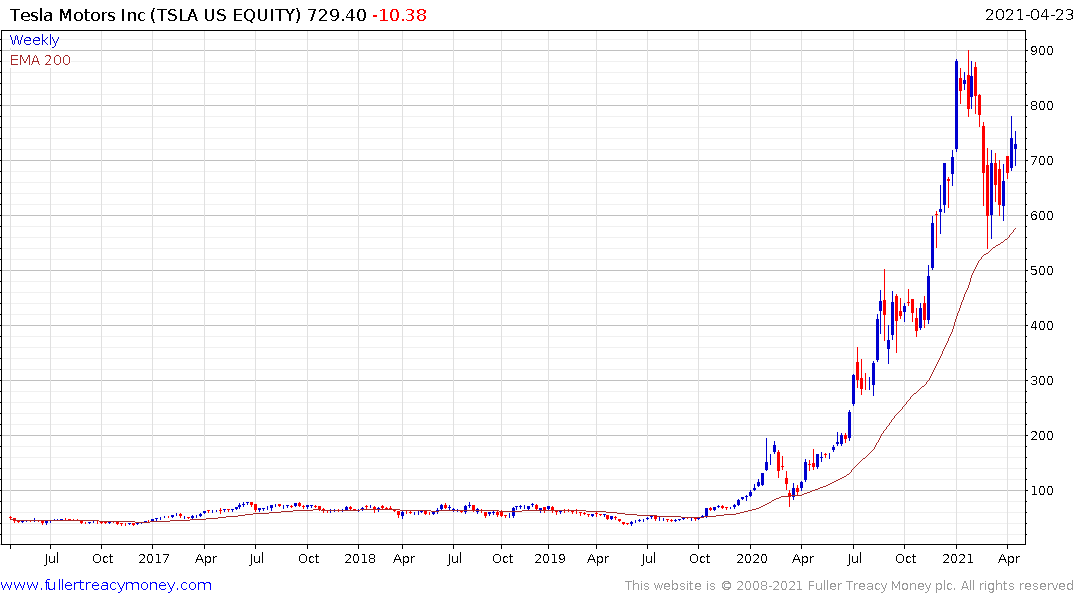 Tesla is investing in lithium mines, battery manufacturing capacity and designs its own chips. The conventional automotive companies have a long way to go to match that commitment to ensuring an ability to grow capacity. Of course, Tesla is going from a standing start so they needed to build the necessary infrastructure to feed demand but as conventional automakers attempt to follow suit, they will need to pursue more capital investment to compete.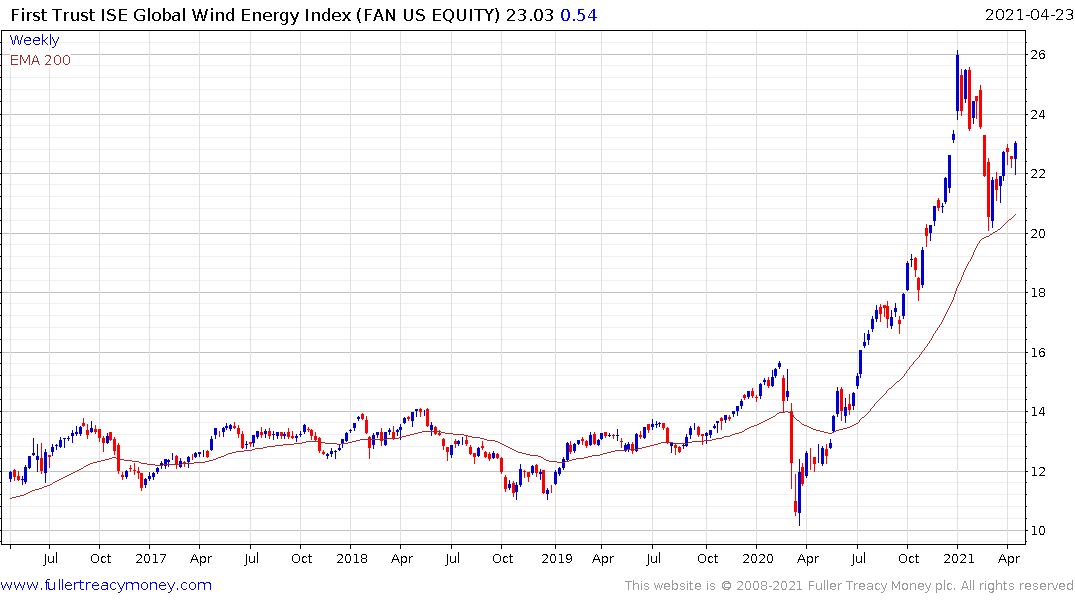 Retooling a massive global sector is both expensive and requires massive quantities of raw materials. This transition is also not occurring in isolation. The build out of wind turbines requires approximately 8 tonnes of copper for every 2.5-3MW turbine for example.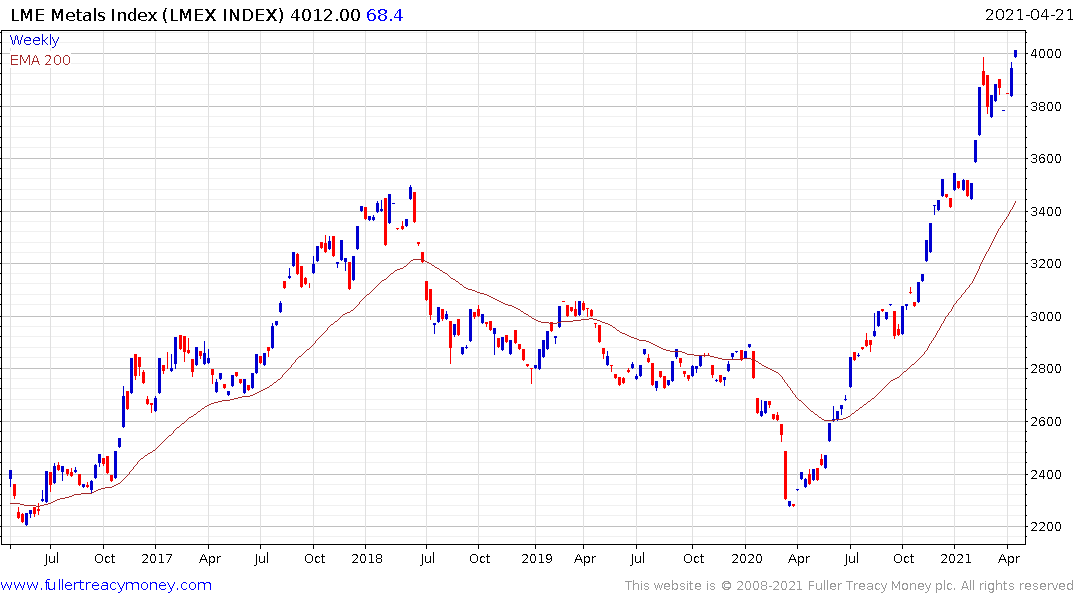 The London Metals Index remains on a recovery trajectory as a result.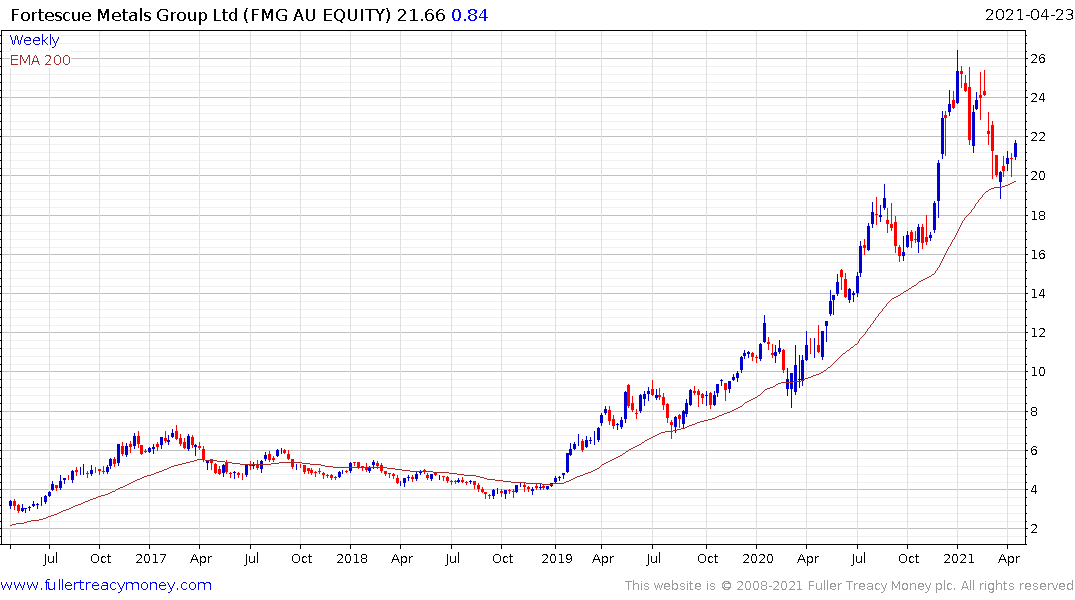 The majority of hydrogen shares also rose today because the USA pledged to drop production costs by 80% before 2030. That's a massive tailwind for the sector's growth prospects. Here is a link to the Chart Library section for hydrogen shares. http://chart.fullertreacymoney.com/chart_listings/group/582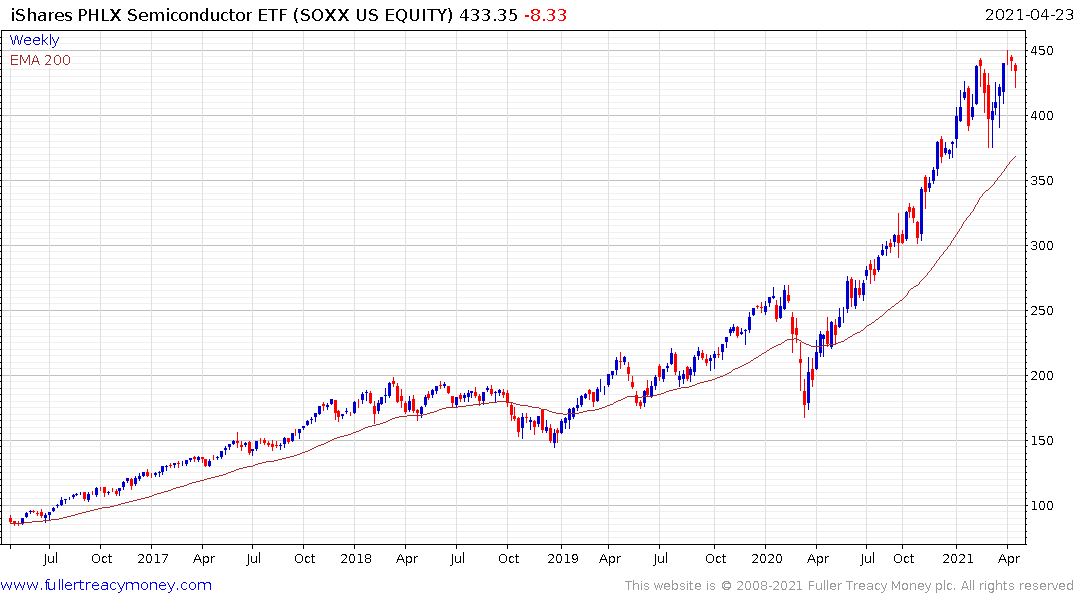 The Philadelphia Semiconductors Index continues to hold in the region of the February peaks and firmed from the recent lows in an impressive manner this week.
Back to top