A $4 Trillion Reason for China's Smaller Banks to Worry
This article by Nisha Gopalan for Bloomberg may be of interest to subscribers. Here is a section:
But two things look clear: The WMP market's years of torrid growth have ended; and in an environment of higher risk, investors will prefer products sold by large state-owned lenders that are seen to be safer and of better quality.

That will put pressure on smaller banks, which have limited scope to increase lending. Minsheng, China CITIC Bank Corp., Ping An Bank Co. and China Everbright Bank Co. all had loan-to- deposit ratios exceeding 90 percent as of the third quarter, according to Francis Chan of Bloomberg Intelligence -- much higher than their bigger rivals. Shares of Minsheng and CITIC Bank have fallen in Hong Kong this year, while ICBC has jumped 27 percent.

A reckoning is approaching. As with all measures to rein in China's debt, the WMP clampdown is likely to be a stop-go process. But smaller banks will need to start looking for another source of growth, and fast.
Many of the smaller banks which have been most profligate in the use of wealth management products (WMP) are not listed. That represents a challenge in monitoring any issues they encounter using conventional stock market analysis of relative strength and leadership.
Citic Bank and Minsheng are not small banks although they do have more autonomy than the very large state-owned lenders like ICBC and Bank of China.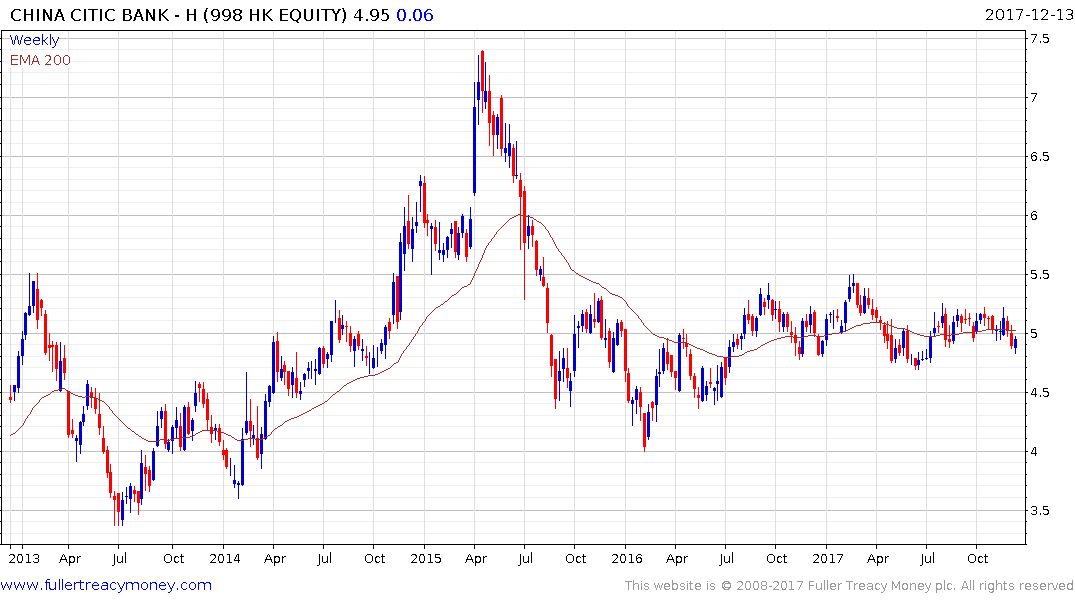 Citic Bank has been ranging for more than a year and is currently steadying from the lower boundary.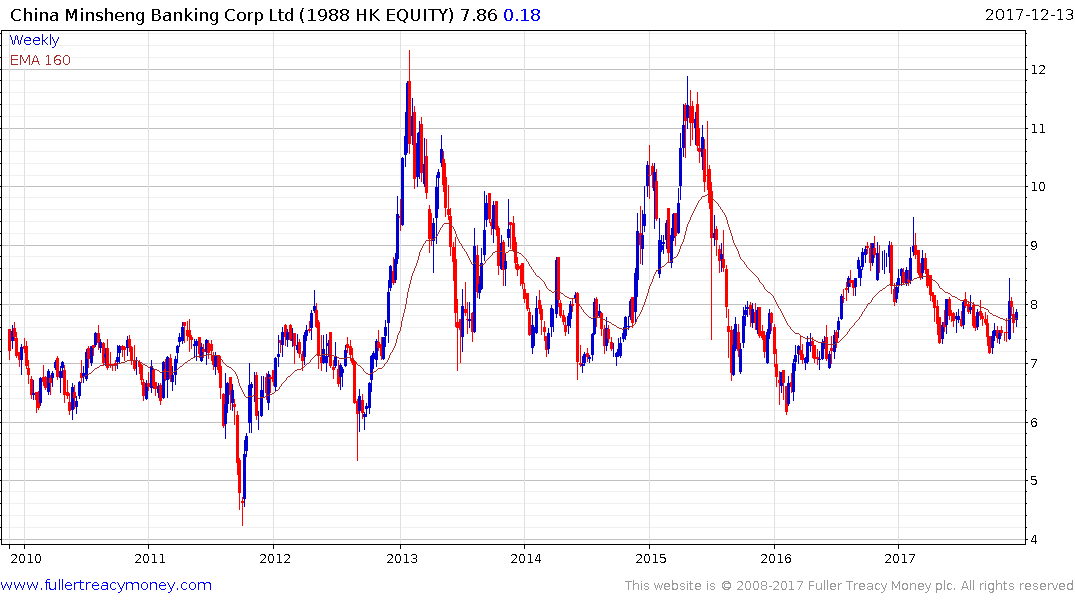 Minsheng rallied impressively in late November on news of tightening regulation on smaller lenders and firmed last week from the HK$7.50 to confirm a low of at least near-term significance.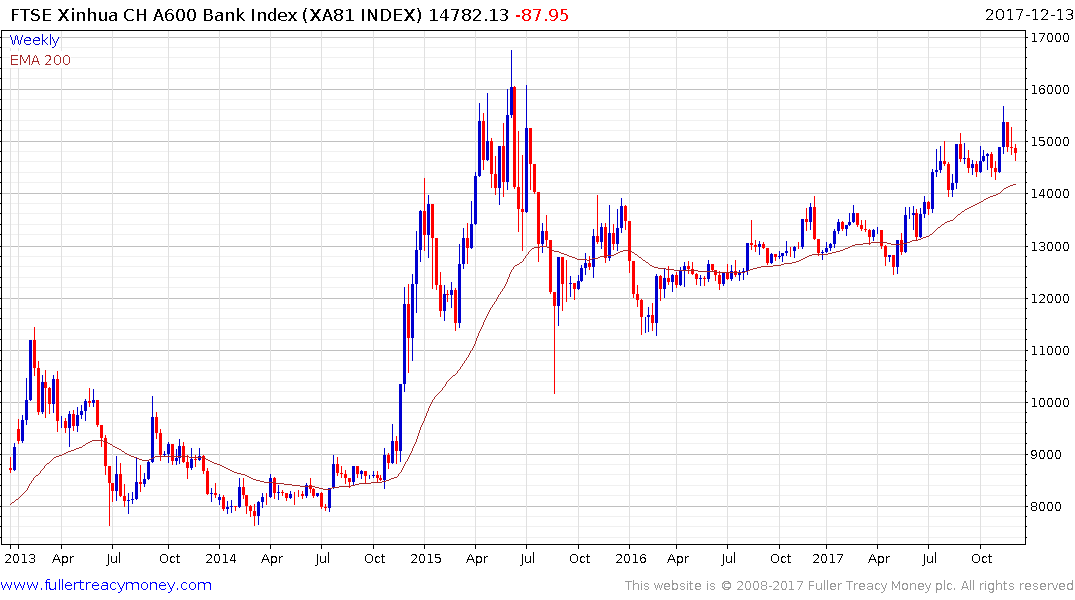 Meanwhile the FTSE/Xinhua A600 Banks Index has eased back following the late November surge and will need to hold the 14,500 area, if continued higher to lateral ranging is to be given the benefit of the doubt.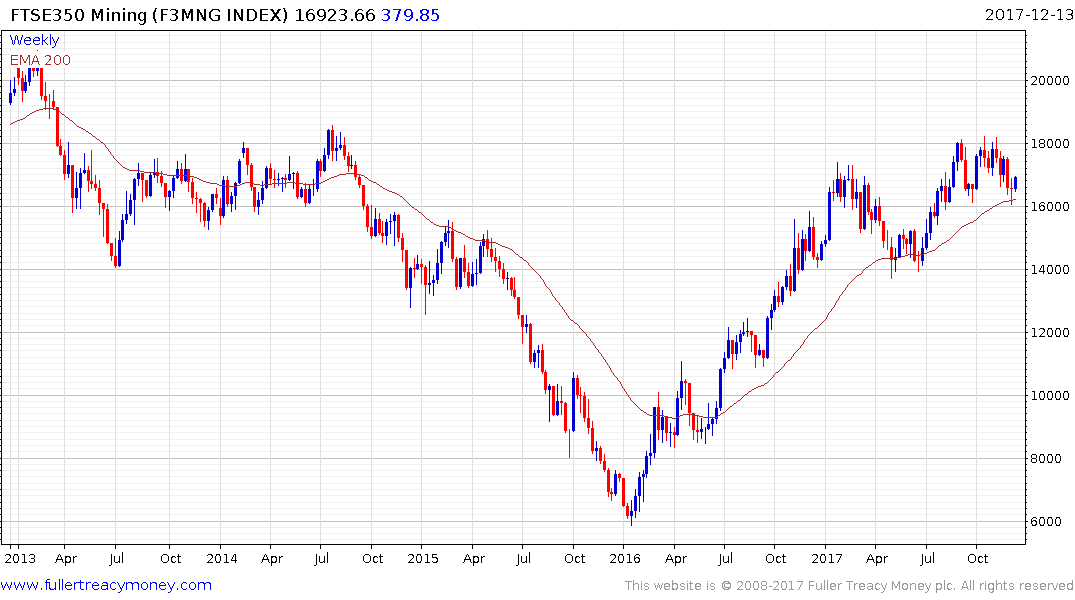 I believe the FTSE-350 Mining Index is a reasonable barometer for risk in the Chinese market since any curtailment in access to credit among regional banks would likely cause a slowdown in infrastructure development and would impact the miners depending on Chinese exports.
The Index continues to bounce from the region of the trend mean.
Back to top