Baidu Invites China's Cybercops to Label, Rebut Fake News
This article from Bloomberg News may be of interest to subscribers. Here is a section:
The platform links 372 police agencies who will use sophisticated artificial intelligence-driven tools to monitor and respond to fake news, blogposts and other items across about a dozen Baidu services, including the popular search engine, the official Xinhua News Agency reported. More than 600 organizations and experts in different areas will be enlisted to weigh in on their respective fields, according to an email sent by Baidu. They included official organs such as the Chinese Academy of Social Sciences, as well as media outfits such as Shanghai United Media Group and Caijing.

Internet giants from Facebook Inc. to Twitter Inc. are struggling to deal with a proliferation of spurious news articles across social media services. Baidu's approach allows the Chinese government to intervene directly and write articles in rebuttal. Items that its system decides are fake will be clearly labeled a "rumor" at the very top of search results, alongside an explanation penned by the relevant agency or organization, according to a sample page Baidu provided.
One of the reasons companies like Alphabet and Facebook cannot gain access to China's market is because they are unwilling to acquiesce to the demands the central government makes in terms of unfettered access to user data. Domestic Chinese companies do not have the luxury of choice.
As the Communist Party Congress gears up speculation is mounting about what it is all going to mean for various parts of the economy. Xi has been proclaiming his belief in Marxism and with continued revelations about Russia's tampering with the integrity of the USA's media content, China is likely to continue to tighten its grip on the internet.
That suggests the only kind of news, fake or otherwise, that will be tolerated will be government sanctioned.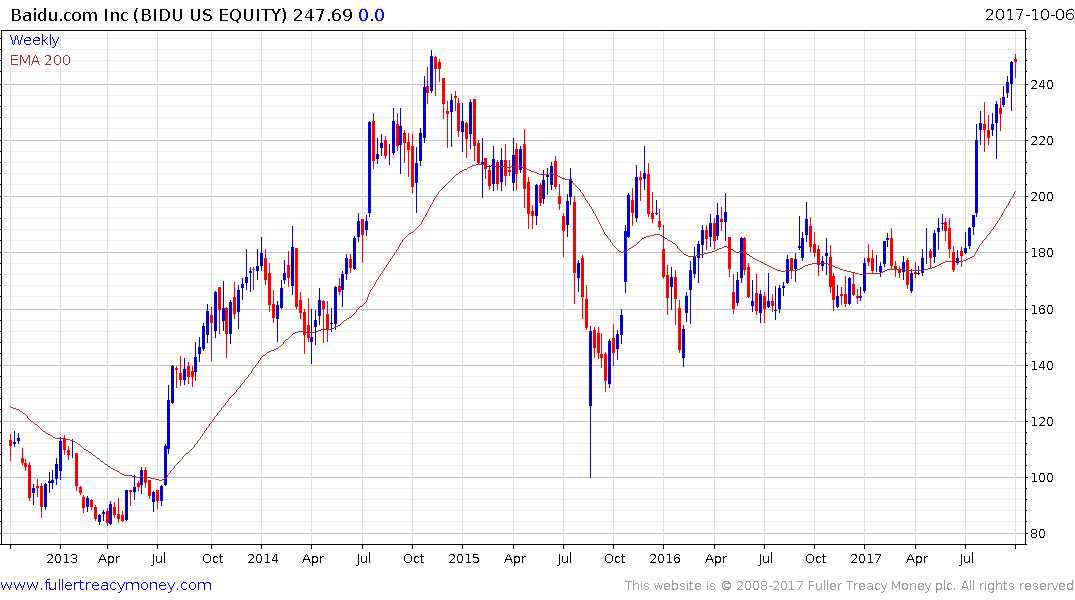 Baidu is now testing its 2015 peak near $350 and some consolidation of the recent powerful gain is underway. However, a sustained move below the trend mean would be required to question medium-term scope for additional upside.
Back to top