5G, Royalties, Chip Mix Turn Qualcomm to Growth
This note focusing on Qualcomm and 5G may be of interest to subscribers. Here is a section:


THESIS: A strong position in 5G chips, coupled with expanded royalties, may position Qualcomm for sales and EPS growth in fiscal 2020. Higher-priced 5G handsets aid its royalty business, while increased use of its advanced 5G chips will drive up chip content and average prices. This content is further enhanced by a wider portfolio of radio-frequency chip offerings. The company is set up to gain from a richer 5G handset mix and pricing, as well as a higher-end chip mix and content expansion of its own portfolio. Royalty mix aids margin, expanding EPS faster than sales. A softer, slower global 5G ramp up, especially outside China, is the key risk.
Speed and lag are two of the biggest obstacles to moving more of the global economy online. 5G is up to 100 times faster than 4G and removes lag from the equation. China switched on a national 5G network earlier this month and the majority of major economies plan to move to full roll out in 2020. Samsung and some Chinese companies are producing 5G phones but the number of models on offer will also significantly increase in 2020.
Google's Stadia gaming product has just launched but is designed to be fully functional with 5G because playing online games is difficult when there is a lag between commands and action on the screen, particularly in a competitive setting.
The first remote control surgery from a fully remote site has also been completed in China over the last month. That is also something that would have been impossible without solving for lag.
The creation of a 5G overlay on 4G networks is going to create a whole additional sector delivering supercomputer and server farm capabilities to our cars and handsets. The biggest benefit will likely rest with connected vehicles and the potential for traffic control and autonomous driving.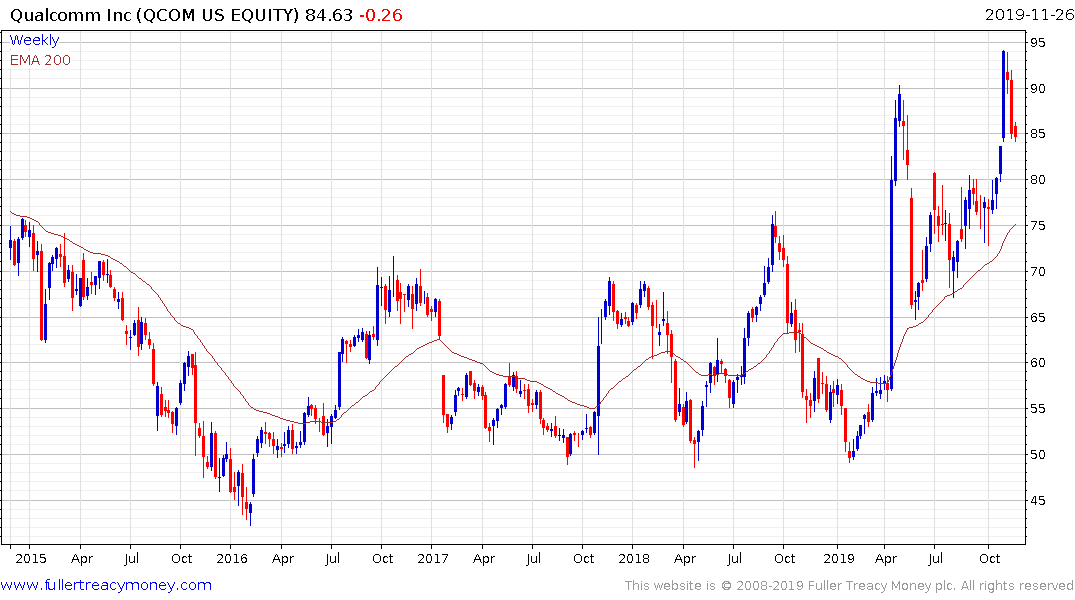 Qualcomm has been subject to a great deal of volatility because it has had to litigate to protect its intellectual property and pricing model. The share is currently unwinding a short-term overbought condition but a sustained move below $75 would be required to question medium-term for continued upside.
Back to top