5 Things You Should Know About Trends Investing
This report from Robeco champions the idea of thematic investing and betting on leaders. Here is a section on intangible assets:
Among the business models that are gaining in prominence are the ones that rely on intangible assets – such as intellectual property or reputation – and such models are valued the most by the market. This stands in stark contrast to firms than mostly own tangible assets – whether these are machinery, buildings or land. If we look at the S&P 500's market value, we see that the share of intangible components in company value has grown from 17% in 1975 to 84% in 2015.

Of the intangible assets, the ones with intellectual capital and consumer trust take center stage as the most valuable. The ability to offer customized and even personalized products and services is becoming a more important way to gain a competitive advantage. Companies that have access to intellectual property such as patents, copyrights and trademarks, as well as software source codes, are well positioned. This is typical for sectors such as biotech, technology and pharmaceuticals.

Networked businesses such as digital networks and digital marketplaces are well positioned, too. This is because a business model involving value networks – those that facilitate commercial and/or social interaction – has proven to be the most disruptive. Examples are virtual marketplaces and peer-to-peer networks and those that rely on the collaborative use of assets as agents of the 'sharing economy'. These value networks are found primarily in asset-light, information-heavy industries: information technology, financials, media and retailing. These business models have already been successfully rolled out – Skype in telecommunications, PayPal in financial services, Amazon in retailing, Airbnb in lodging and Uber in transportation. And, they have disrupted the existing industries.

Networked businesses and other ventures with intangible and digital assets tend to have a winning business model. Industries with physical assets – buildings, machinery or land – that can either be digitized, digitally knit together into a network or both, are vulnerable to disruption.
Here is a link to the full report.

Thematic investing, identifying leadership and deploying a trending identification and trending running strategy is what this service is dedicated to. It has been a niche area of the study for decades but is increasingly gaining traction with investors. The evolution of the most successful companies in the world is clearly based upon their technological prowess and dominance of the benefits delivered from connectivity and data management. That has occurred despite their dominance of different sectors of the market. The only way to explain that is through using themes as a narrative.
Data is an intangible and yet it is now the most valuable of all commodities. The fact that data companies now occupy positions of dominance in the major indices, supplanting energy and banking is a testament to the money-making potential of data businesses. One of the clearest trends in the market over the last couple of years has been the differentiation between investor support for intangible valuations for data companies versus those for industrials and consumer companies.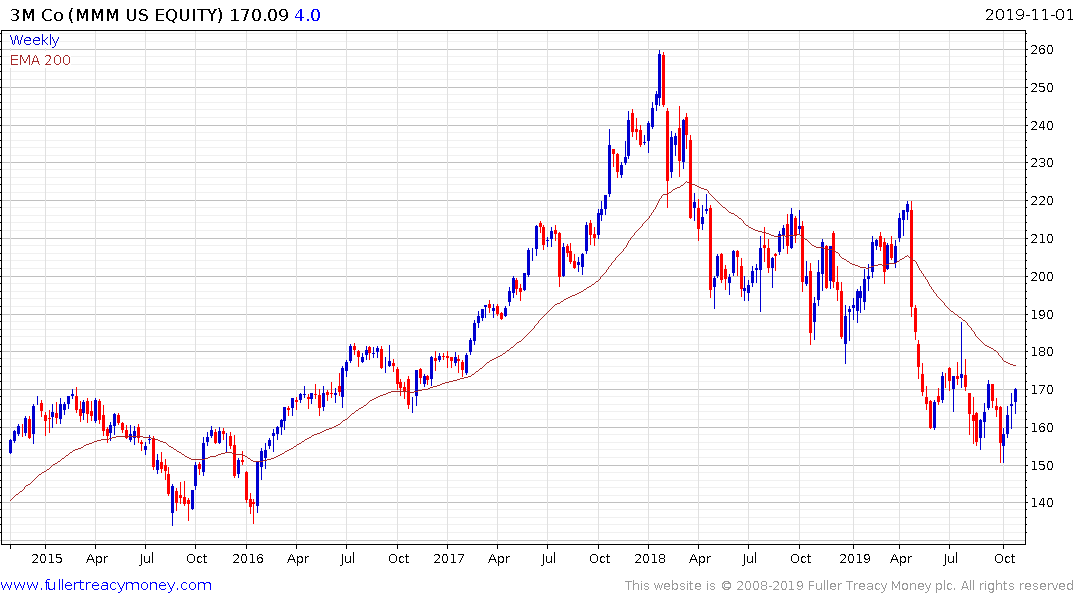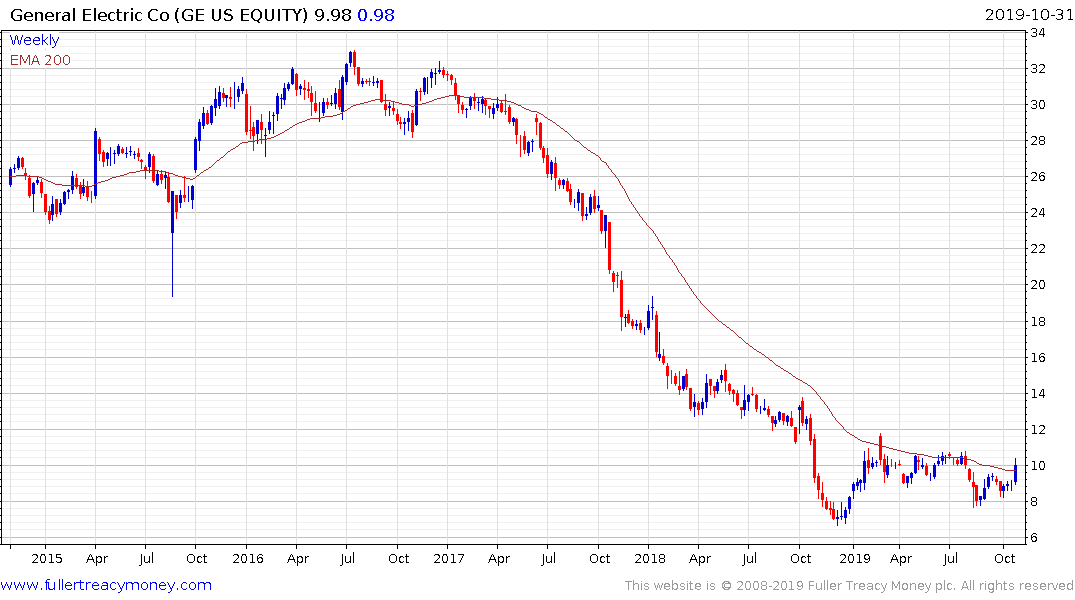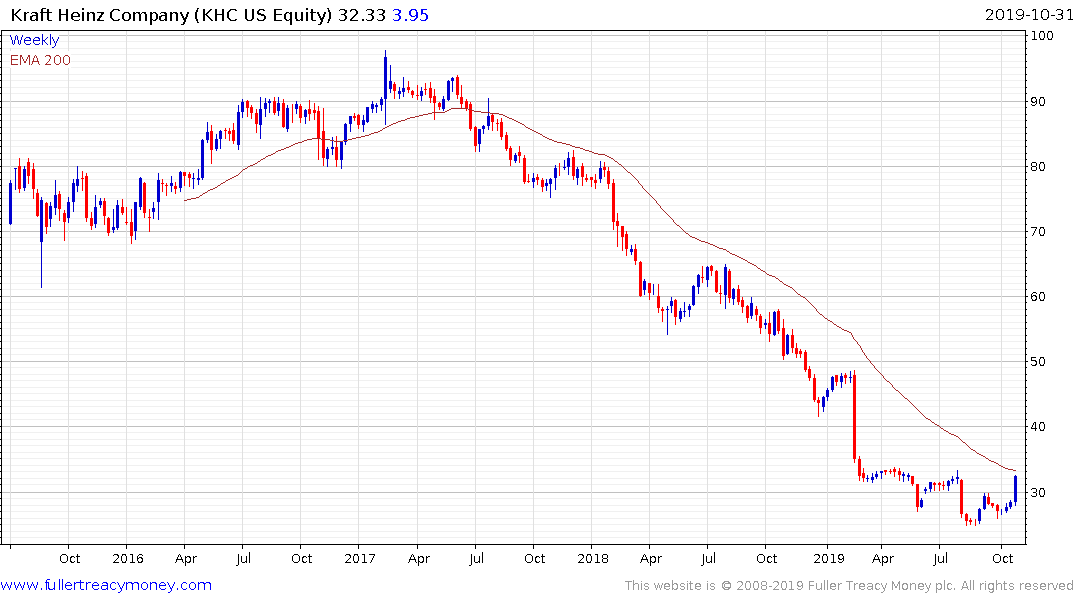 Companies like Kraft Heinz, 3M, GE have experienced significant declines over the last couple of years but there are increasing signs they are coming towards the end of that valuation contraction process.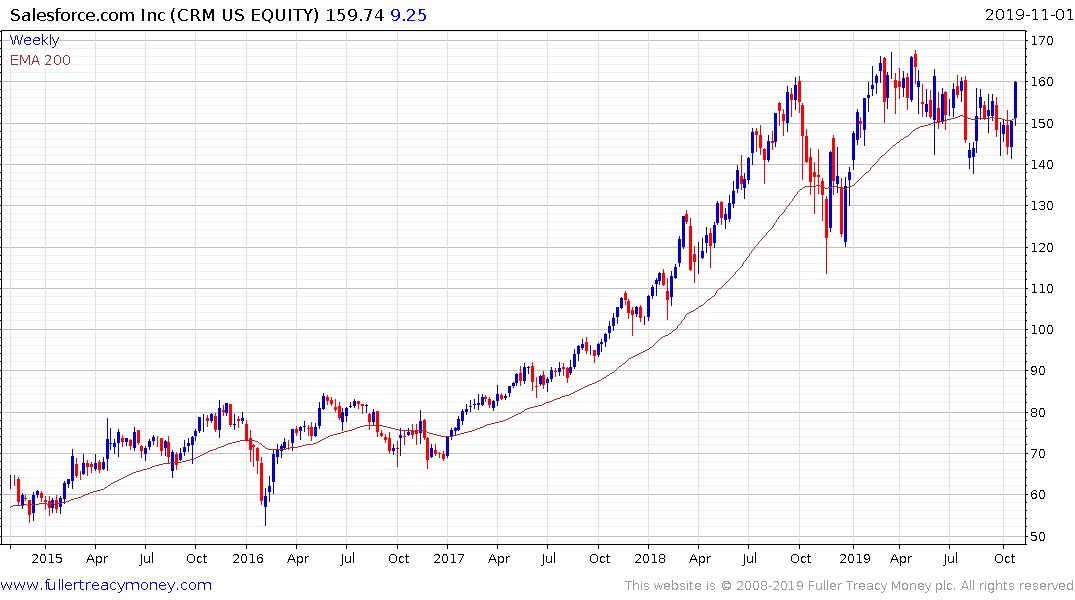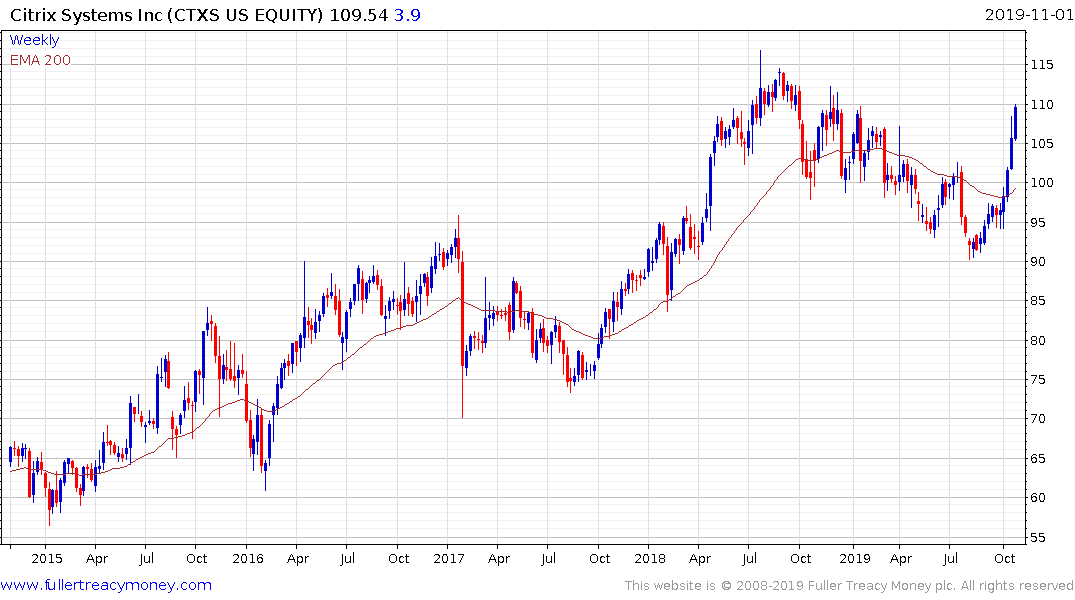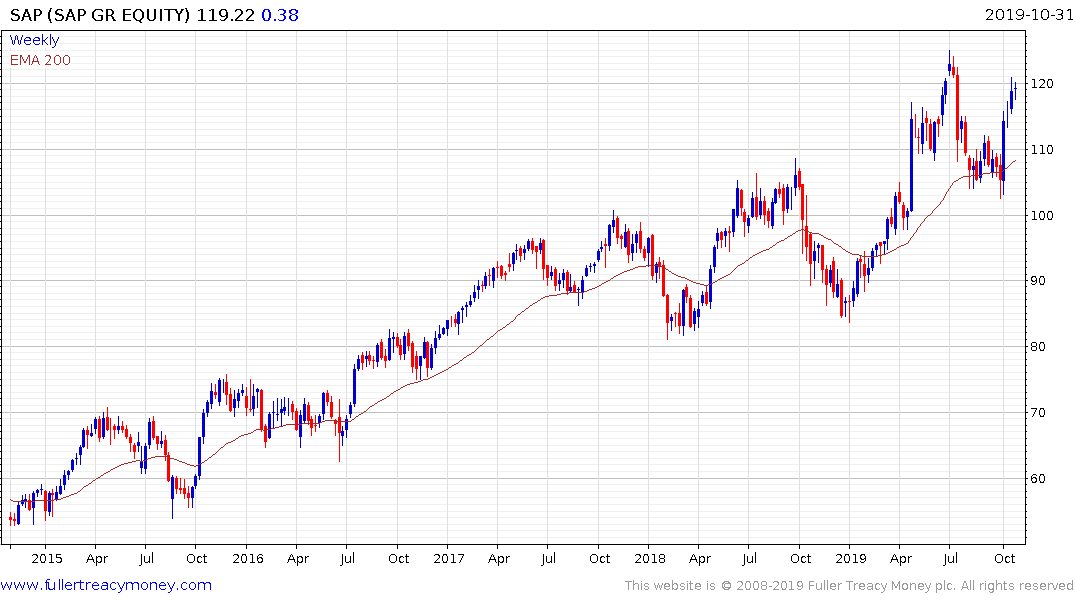 Concurrently, companies like Salesforce, Citrix Systems and SAP are firming from their respective trend means and continues to trend consistently higher.
The return to performance of leaders and the nascent recovery in laggards together suggest the breakouts to new highs can be both sustained and extended on the major indices.
Back to top