3D Systems targets families with sub-$1,000 3D printer
This article by Nick Lavars for GizMag may be of interest to subscribers. Here is a section:
The company is emphasizing the Cube 3's appeal as a 3D printer for the family home, its website stating the device is recommended for children over eight years of age. This is complimented by the companion smartphone app (iOS, Android and Windows compatible), which lets users browse through other people's designs or connect to the Cubify online platform that features dozens of pre-designed objects, such as bottle-openers, dinosaur fossils and NBA figurines, and then print them remotely via the printer's built-in Wi-Fi 802.11b/g.

3D Systems also announced its high-end 3D printing solution, the Cube Pro. Geared toward the more professional end of the market, the device is capable of printing objects a considerable 10.75 x 10.75 x 9.5 in (27.3 x 27.3 x 24.1 cm) in size and three colors simultaneously.
This additional article highlighting Stratasys' newest models may also be of interest.
Since a 3-D printer is only as good as the 3-D data that it receives, the advances being made in optics and scanning are no less important than the printing technology detailed in the above articles. This article focusing on 3-D Systems' scanner plug-in for the iPad caught my attention.
When I first began looking at 3-D printers a few years ago, they cost in the region of $25000. Since then the products on offer have improved significantly, become considerably more user friendly and the prices have collapsed so that printers are on the cusp of entering the consumer market. The revolution in 3-D scanners has led this advance with the X-Box gaming system giving widespread access to a swathe of new developers which has helped push the boundaries of innovation.
While 3-D printing is an exciting sector on its own, the confluence of advances in materials science, nanotechnology, biotechnology and genetics is where the capacity of innovation fuelling innovation takes on a truly exponential growth curve. At present 3-D printing is concerned mostly with additive manufacturing of industrial products and customised consumer goods such as jewellery. However, it is conceivable that as the technology advances, we are entering a phase where customised genetic sequences will be printed which opens up potential in limb replacement, vaccines and weapons.
While it is easy to be apprehensive at the potential of new technology to displace jobs, the future appears to be one where the limits on imagination becoming reality are progressively being broken down, so that human creativity can be unleashed as never before. From an investor's perspective, this represents massive future productivity growth potential, but our focus must remain rooted in the present, the consistency of trends and the influence of monetary policy. These factors are worth remembering as we access the overextended but still intact uptrends of 3-D printing shares.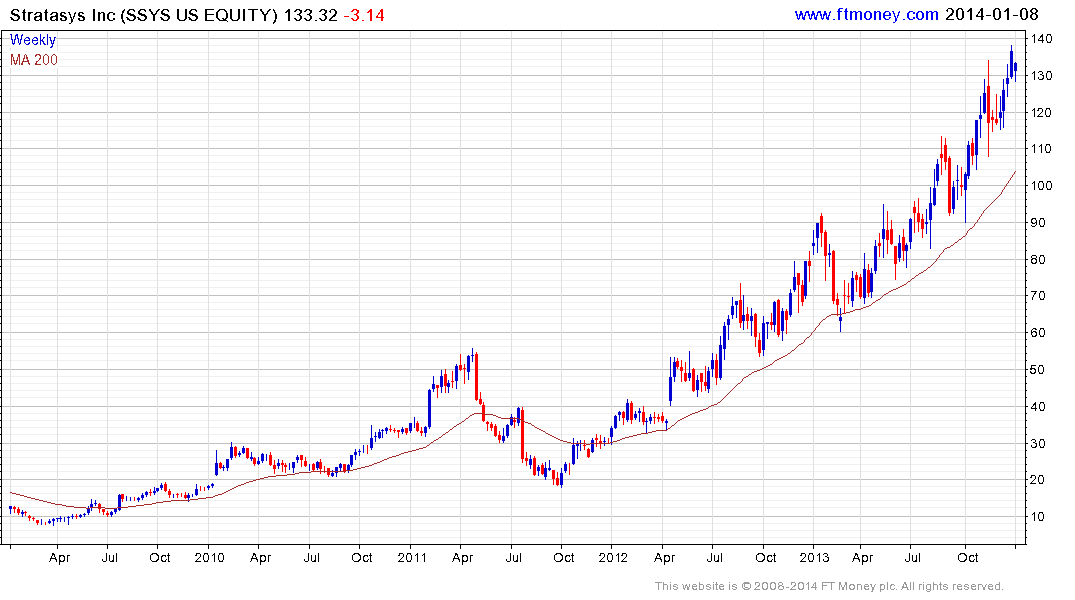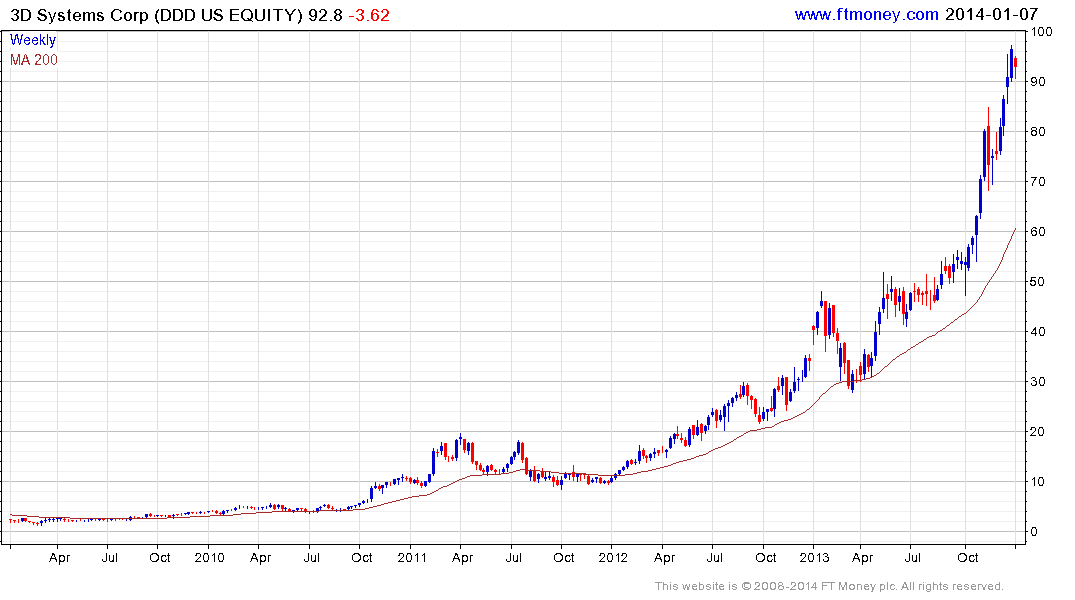 Back to top