3D Systems, ExOne Rally After Stifel Sees 3D Printing Growth
This article by Ryan Vlastelica for Bloomberg may be of interest. Here is a section:


Shares of 3D printing companies rose on Tuesday, extending their recent gains, after Stifel started
research coverage on the group with a broadly positive view.

* The firm issued buy ratings on ExOne, Stratasys and Desktop Metal
** XONE up 11%, SSYS up 7%, DM up 3.2%
* Analyst Noelle Dilts wrote that XONE is "well-positioned to benefit from increased adoption of 3D printing technology for industrial end part production," while DM should be supported by "a dramatic increase in the use of 3D printing for end-use part production" over the coming decade
** PT $20 for XONE, $30 for DM
* On SSYS, Stifel wrote that it's in a "mature position where it can leverage its existing infrastructure" for further growth
** The company is working to be the first choice in the polymer 3D printing marketplace, which is "expected to more than double by 2025"
Veteran subscriber might remember the initial hoopla about the promise of 3D printers in 2012 and 2013. A large number of startups entered the market on the expectation that additive manufacturing creates better materials with fewer imperfections, that it would lead to mass production as economies of scale improved and that the potential for reshoring was vastly improved by the largely automated technology.
Seven years on the sector has experienced massive consolidation. There are really only three pureplays today and all experienced crushing declines and lengthy base formations. The price of 3D printers has collapsed and they are now more available. However, the speed of manufacturing is still slow so the sector has been limited to hobbyists and precision manufacturers. Meanwhile there has significant innovation in the evolution of new materials.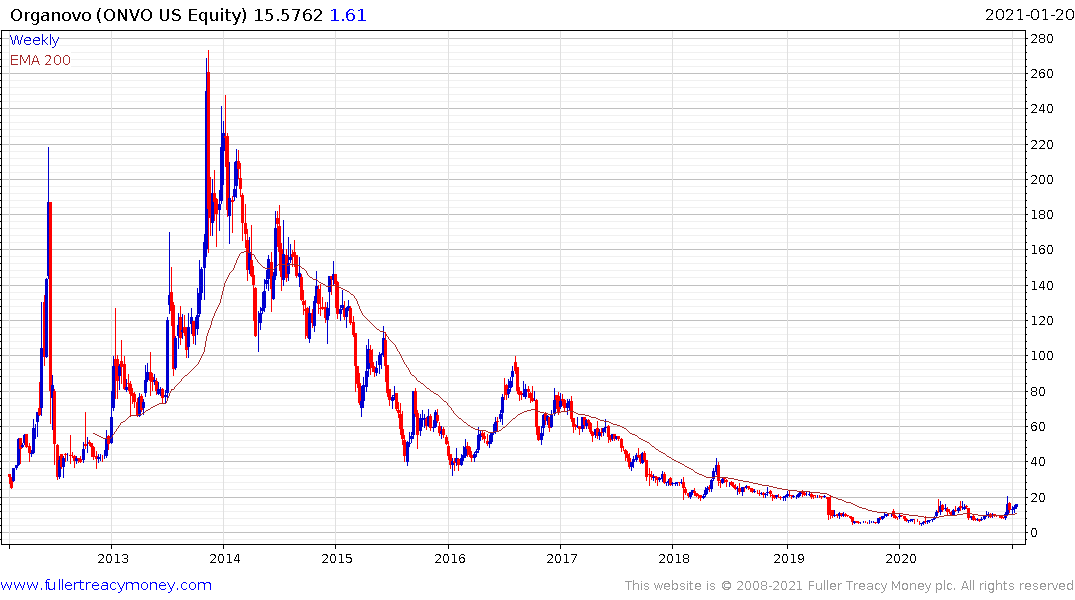 Perhaps the biggest market opportunity for additive manufacturing is in healthcare. Everything from organs to food can be printed from scratch. The big question, however, remains how long it takes to complete.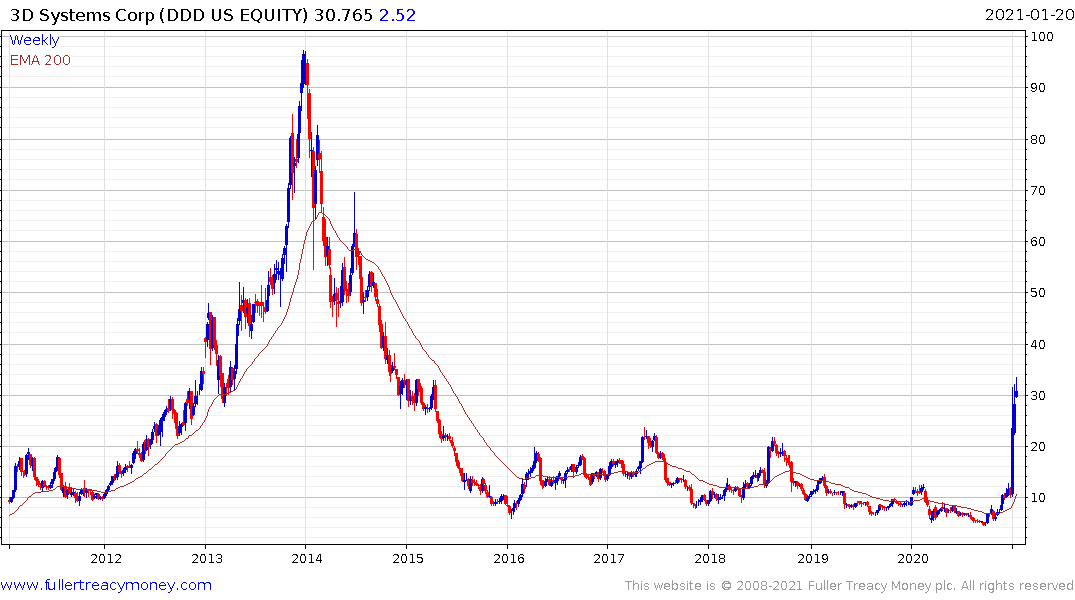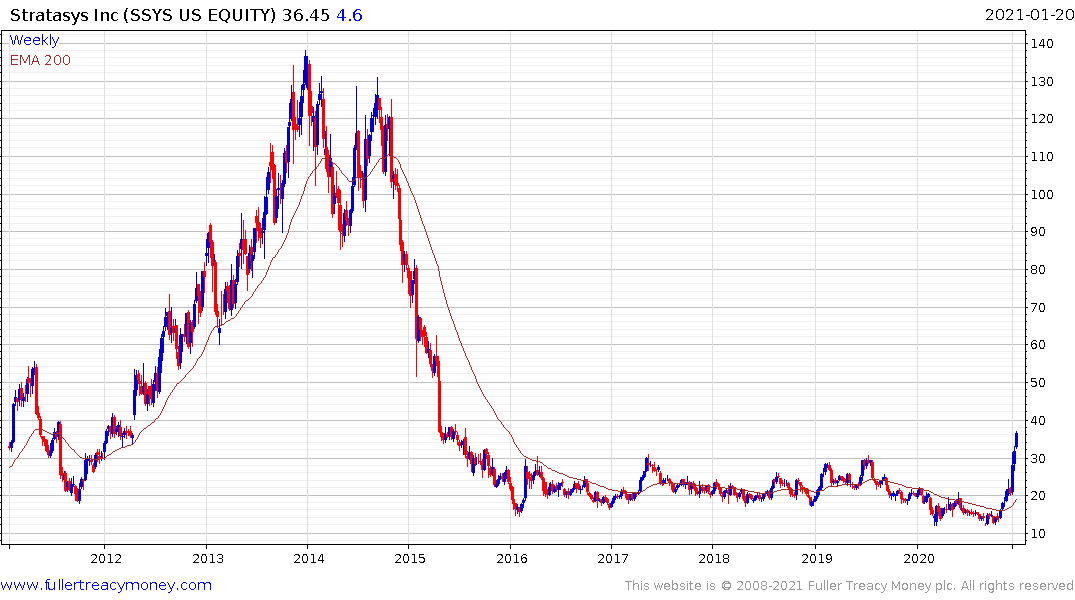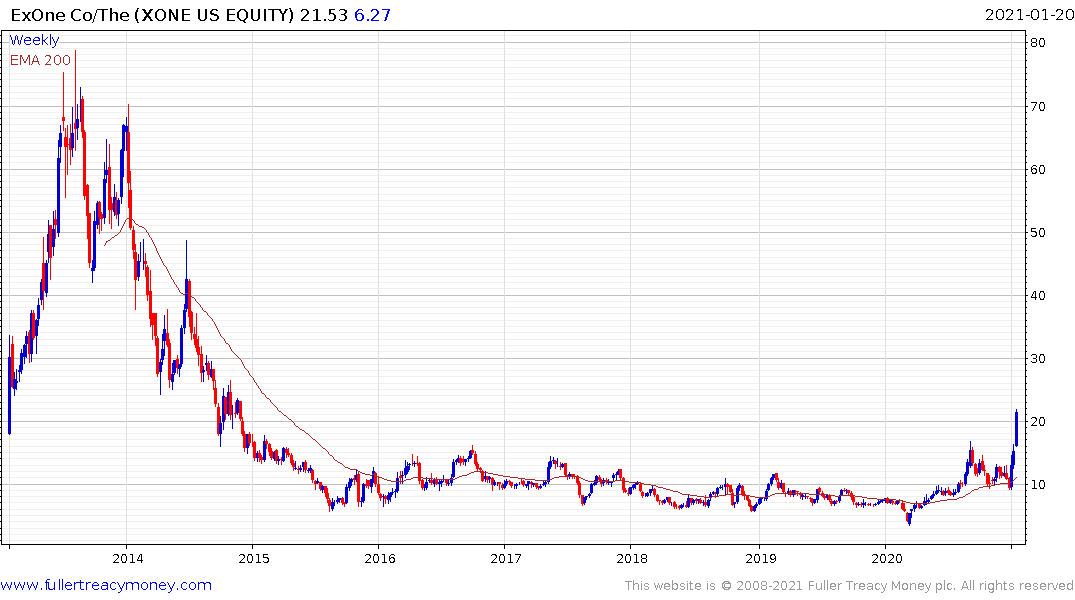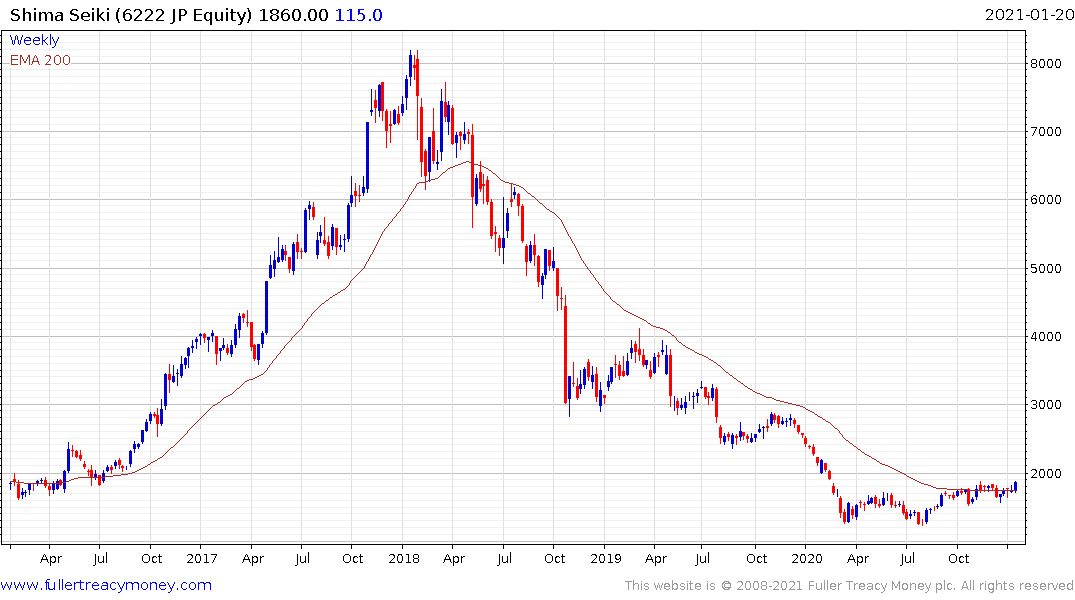 ARK investments has been taking positions in the sector for its innovation ETF. Together with more bullish analyst recommendations, the sector has completed its base formation in the last week.
Here is a link to the industrial automation section of the Chart Library.
Back to top