2019-nCoV Acute Respiratory Disease Response
This report from McKinsey & Company may be of interest to subscribers. Here is a section:
Leading indicators to monitor

Situation: Confirmation of sustained transmission outside of China
Implication: Most cases outside China have been linked to recent travelers. If evidence emerges of ongoing acquisition of disease in patients who did not travel or have contact with someone returning from China, the potential public health impact of the disease will rise significantly.

Situation: Rapid increase in case numbers in affected countries
Implication: Many unknowns remain. Rates of transmission in asymptomatic individuals, viral mutations, and decreased efficacy of protective measures, for example, could lead to increases in infection rates. Weaker health systems, in particular, could be at higher risk. This would increase uncertainty on potential recovery.

Situation: Signals of supply chain restart
Implication: Signals of supply chain restart in China would be an early sign of recovering markets. Early markers could include government reports, social media chatter, firms conversations and / or communications with their customers.

Situation: Changes in consumer spending indicators
Implication: In epidemic settings with containment measures, consumer spend decreases. Changes in consumer spending indicators, especially in China, India, and broadly globally, may point to potential recovery and / or protracted nature of the situation.

Situation: US treasury yield curve
Implication: Overall market fluctuations and associated treasury yield curve, especially in the US, will point to overall confidence in market and expected trajectory. Increasingly negative curves may hint to longer economical impacts.

The number of reported "official" cases continues to trend lower which is seen as positive by investors. The question of how much the official figures can be trusted amid a reclassification of how China defines a confirmed case does not appear to be priced into markets.
Alex Lam's Twitter feed highlights how the growth in the number of cases has decelerated because the Chinese authorities are no longer counting mild cases even though people are still infecting other people.
If that is true, then the potential for containment has taken a step backwards which suggests the battle against the virus will persist longer than the first quarter. That is going to require even more assistance in the form of economic supports but raises the challenge of slowing global growth.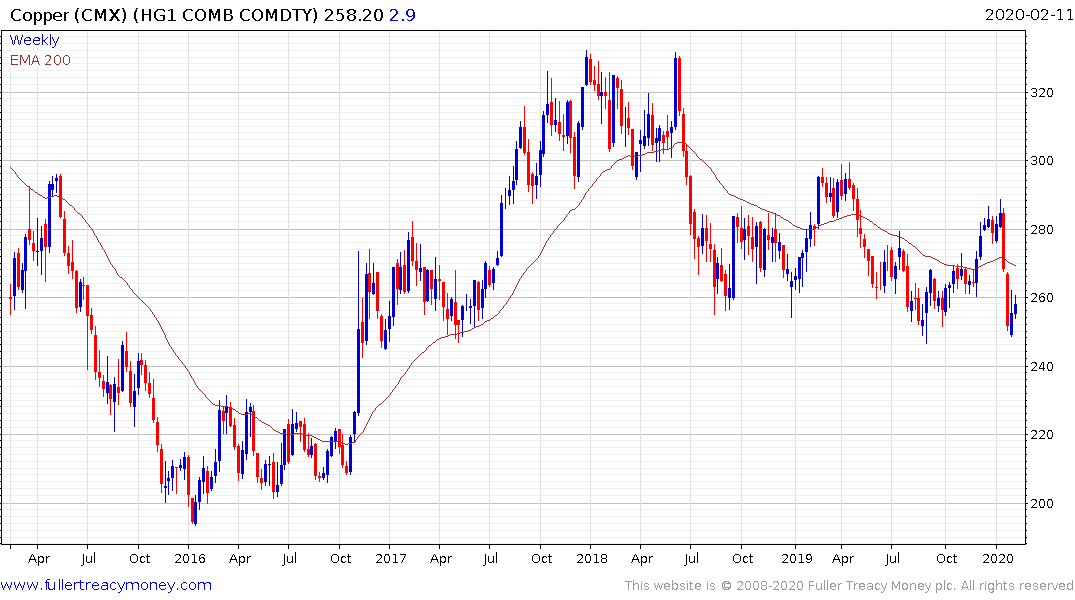 Meanwhile copper continues to steady around the psychological $2.50 area while China's factories gradually start to get back to work.
Back to top