13.5 tons of gold found in Chinese Ex Mayor's Basement
This article from crimerussia.com may be of interest to subscribers.
Police of the PRC searched the house of Zhang Qi, 57, the former mayor of Danzhou and found a large amount of cash, as well as 13.5 tons of gold in ingots in a secret basement of his home, reported local media.

In addition to the mayor's post, the official held others, such as the Secretary of the Communist Party. According to unofficial reports, in addition to the gold, cash worth 268 billion yuan was discovered.

Luxurious real estate with a total area of ​​several thousand square meters, which the former city manager had been hiding for a long time, became the cherry on the cake for the Chinese Anti-Corruption Committee.
One of the most memorable quotes I've heard in China was back in 2011 when the communist official from a small town a couple of hours north of Beijing said to me "I'm only a small guy so I'm only a little corrupt". His boss was the county head and the gift to attend his daughter's wedding was a stack of CNY100 notes six inches tall. They were counting the money in cubic metres. Then think about the head of the head of a province like Hainan which is being developed as "China's Hawaii". From that perspective the monopoly money sums are still huge but do help to highlight just how engrained corruption is.
The additional point is that when corruption is highlighted the extent of the sin tends to be exaggerated. When a government failure is reported, the extent of the damage inflicted is minimised. The continued outing of "corruption" is a clear indication that the purge of officials which benefitted under the last administration remains a work in progress. What it also suggests is anyone with assets in China has an increasingly large incentive to get the money offshore, at any cost.

It remains very unlikely the Renminbi will trade stronger than CNY7 anytime soon. Concurrently, the weakness of the currency is exacerbating inflationary pressures even as it helps improve manufacturing competitiveness.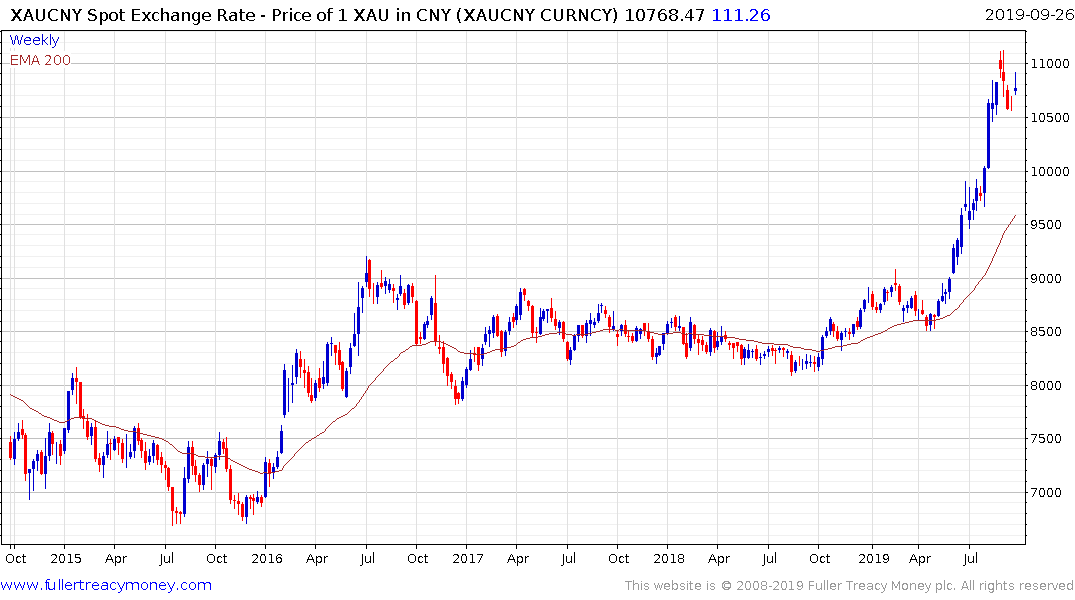 Meanwhile the price of gold in renminbi is consolidating below CNY11000 following the breakout from a three-year range.
Back to top