'Value' Label Haunting Japanese Shares Again: Taking Stock
This article from Bloomberg may be of interest may be of interest to subscribers. Here is a section:
As a key "value" market, Japan's shares have gotten rolled up in the reversal of the reflation trade sparked by the Fed's hawkish turn last week. The market capitalization of traditional value sectors financials, industrials, energy and materials is about 36% of the MSCI Japan Index, versus around 24% for the U.S. equivalent, according to data compiled by Bloomberg.

With stocks trading higher Tuesday, after a value share rally in the U.S. overnight, it would seem the path for Japanese shares -- at least in the short-term -- is linked to the fate of global reflation bets.

Back at home, the slow vaccination rollout is still a risk especially with the Olympics looming. Only about 6% of Japan's population have been fully vaccinated, a sharp contrast to other Asian markets like Singapore and Hong Kong, where 35% and 17% of the population have received two doses, according to data compiled by Bloomberg.

"The vaccine rollout is picking up, but risks of a resurgence will increase as Japan lifts the state of emergency and welcomes thousands of Olympic athletes and officials," wrote Barclays Plc's Tetsufumi Yamakawa and Kazuma Maeda in a note Friday.
It would be nice to think that Japan's growing success in vaccinating the population and fighting the pandemic is behind renewed demand in the stock market. Instead, the more likely scenario is there is a swarm of hot money lurching from one asset class to another as perceptions about growth and inflation ebb and flow.
There seems to be an emerging polarity between growth and value with large sums swinging around based on how bond yields move. So far this year, the surge in bond yields initially favoured value. The market rewarded banks, energy, cyclicals like miners, emerging markets, Europe and Japan. The flip side was investors lightened up on large cap growth, IPOs, SPACs and cryptos. When bond yields decline, investors move back into this latter group of markets.
This kind of skittish trading is indicative of uncertainty about the outlook for markets. We are a year on from the height of panic about the novel coronavirus. Investors still have a lot of questions about the trajectory of the recovery and persistence of the bull market. Jay Powell had this to say today "We at the Fed will do everything we can to support the economy for as long as it takes to complete the recovery," That suggests the Fed is going to be very careful about withdrawing support for the market.
Let's think about our own lives and what we expect to do. We are not going to give up on taking vacations. There is still value in physical human contact, so meetings will still take place in person. Deal making is still about trust and personal relationships which is difficult to replicate online and especially when alternatives to zoom calls exist again. Everyone is thirsty for life, activity and patience is in short supply. That's a recipe for a big bull market.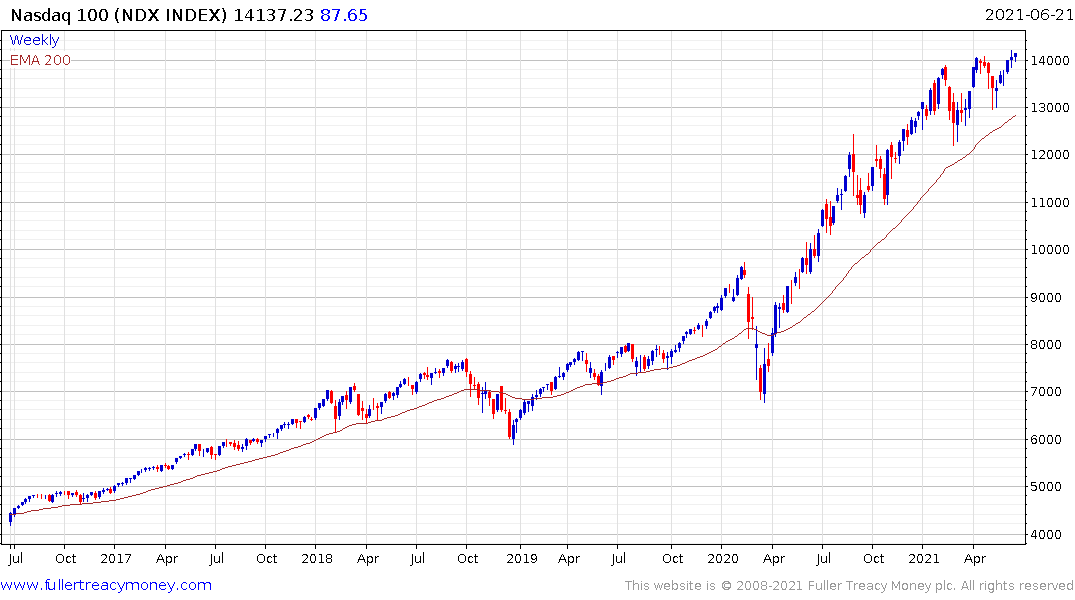 Right now, the themes to lead the way higher are commodities because of pent up demand and a lack of available supply. That's particularly true for the energy sector where renewables are moving mainstream and gaining increasing government backing. Abundant liquidity and low interest rates favour global growth. That's a good reason to pay attention to ex-US markets since they have underperformed for such a long time. Nevertheless, those sectors will have competition for interest as long as the biggest companies continue to hit new highs and the Nasdaq-100 is breaking out. The Dollar remains the lynchpin for interest in ex-US assets and its weakness over the last two days is good news.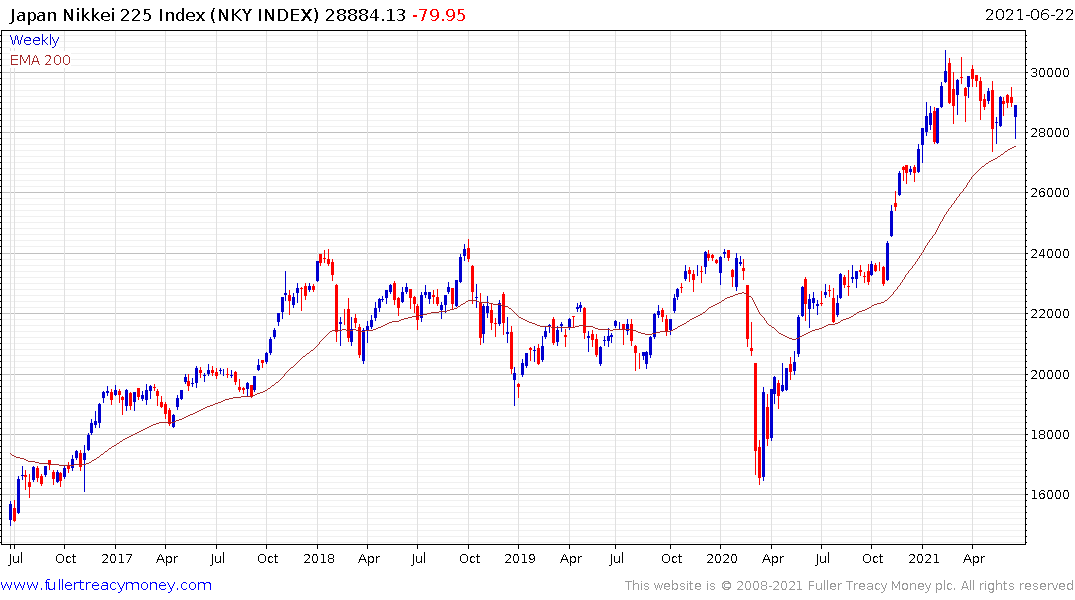 The Nikkei-225 bounced from the region of the trend mean this week and a sustained move below it would be required to question medium-term scope for continued upside.
Back to top