JPMorgan Says $185 Oil in View If Russian Supply Hit Persists
This article from Bloomberg may be of interest to subscribers. Here is a section:
Brent crude could end the year at $185 a barrel if Russian supply continues to be disrupted, JPMorgan Chase & Co. wrote in a note Thursday.

Oil prices have skyrocketed, with Brent crude approaching $120 earlier Thursday as traders shun Russian oil after Moscow invaded Ukraine. U.S. President Joe Biden is facing calls to ban Russian imports of energy but so far has not imposed full blown sanctions on oil.

Currently, 66% of Russian oil is struggling to find buyers, JP Morgan analysts including Natasha Kaneva said in the note.

In the short term, the scale of the supply shock is so large that oil prices need to reach and stay at $120 a barrel for months to incentivize demand destruction, the analysts said, assuming there would be no immediate return of Iranian crude barrels.
We are starting to see significant upgrades to forecasts for future potential. In an accelerating trend that is generally a better reflection of how long the investment crowd is rather than being a good predictor of where prices are going.
Oil prices up in a very meaningful manner in only a couple of months. Let's imagine we are sitting at a sales desk on the trading floor and a customer calls up asking if now is a good time to buy. We can say no because the price is up a lot already but we will earn no commissions. Alternatively, we can say the research department believes the upside risk is for another $55 rally, so yes, it is a good time to load up for a short-term trade. Then we earn commissions. Sales desks only exist to generate commissions so exaggerated forecasts often follow accelerations.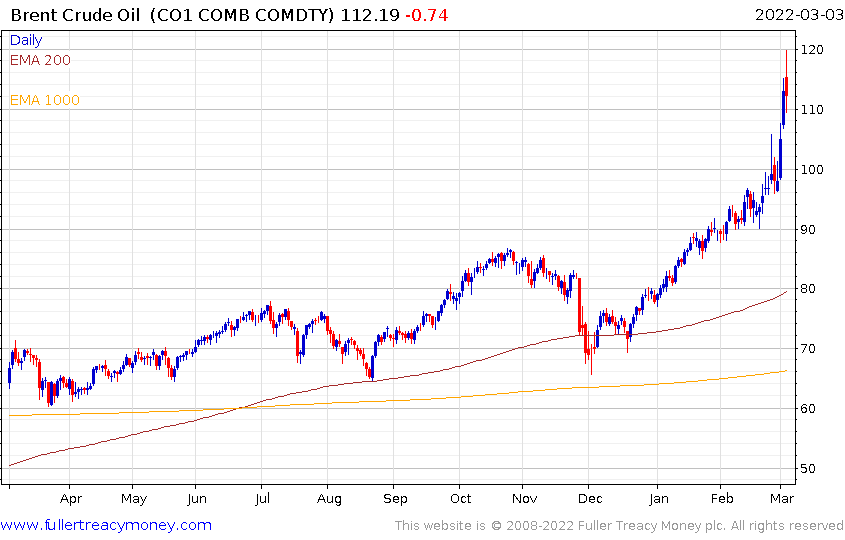 Meanwhile, when one door closes another opens. Iran appears to be on the cusp of getting everything it wants, and could have its oil back on the international market in a matter of weeks. That would take a lot of the power out of the current oil rally and would at least raise scope for a reversion towards the mean.
Back to top