One-Third of People Worldwide Are Obese or Overweight in Study
This article by Nicole Ostrow for Bloomberg may be of interest to subscribers. Here is a section:
"Since 1980, no country has made significant progress in reducing the rates of people being overweight or obese," Christopher Murray, the study author, said in an e-mail.

"Obesity is now a major public health epidemic in both the developed and the developing world."

Obesity can raise the risk of diabetes, osteoarthritis, heart disease and cancer, among other health-threatening conditions, according to the U.S. Centers for Disease Control and Prevention. Being overweight was estimated to have caused 3.4 million deaths worldwide, said Murray, director of the Institute for Health Metrics and Evaluation at the University of Washington in Seattle.

"Countries need to be looking at how they communicate effectively both what people eat and how much they should be eating," Murray said. "Because what we've been doing up until now isn't working. Strategies to tackle obesity need to address both physical activity, total caloric intake and the different foods we eat."
At a playdate for our daughters last weekend, one of the other parents recounted a story how her 6-year old daughter had learned a naughty work that sounded like duck. The little girl came back the next day and said she had learned another dirty word that started with 'f'. She told her mother it wasn't fart but before uttering the newly learned taboo, she furtively looked around to make sure no one else could hear and whispered the word 'fat'.
Schools are spending a great deal of time trying to teach children about the virtues of eating well and staying active. The above review of chocolate companies illustrates how powerful an addiction a "sweet tooth" can be and the war against obesity remains an uphill struggle which is gaining importance as the cost of treating obesity related illnesses balloons.

I posted a heavyweight report on pharmaceuticals in Comment of the Day on August 30th 2012 and followed it with a review of diabetes companies. .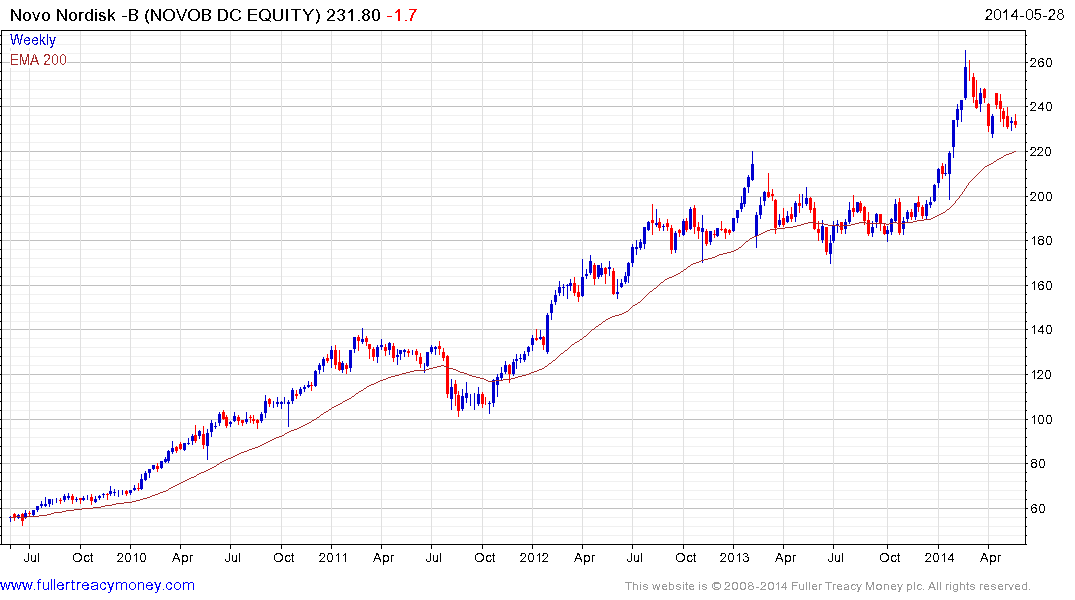 Novo Nordisk (Est P/E 22.93, DY 1.94%) is an Autonomy and one of the few pure-plays on diabetes medication. The share has been unwinding its overbought condition relative to the 200-day MA since hitting a medium-term peak in February. It will need to find support. In the region of DKK215 if the medium-term uptrend is to remain consistent.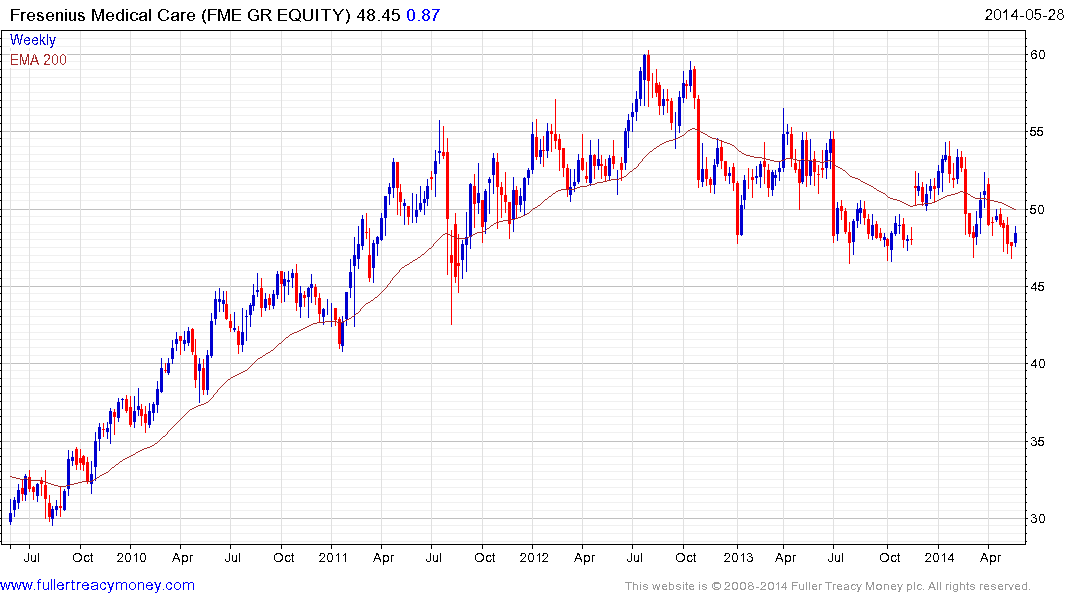 Fresenius Medical Care (Est P/E 19/19, DY 1.58%) is a leader in kidney dialysis machinery. The share has been largely rangebound since failing to hold the move to new highs in 2012. It found at least short-term support in the region of €46 on a number of occasions and is currently firming from that area once more.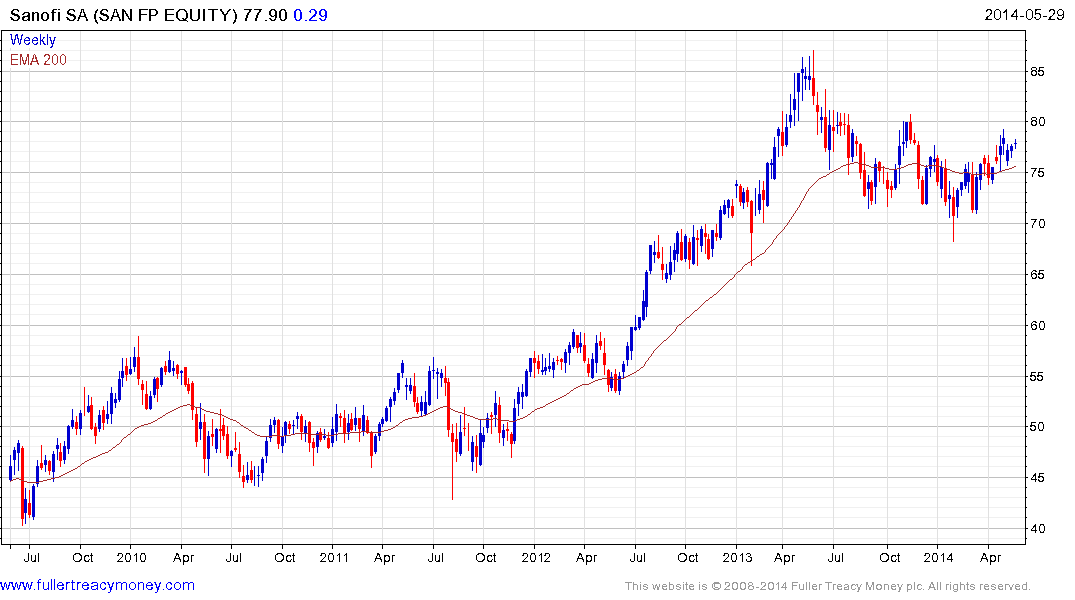 Sanofi (Est P/E 14.98, DY 3.59%) is an Autonomy and has been largely rangebound for much of the last year in what has been a process of valuation contraction. The share has held a progression of higher reaction lows since February and has returned to test the psychological €80 area.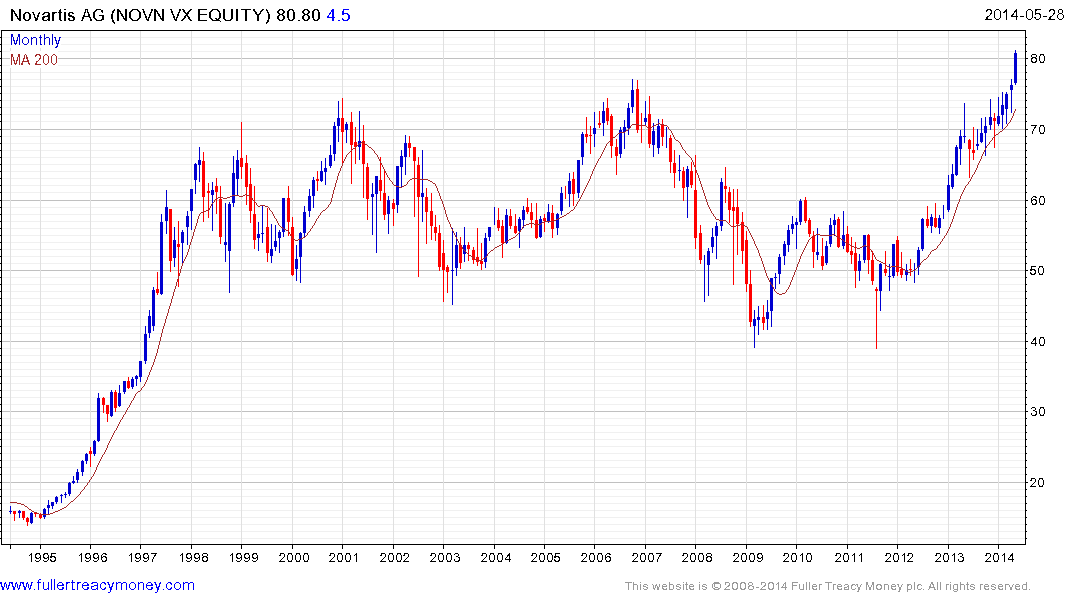 Novartis (Est P/E 17.04, DY 3.03%) is also an Autonomy, completed a 13-year base this month and continues to extend the breakout.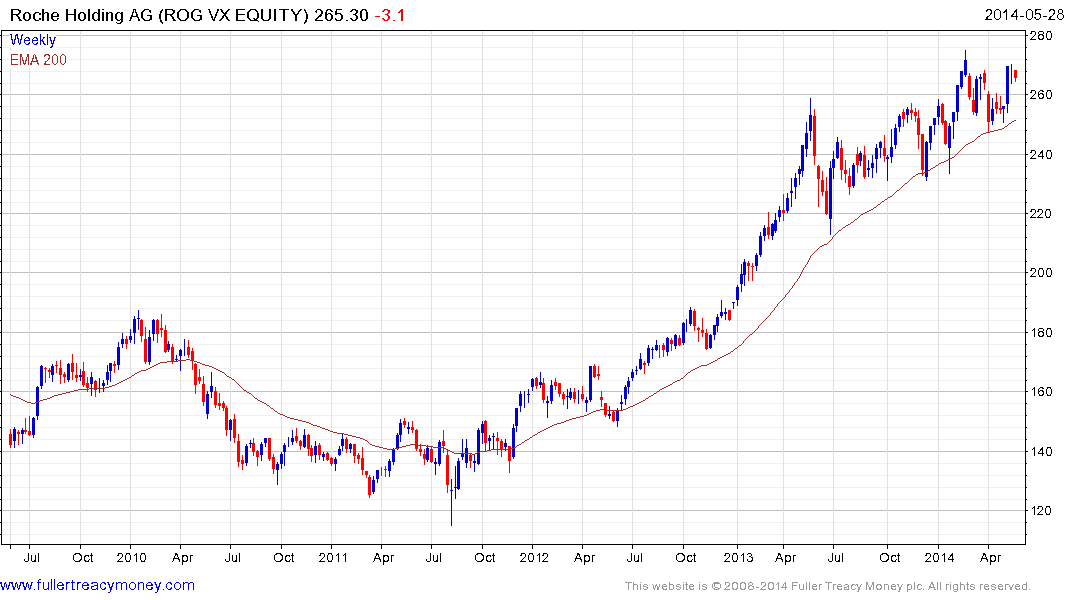 Roche (Est P/E 17.74, DY 2.94%) has lost momentum somewhat but a sustained move below CHF250 would be required to question medium-term scope for continued higher to lateral ranging.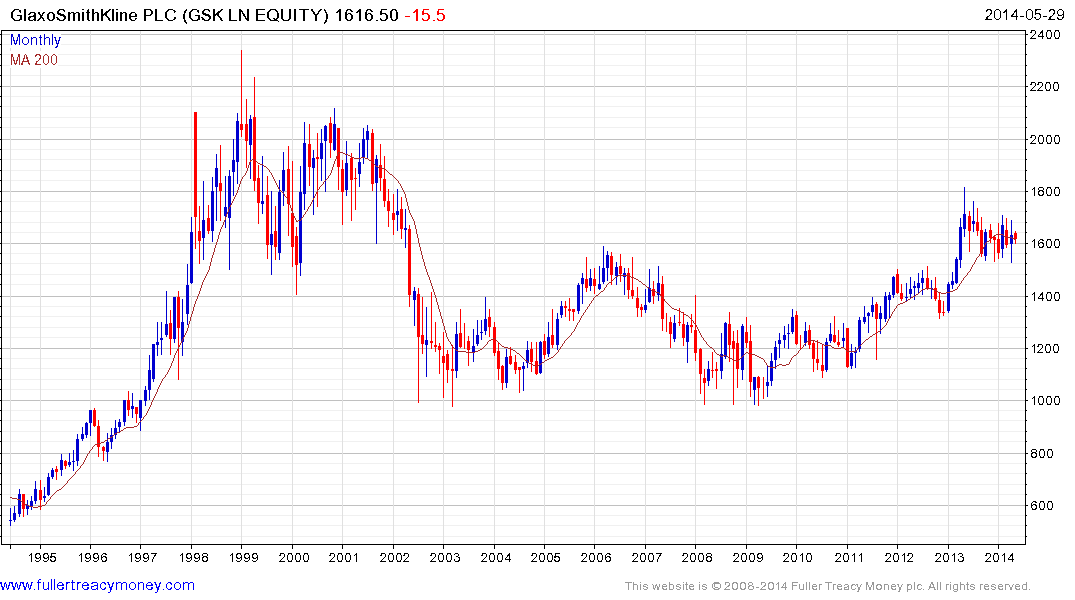 Following an impressive breakout in the first half of 2013 GlaxoSmithKline (Est P/E 15.34, DY 5.43%) continues to range in what appears to be a first step above its more than decade long base.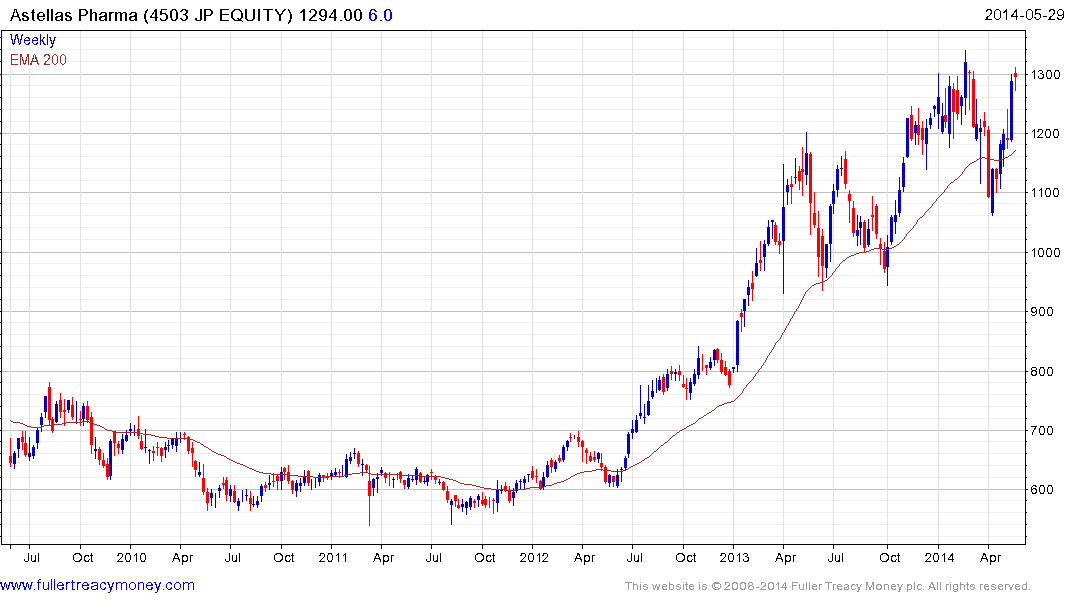 Astellas Pharma's (Est P/E 19.94, DY 2.24%) powerful breakout in 2012 has given way to a choppier uptrend but the progression of higher major reaction lows remains intact.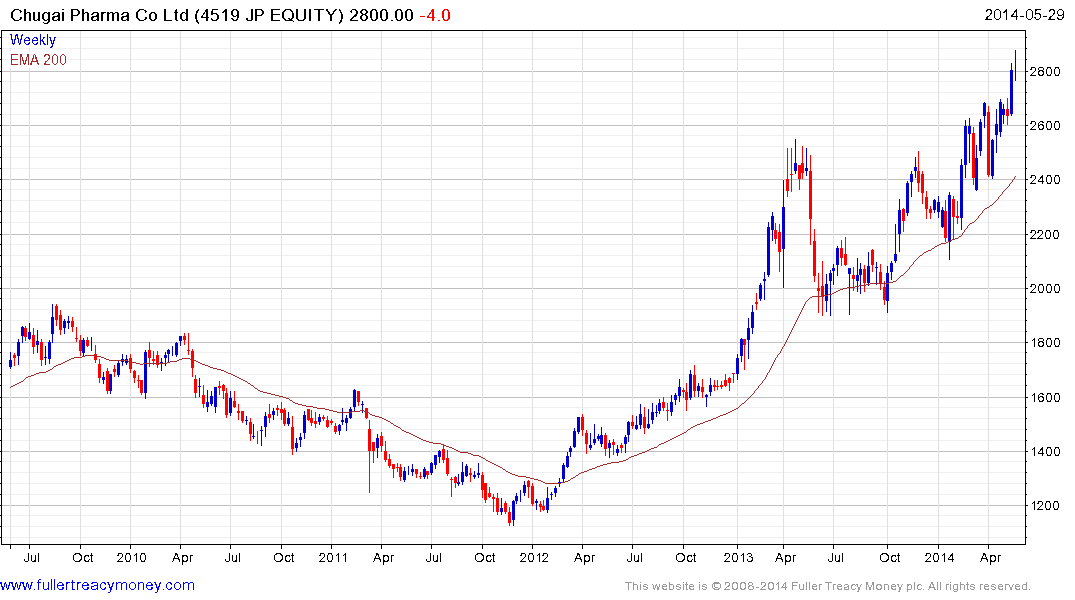 Chugai Pharmaceutical (Est P/E 30.64, DY 1.61%) is currently somewhat overextended relative to the 200-day MA and susceptible to mean reversion towards the ¥2500 area.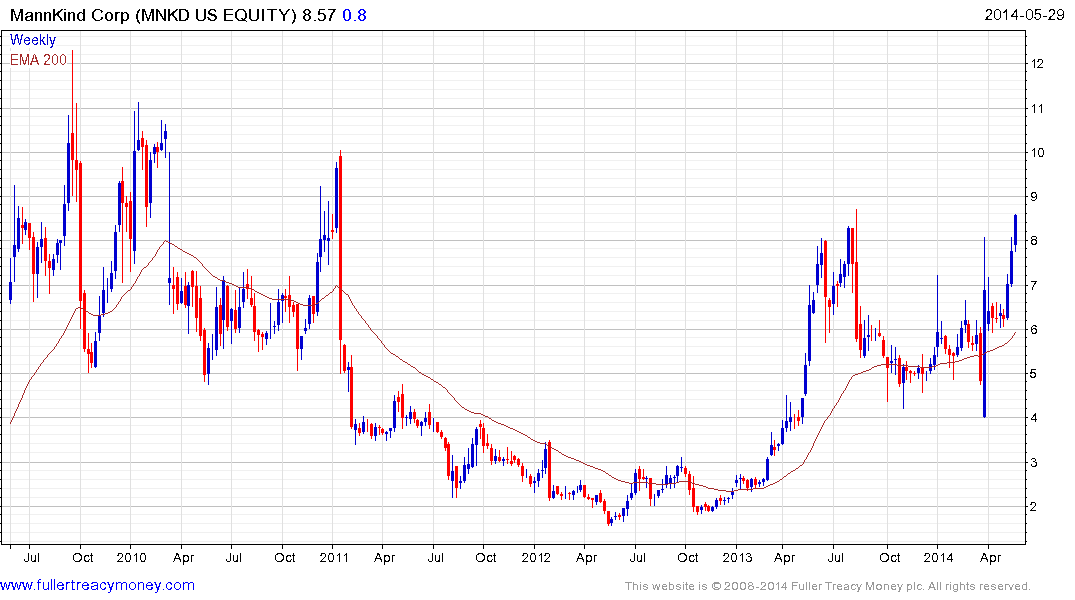 Among smaller companies Mannkind has yet to turn a profit but the share has quadrupled since 2012. It hit a new closing high for the year today and a clear downward dynamic would be required to question check momentum beyond a brief pause.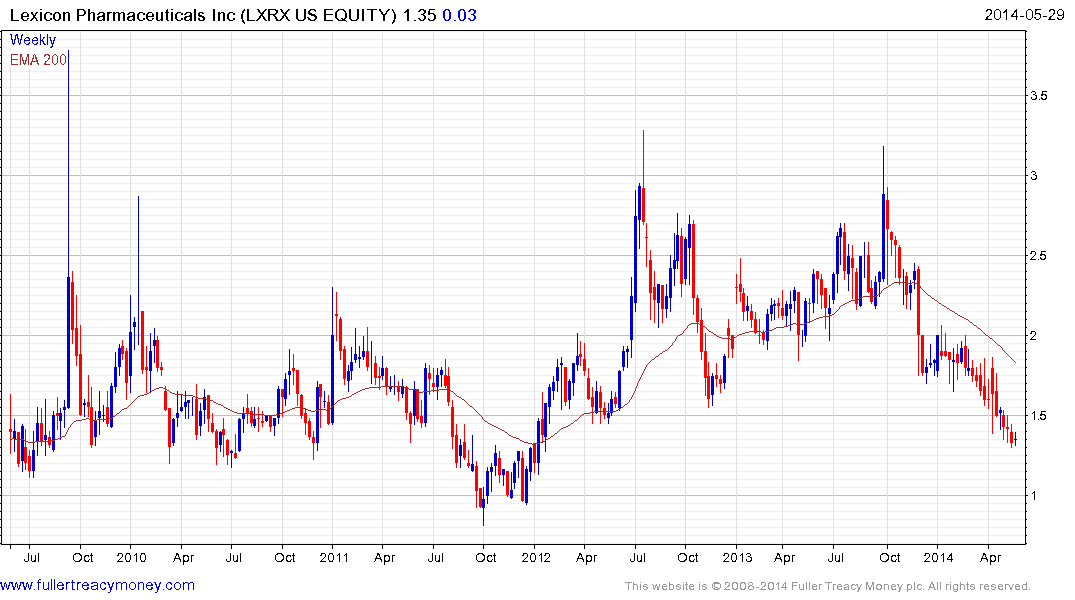 Lexicon Pharmaceuticals is currently below where it was trading in 2012 and continues to trend lower.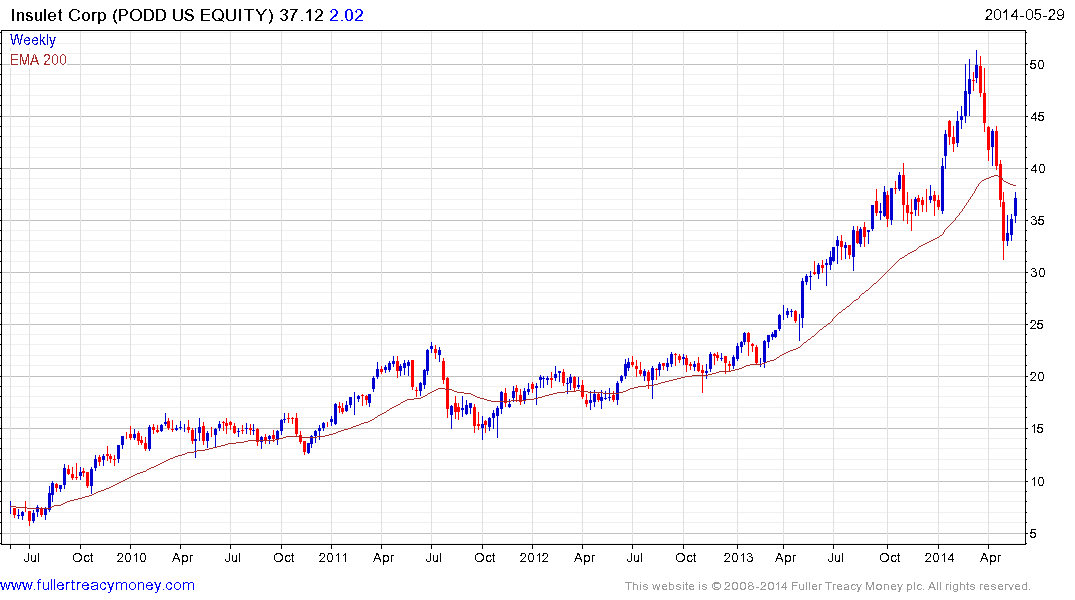 Insulet pulled back in sympathy with the biotech sector but has found at least short-term support near $30 and a sustained move below that level would be required to question support building.
Here is a link to the Autonomies section of the International Equity Library.
Back to top