World's lithium king is ready to unleash a flood of new supply
This article from Bloomberg appeared in Mining.com and may be of interest. Here is a section:
"There is a legitimate concern on the side of battery manufacturers about long-term availability of supply," said Daniel Jimenez, an SQM vice president who recently estimated that the industry will require a capital investment of $10 billion to $12 billion in the next decade to meet demand.

The green light to mine vastly more lithium, combined with pending changes in its ownership structure, has suddenly put SQM in the sights of several global mining companies, including London-based giant Rio Tinto Group. Among the most aggressive bidders is China's Tianqi Lithium Corp., which has offered to buy SQM shares at a 20 percent premium, Eduardo Bitran, the former head of government development agency Corfo, said earlier this year.

"Tianqi owning the stake would be another step towards overall Chinese consolidation of the lithium industry," Chris Berry, a New York-based energy-metals analyst and founder of House Mountain Partners LLC., said in an email.
SQM's growth projections have been among the chief catalysts in the decline of lithium miners over the last few months. The big question is how quickly demand picks up over the next decade to absorb additional supply. Lithium was a supply inelasticity meets rising demand market from 2013 but really only garnered interest in the last couple of years as the shares turned to outperformance. Supply is now increasing so we are likely to see more volatility in the respective shares. This story further highlights China's intention to be the dominant force in the electric car sector.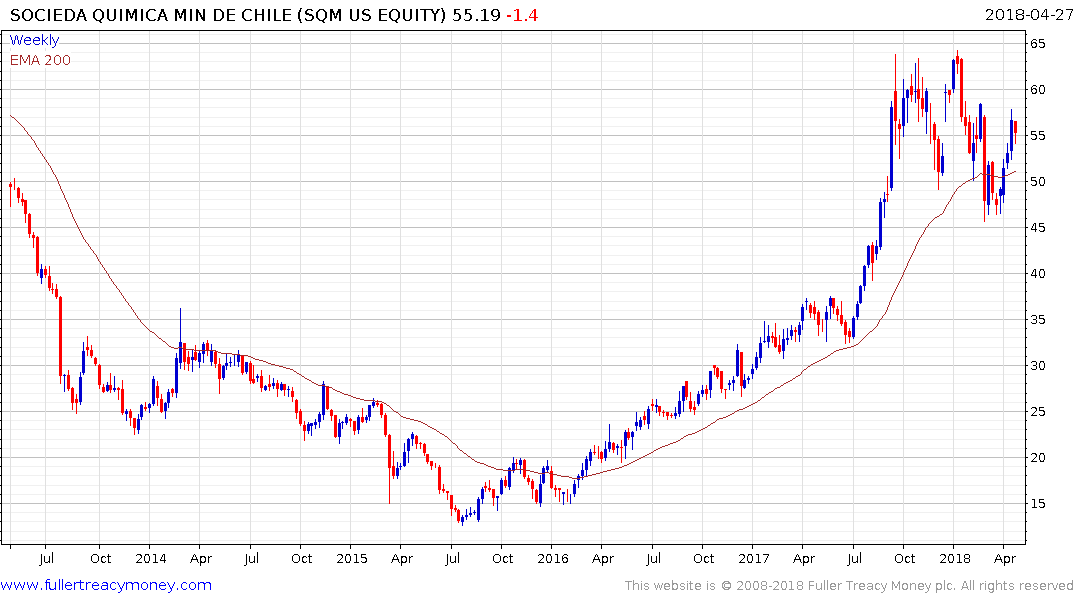 SQM has paused in the region of the 2011 peak and will need to sustain a move above $60 to confirm a return to demand dominance.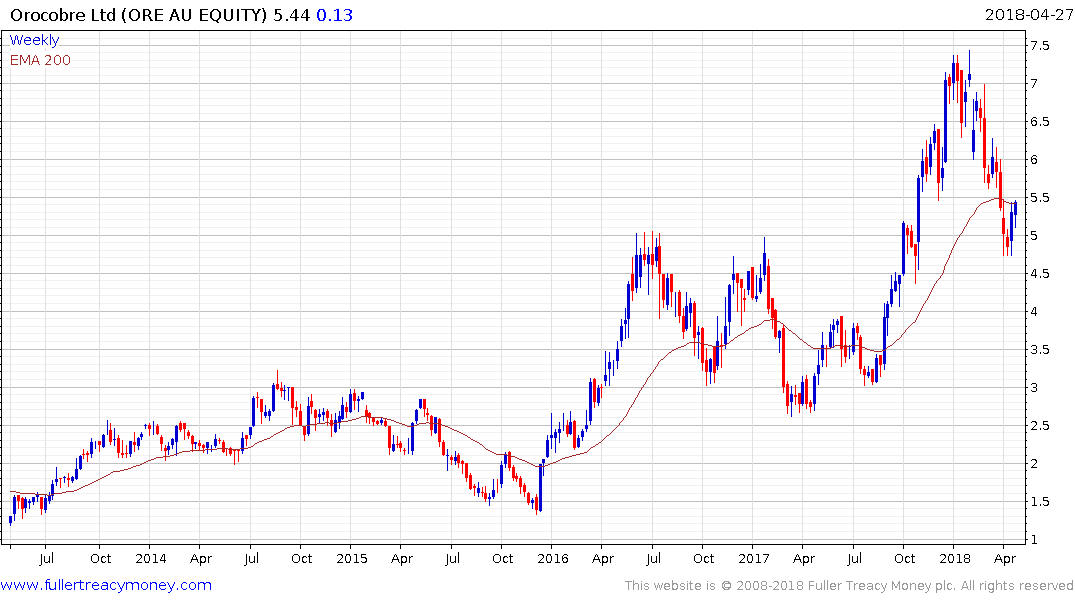 Orocobre, which might be considered a pureplay on the sector, has paused in the region of the trend mean and the upper side of the underlying range. It needs to continue to demonstrate support in this area if the demand dominated environment is to remain consistent.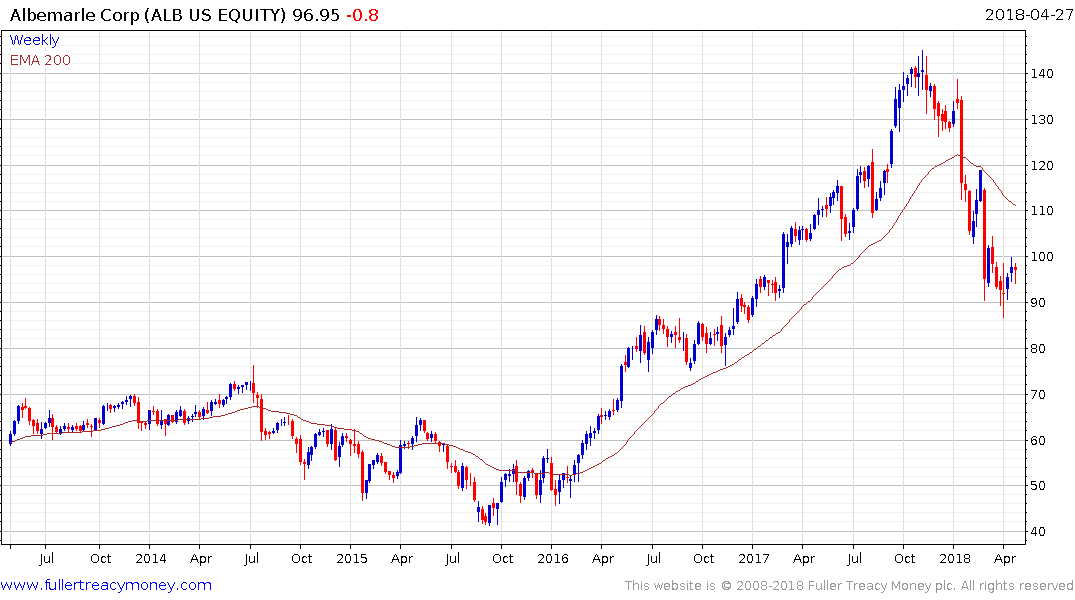 Albemarle has developed a short-term oversold condition relative to the trend mean but needs to at least rally to break the progression of lower rally highs to challenge the downtrend.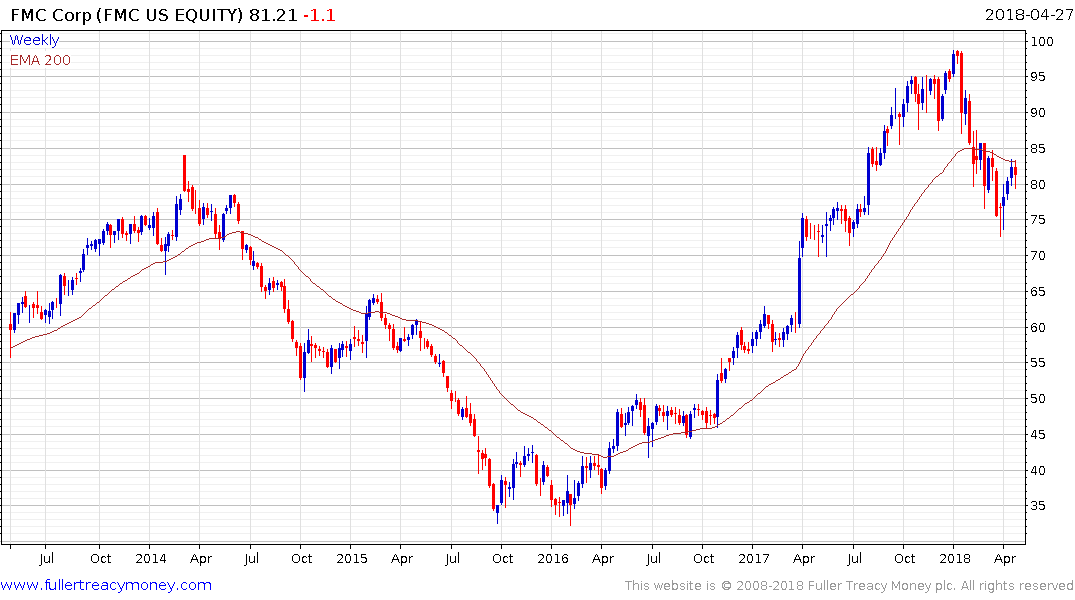 FMC Corp has rallied back to test the trend mean but needs to sustain a move above it to confirm a return to demand dominance.
Back to top