World's Biggest Wealth Fund Wants Out of Oil and Gas
This article by Sveinung Sleire for Bloomberg may be of interest to subscribers. Here is a section:
Norway, which relies on oil and gas for about a fifth of economic output, would be less vulnerable to declining crude prices without its fund investing in the industry, the central bank said Thursday. The divestment would mark the second major step in scrubbing the world's biggest wealth fund of climate risk, after it sold most of its coal stocks.

"Our perspective here is to spread the risks for the state's wealth," Egil Matsen, the deputy central bank governor overseeing the fund, said in an interview in Oslo. "We can do that better by not adding oil-price risk."

The plan would entail the fund, which controls about 1.5 percent of global stocks, dumping as much as $40 billion of shares in international giants such as Exxon Mobil Corp. and Royal Dutch Shell Plc. The Finance Ministry said it will study the proposal and decide what to do in "fall of 2018" at the earliest.
Norway's proposal to diversify its exposure to the oil sector makes sense but the timing of the decision, ahead of the proposed Saudi Aramco IPO and after the successful sale of Abu Dhabi's Adnoc retail gasoline stations' business says more about the trauma of the crash lower from above $100 than the state of the sector at present.
The medium-term outlook for electric cars and solid state batteries got an additional boost this week with Fisker reiterating its intention to bring much more energy dense batteries to market within the next five years. Here is a section from a related article:
In a release, Fisker said its team of scientists—which includes a cofounder of solid-state battery technology pioneer Sakti3—discovered ways to implement solid-state batteries in vehicles.
Those include "novel materials and manufacturing processes" to achieve battery power and cost targets.
Current technology limits battery temperatures and the current density in electrodes, but Fisker said early results from its solid-state battery research showed three-dimensional solid-state electrodes provided up to 25 times more surface area.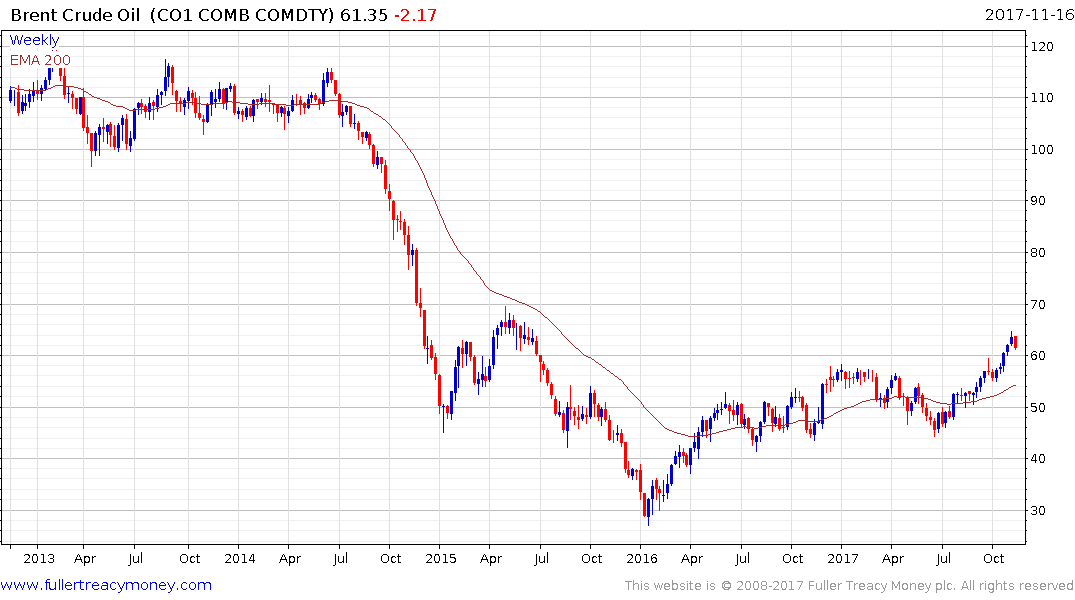 These are promising technological developments but a lot can happen in the time before solid state batteries are commercialised. So far Brent Crude has held the move above $60. With continued geopolitical tension in the Middle East and Venezuela's default there is scope for some additional upside before fresh supply can be brought to market.
Back to top