We are nowhere near peak coal use in India and China
This article by Frank Holmes appeared in Mineweb and may be of interest to subscribers. Here is a section
It's possible that if China's coal consumption dramatically declines, India will be there to fill the hole. Macquarie estimates that by 2025, India's energy demand will rise 71 percent, with coal taking the lead among oil, gas, hydro, nuclear and others. The south Asian country is already the second-largest importer of thermal coal, and it might very well surpass China in the coming years. Macquarie writes:

Although all energy use will rise [in India], coal is the major theme as consumption and local production are both set to almost double by 2025 on the back of large-scale coal power plant construction plans.

The group adds that, unlike China, India has no present interest in reigning in its use of coal. Most emerging markets, India included, recognize that coal is an extremely affordable and reliable source of energy, necessary to drive economic growth.

Even if these predictions don't come to fruition, the consensus is that we haven't yet seen peak coal use in Asia. Estimates vary depending on the agency, but everyone seems to agree that demand in the medium-term will rise before it retreats. A 2014 MIT study even suggests that Chinese coal consumption could rise more than 70 percent between 2012 and 2040.
North America and Europe engage in a great deal of navel gazing when it comes to climate change and yet US emissions have been falling because of natural gas boom and the EU has seen aggregate emissions decline not least because of its sluggish economic recovery. The main future contributors to carbon emissions are the up and coming developing economies. If governments are truly interested in tackling the issue, doing everything possible to help China and India migrate from coal is in everyone's interest. This is no small task because above all else coal is cheaper now than it has been in a decade.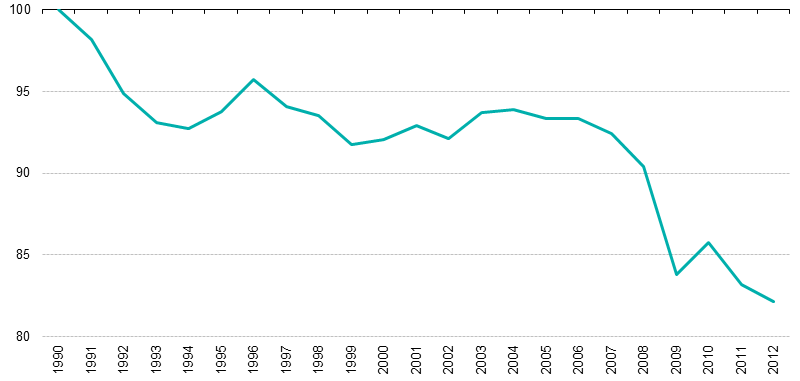 Steaming Coal is back testing the $40 area which offered support in 2009 and 2007 but a sustained move above the trend mean will be required to signal more than temporary steadying.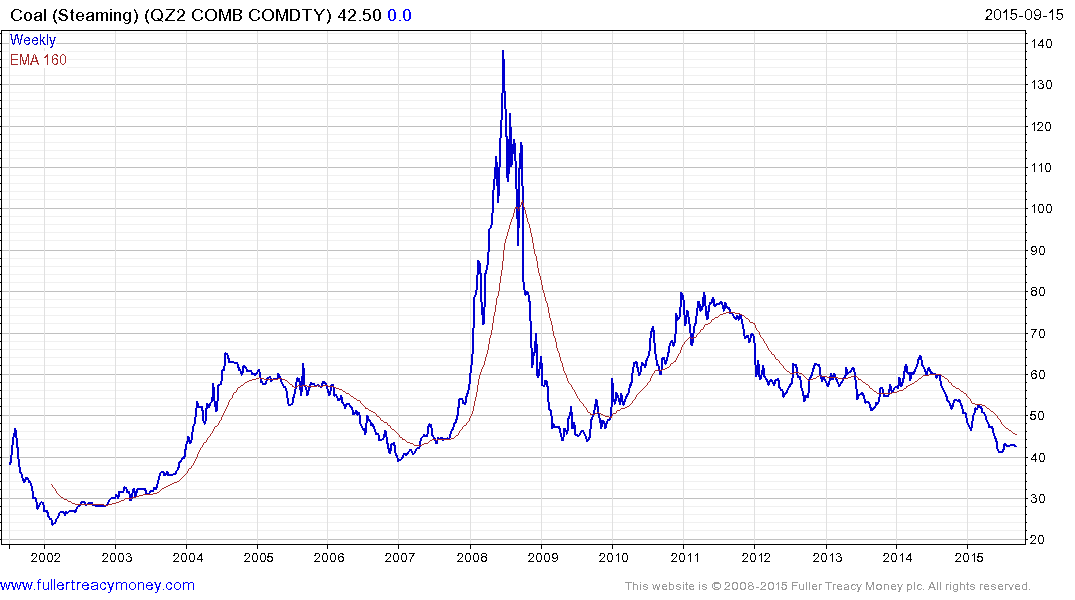 Australian and Chinese coal miners have yet to demonstrate a return to demand dominance but their accelerating downtrends are looking stretched.


Among US coal companies Arch Coal rallied in August to break a medium-term downtrend and has since retraced at least part of that move. It will need to successfully find support above $1 to confirm demand is coming back in at progressively higher levels.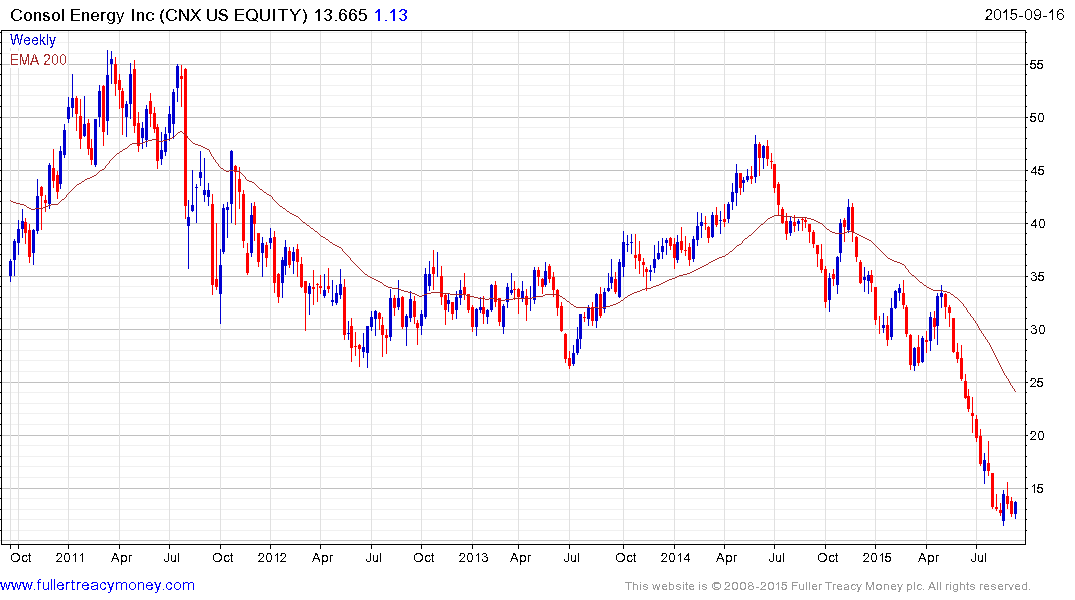 Consol Energy posted a large upside weekly key reversal in late August following an accelerated decline and found support this week above the low. A clear downward dynamic would be required to question current scope for a reversionary rally.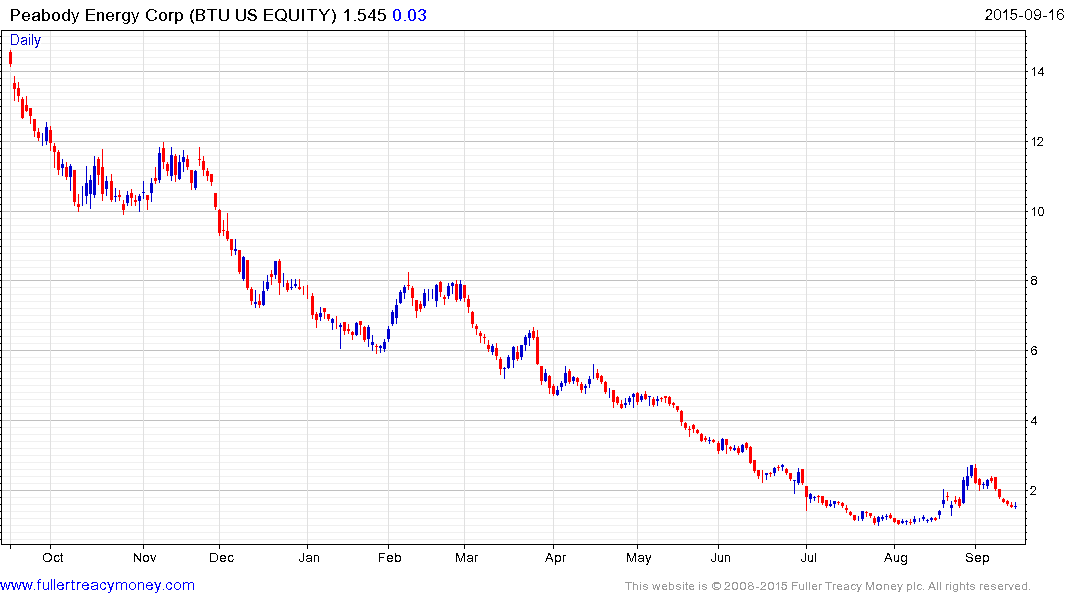 Peabody Energy rallied in late August to challenge the steep downtrend and has since pulled back to retest the lows. It will need to sustain a move above $2 to confirm a return to demand dominance beyond short-term steadying.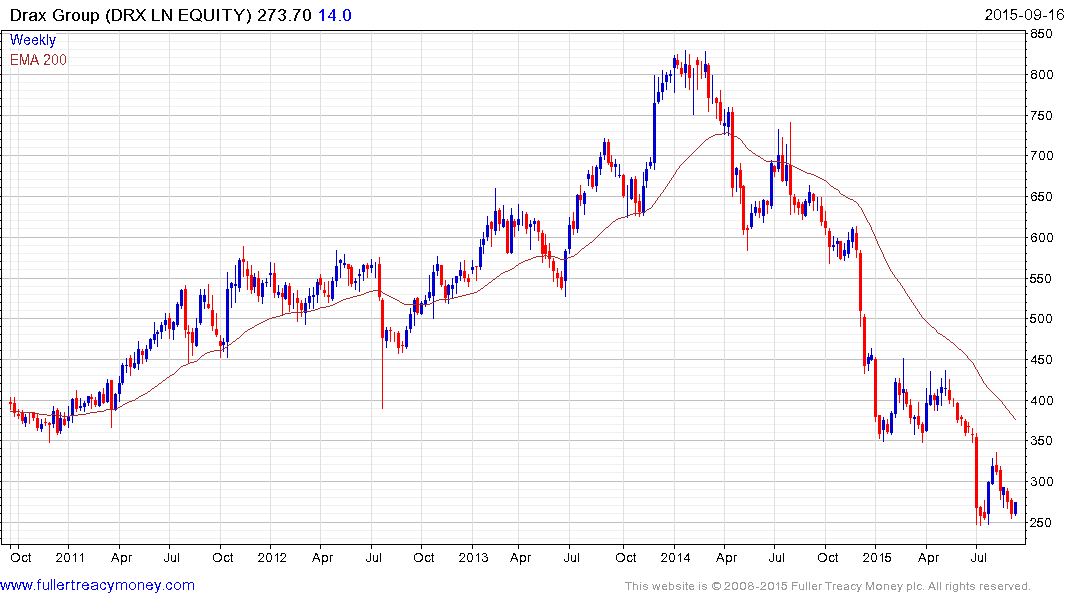 UK listed Drax Group found at least near-term support this wek in the region of 250p and potential for a reversionary rally has increased.

One point that is worth considering is that the above shares rallied when the rest of the market was going through conniptions. This tells us the leveraged positions which came under pressure where those of short sellers and that stops were triggered. The fact they have so far held their lows may be an initial indication the selling pressure is abating. Activist investors announcing positions they have taken in various resources shares supports this view.
Back to top