Ukraine Open to Neutrality But Won't Yield Territory, Aide Says
This article from Bloomberg may be of interest. Here is a section:
Ukraine is open to discussing Russia's demand of neutrality as long as it's given security guarantees, though it won't surrender a "single inch" of territory, a top foreign policy aide to President Volodymyr Zelenskiy said.

"Surely, we are ready for a diplomatic solution," Ihor Zhovkva, Zelenskiy's deputy chief of staff, said in an interview with Bloomberg Television on Wednesday.

The aide reinforced Ukraine's demand for security guarantees "from the U.S., from Great Britain, from Germany" and others -- "only security guarantees from Russia will not be enough," though he declined to spell out what those measures would entail.

Preconditions for talks with Russian President Vladimir Putin would be a cease-fire and the withdrawal of Russian troops, Zhovka said.
When the war is over, Ukraine is most likely to follow a Finland-type solution. They may apply for membership of the EU, but not NATO. They will receive security guarantees from their neighbours, but will need to retain a significant military and constant vigilance nonetheless. Relations with Russia will be irrevocably damaged and portions of Ukraine will likely become part of Russian territory. However, the fact remains many of Russia's pipelines flow through Ukraine's territory. Trading relationships will be necessary.
The big question then is at what point serious negotiations will start. Russia is never going to agree to the above preconditions. Instead, they are attempting to pound several cities into submission. Once successfully conquered, Russia assumes it will be in a better position to dictate its own terms.
Everyone is aware of that intention, which is why waves of anti-tank and anti-aircraft munitions are being delivered by the day. Nothing has happened to suggest this is going to be quickly resolved.
Stock markets are experiencing a relief rally at present and oil prices have paused. That is on the assumption sanctions will not continue to be amplified. The basis for that belief is Germany's continued reluctance to be drawn deeper into the quagmire of sanctions and overt military support for Ukraine. Graphic images of the humanitarian crisis are going to make that posture difficult to sustain beyond the short term.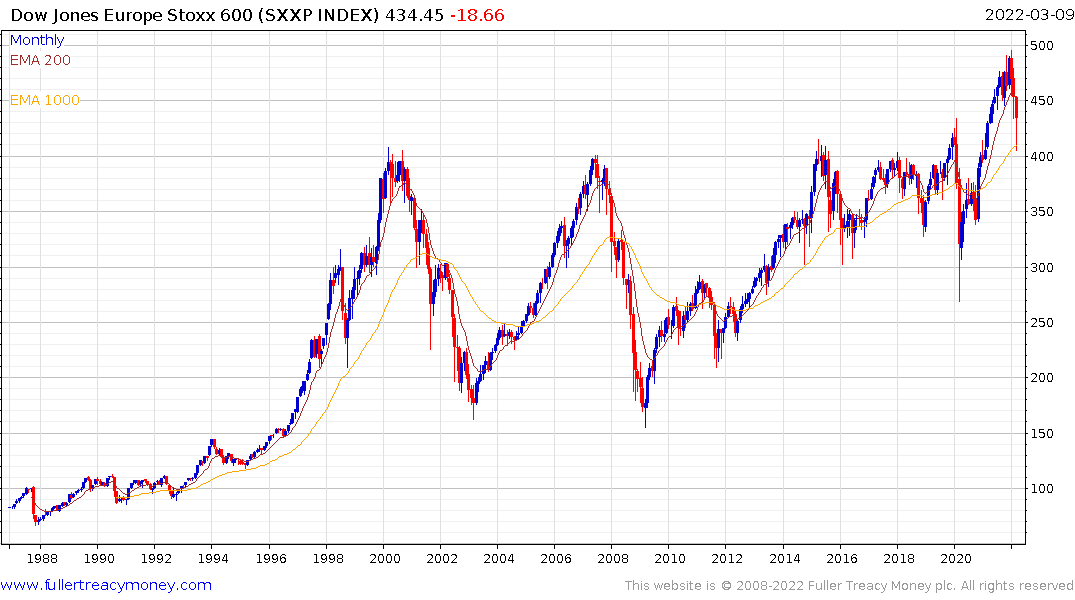 The Europe STOXX 600 Index has bounced from the 1000-day MA which is exactly where it needed to in order to sustain the breakout. Today's clear upward dynamic signals a low of at least near-term and potentially medium-term significance.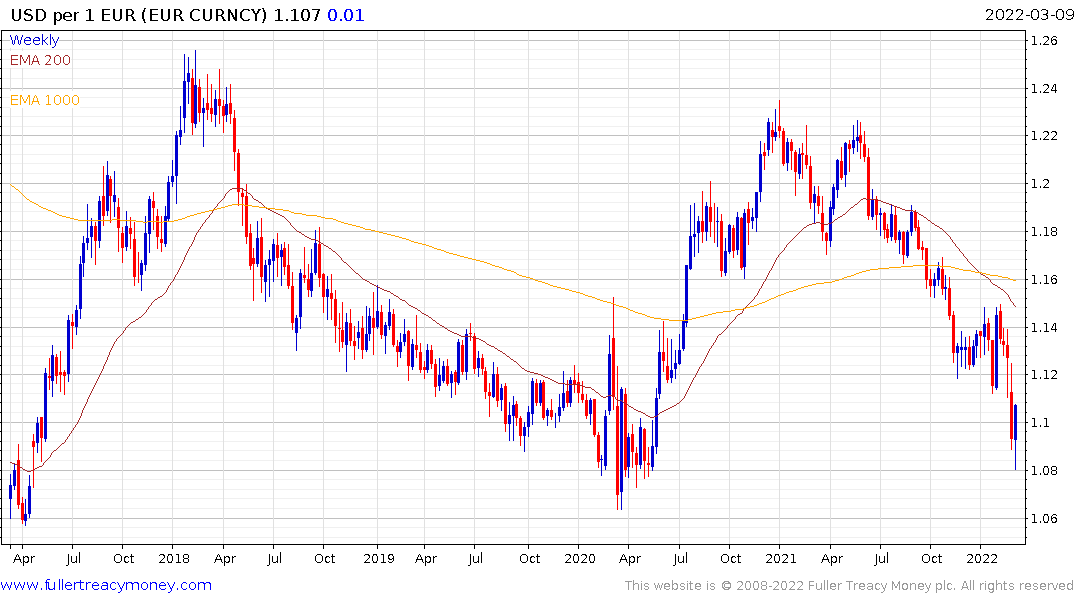 The Euro is also unwinding a short-term oversold condition.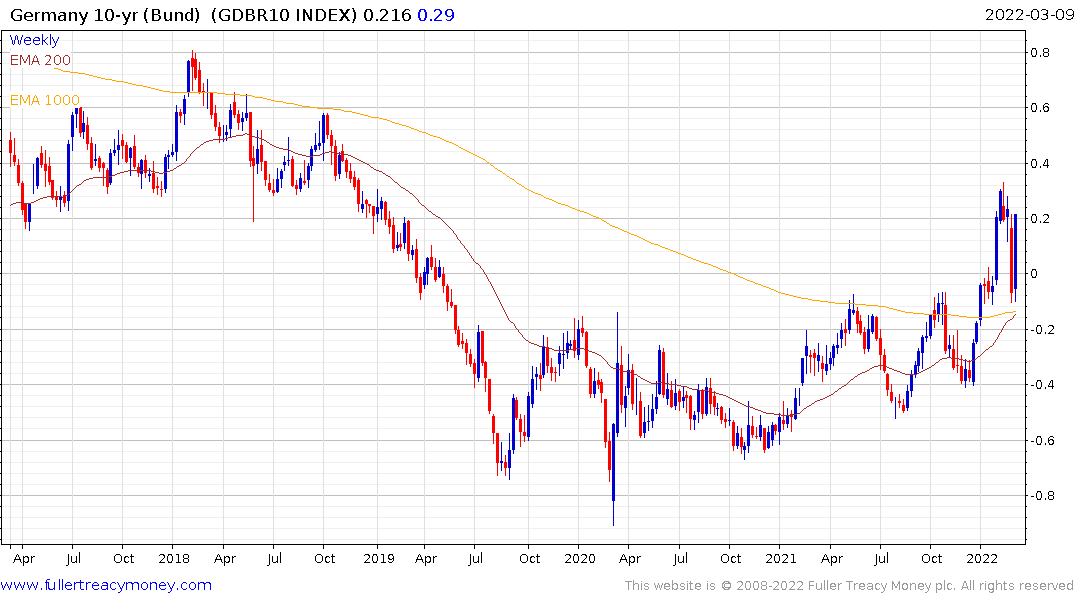 German Bund yields continue to surge from the zero bound. They look likely to extend the advance as the ECB will need to do something about inflation eventually. Afterall, it is their only official mandate.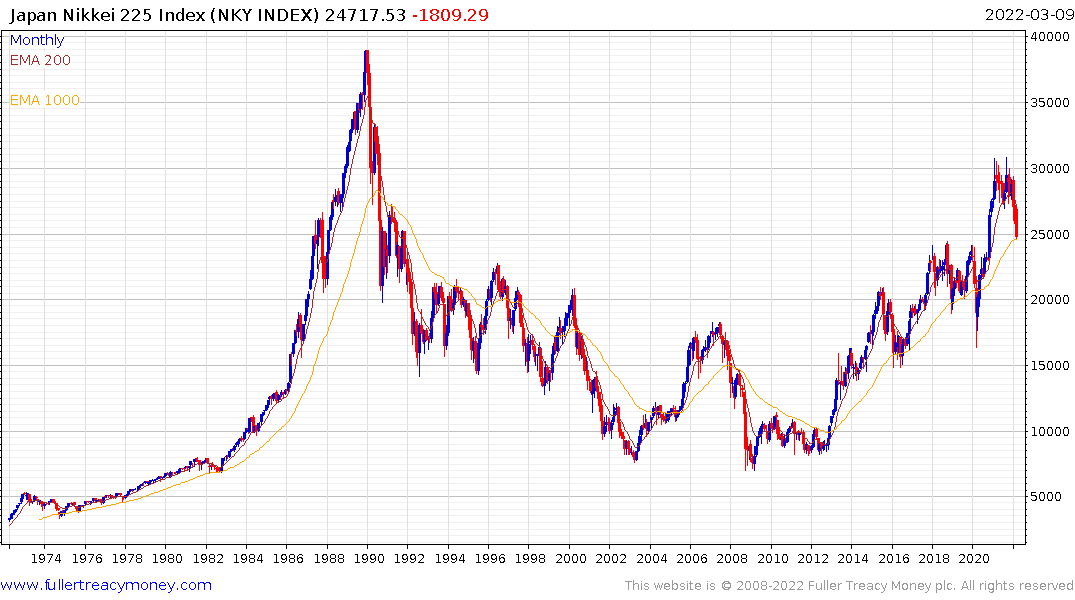 The Nikkei-225 is also back in the region of its 1000-day MA and should bounce in sympathy with other major markets.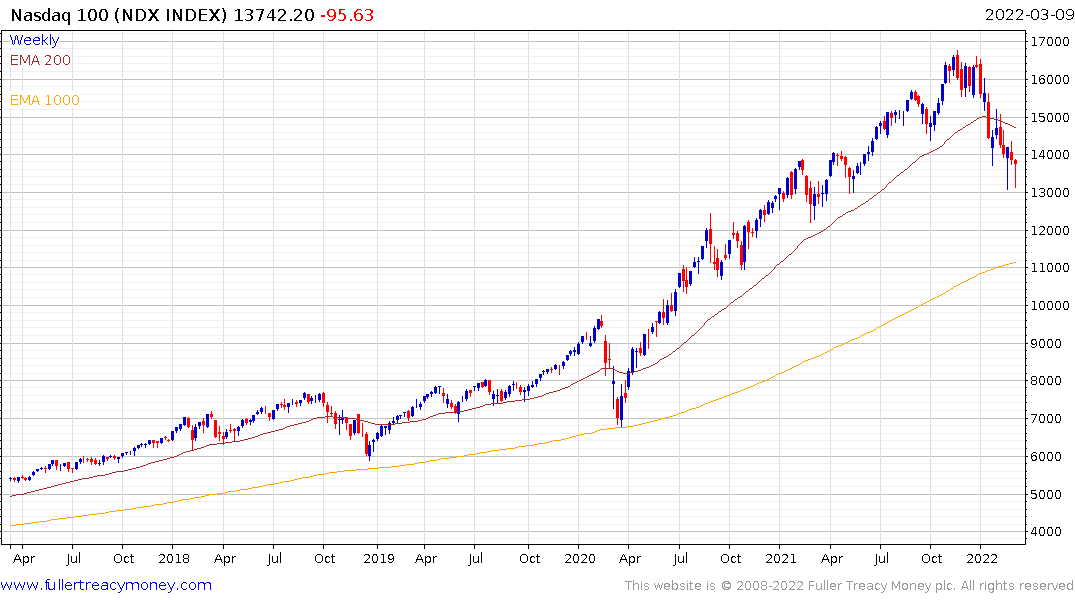 The Nasdaq-100 held the late February low today. A sustained move above the March 3rd high at 14,342 will be required to check the short-term downtrend.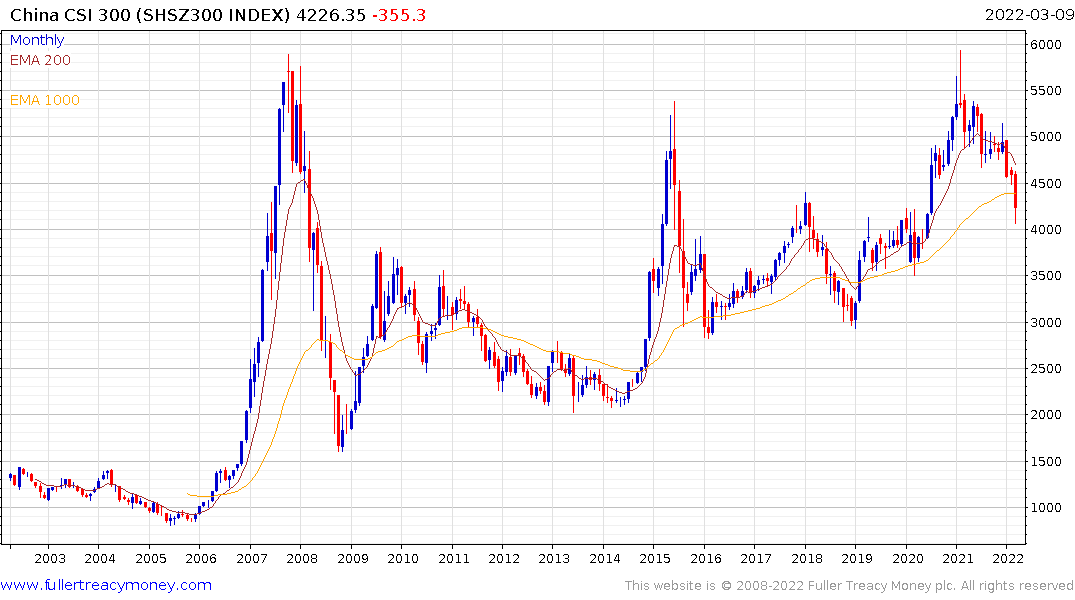 China's CSI300 spiked lower this morning but recouped much of the decline by the close. The Index is short-term oversold so there is scope for a rebound.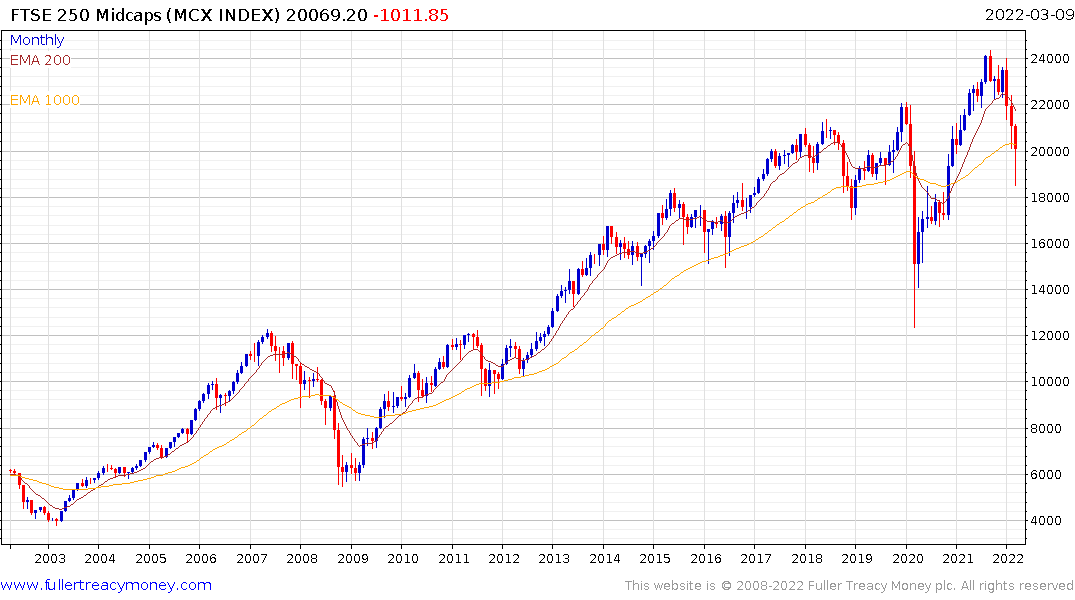 The FTSE-250 also pared a steep decline to close back in the regino of the 1000-day MA.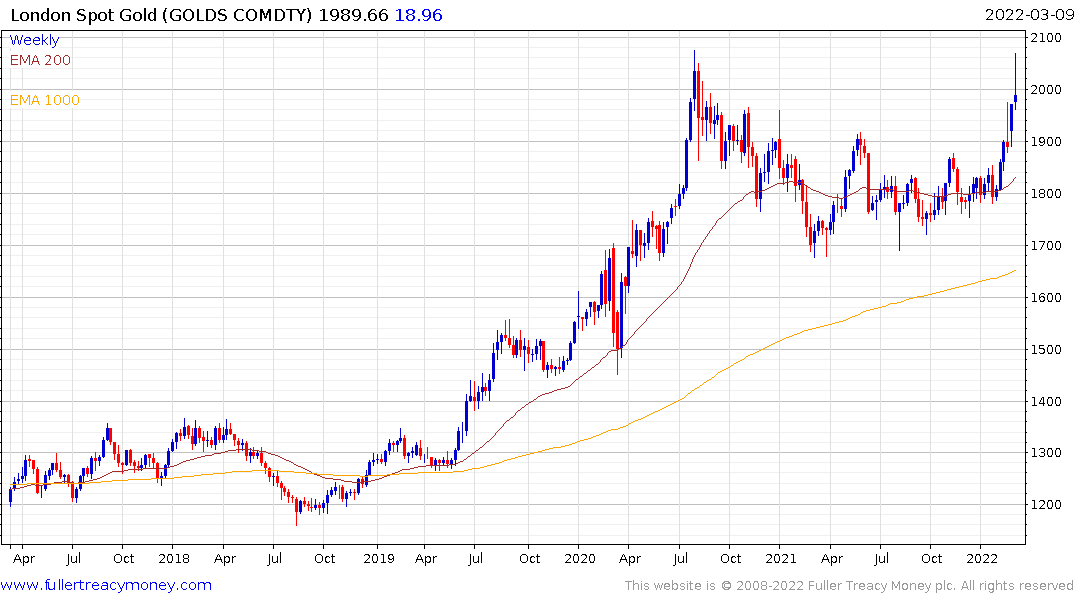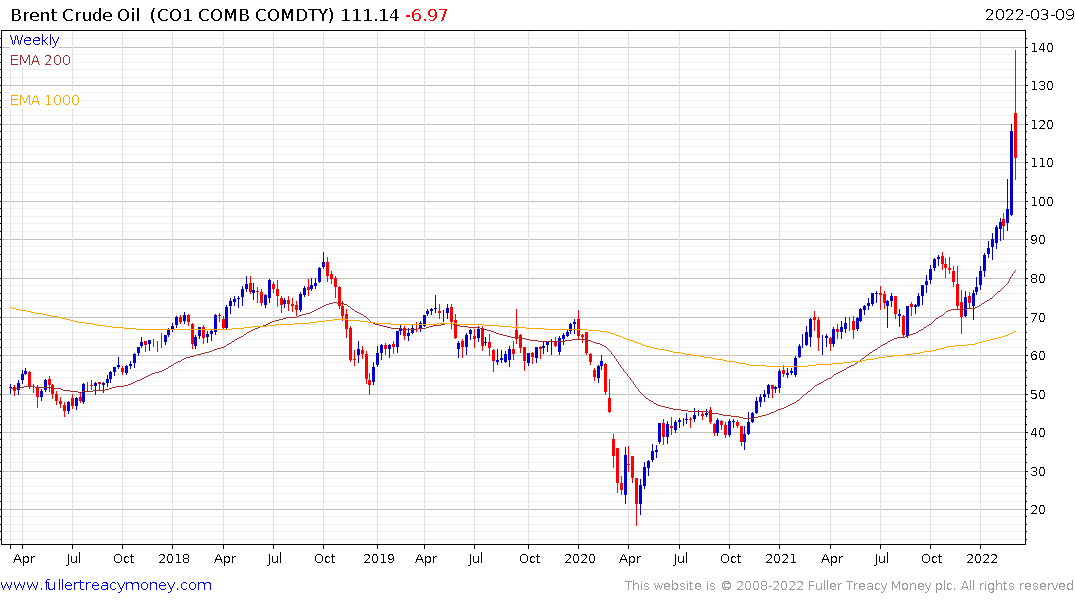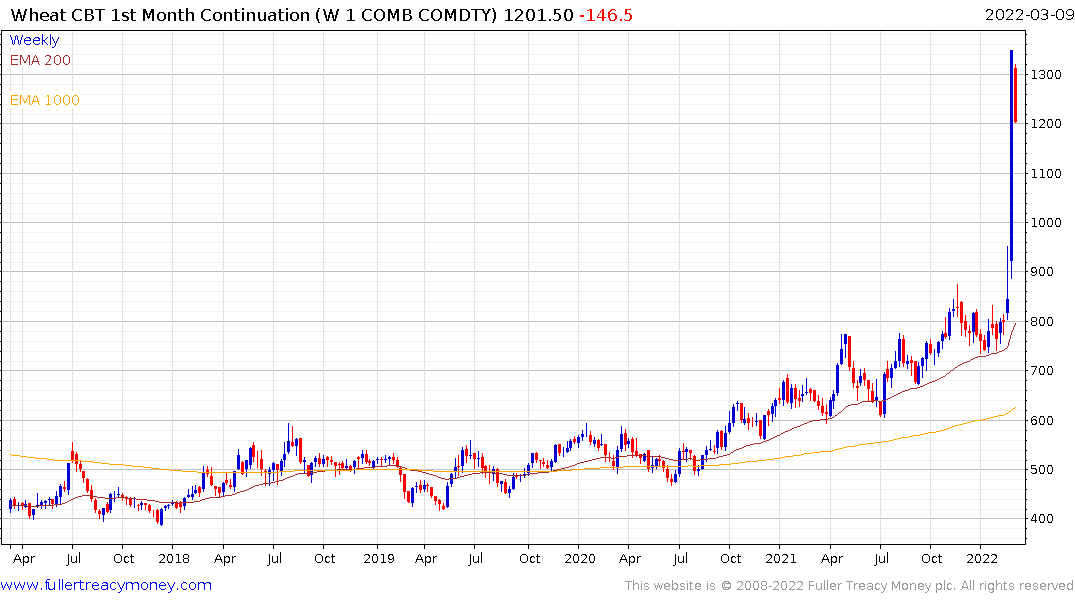 Gold, oil, and wheat (limit down) all fell today suggesting at least some pause and consolidation is underway. Given the accelerations over the last couple of weeks, these downward dynamics represent peaks of near-term significance.
Back to top