U.S. nuclear: delayed closures could add 26Mlbs to 2021-30 global uranium demand
Thanks to a subscriber for this report from BoA Securities. Here is a section:
Here is a link to the full report and here is a section:
U.S. NRC studying 100-year licenses for nuclear plants The U.S. Nuclear Regulatory Commission (NRC) is reportedly studying the technical implications of extending nuclear power plant licenses to 100 years. New nuclear plant licenses are issued with 40-year operating lives, after which owners can apply of extensions in increments of 20 years. A vast majority of U.S. nuclear plants ever built have received a license extension to 60 years, while 2 have received license extensions to 80 years. Successful license extensions to 100 years would allow all 94 U.S. nuclear plants in operation today to continue operating until at least 2069.

The uranium sector has had a number of false dawns over the last decades. The reason for an inability to reach escape trajectory from the lengthy base formations was KazAtom's policy of flooding the market and driving high-cost producers out of business.
So far, the policy has been quite fruitful. Cameco, the 2nd largest producer, has been able to survive by closing its signature Cigar Lake mine and buying on the spot market to fulfil long-term contracts. Until the supply surplus is exhausted it will BE difficult for related shares to sustain breakouts. The potential for a friendlier regulatory environment would certainly improve the supply/demand outlook.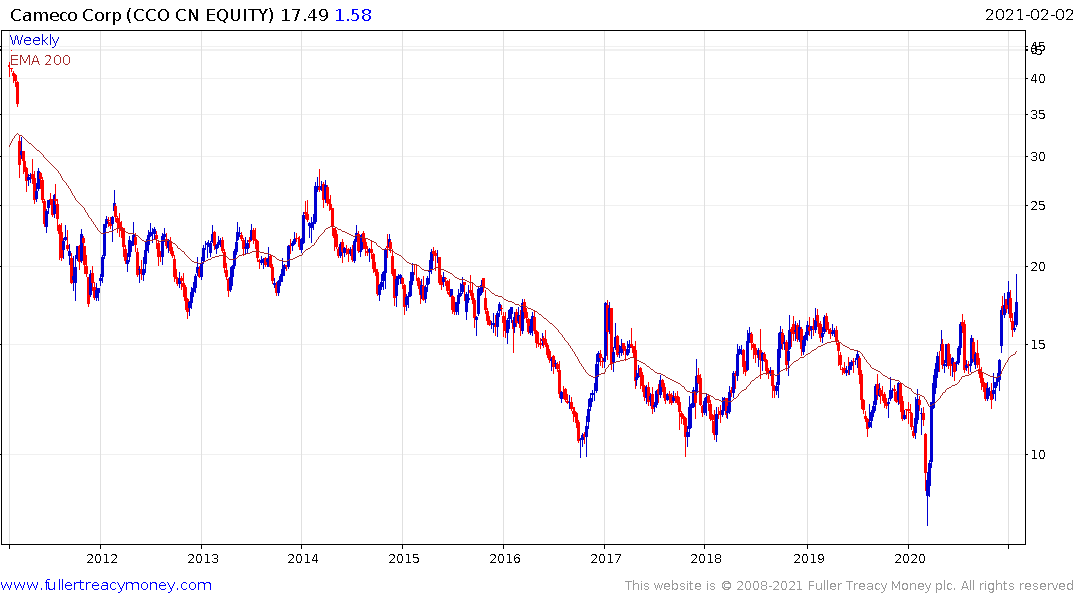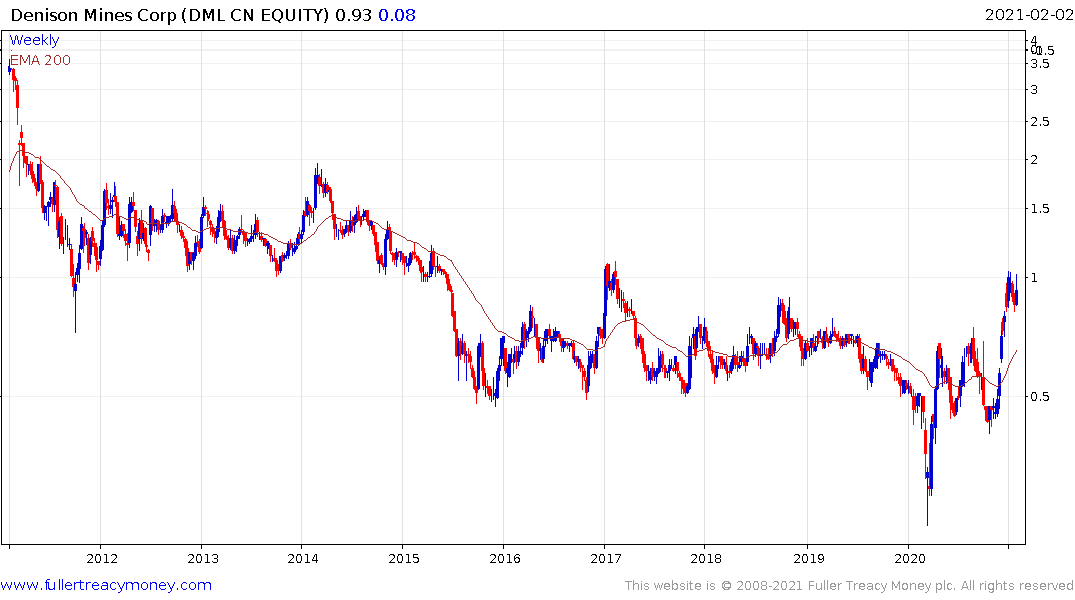 Cameco and Denison Miners popped on the upside yesterday but did not sustain the moves and remain towards the upper side of their respective bases.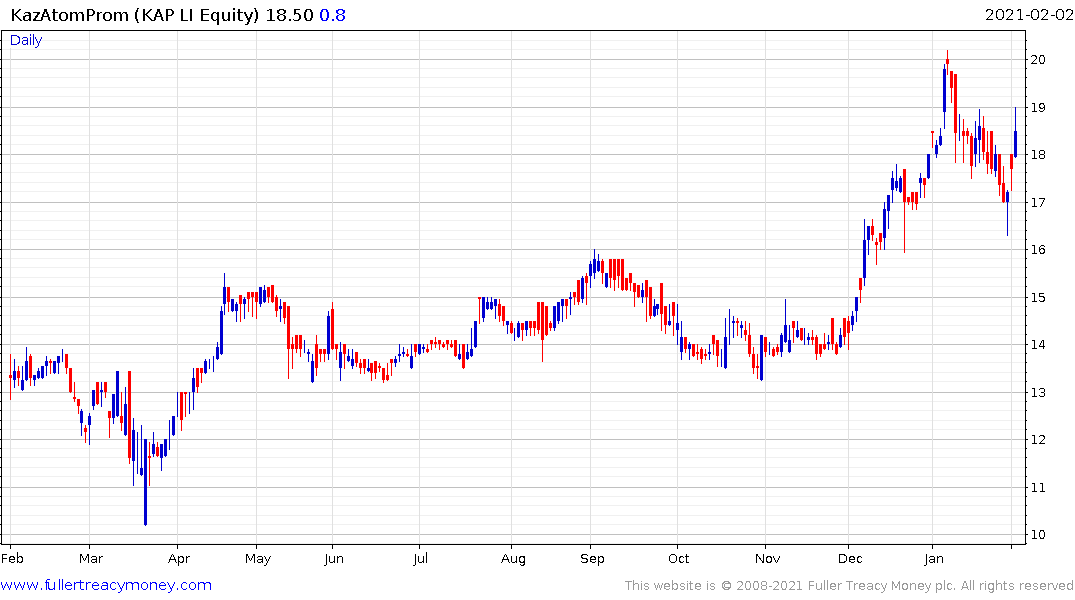 KazAtom has broken out and is forming a first step above its base.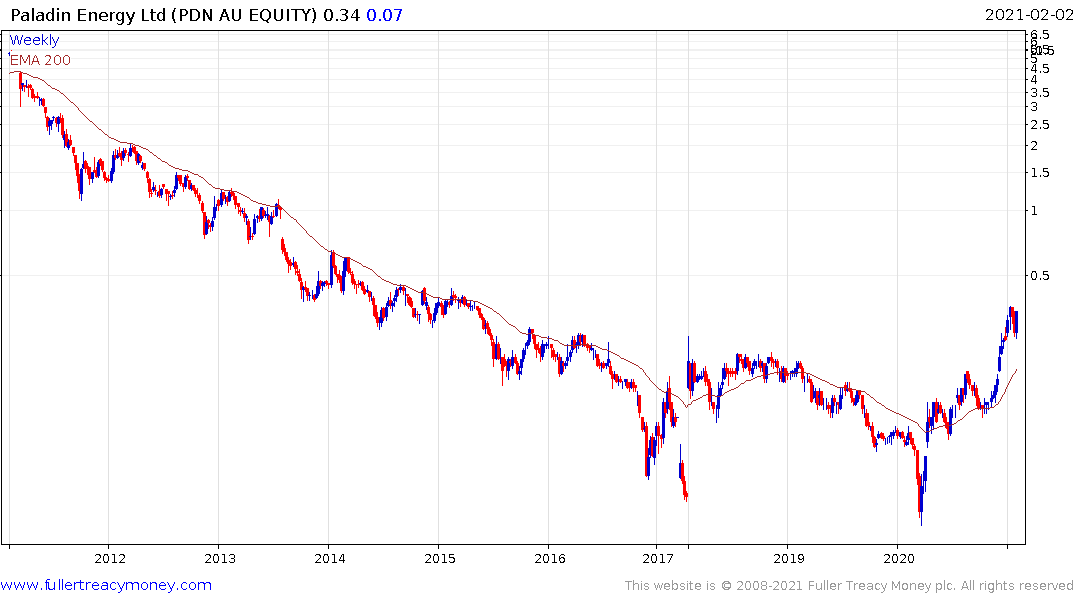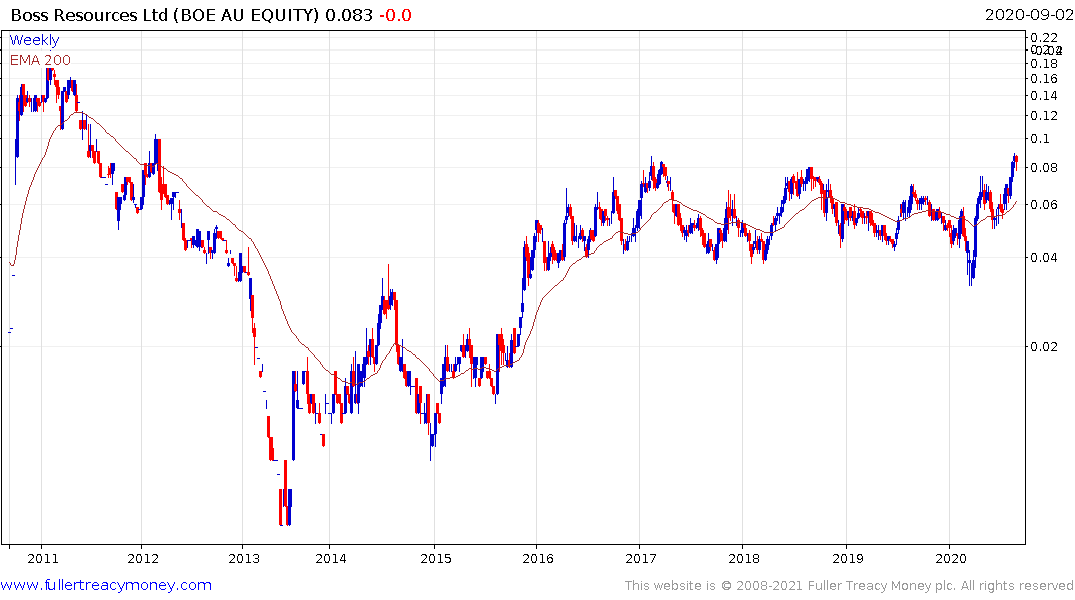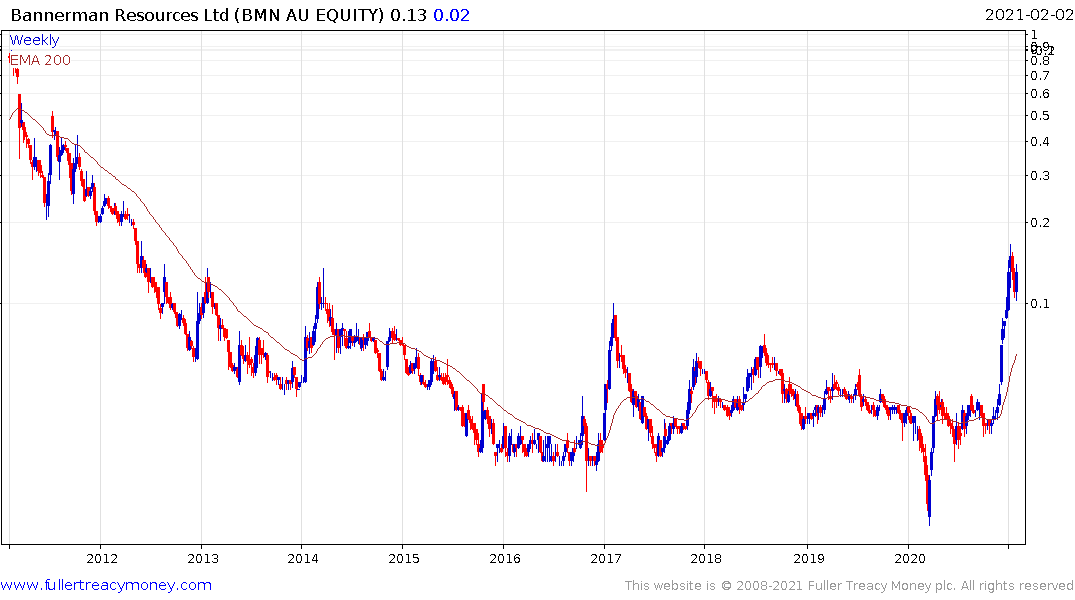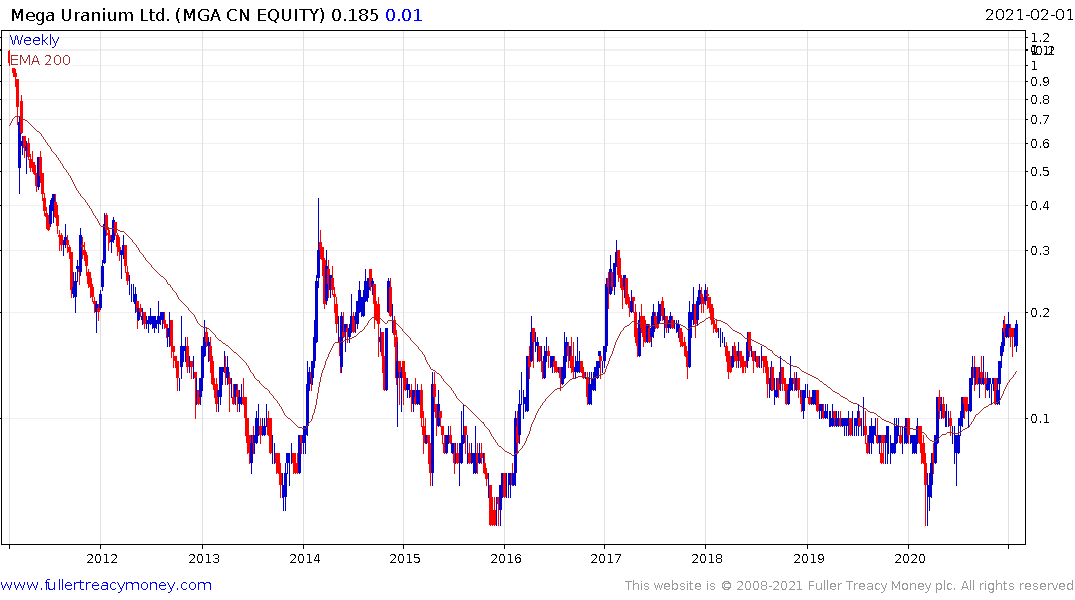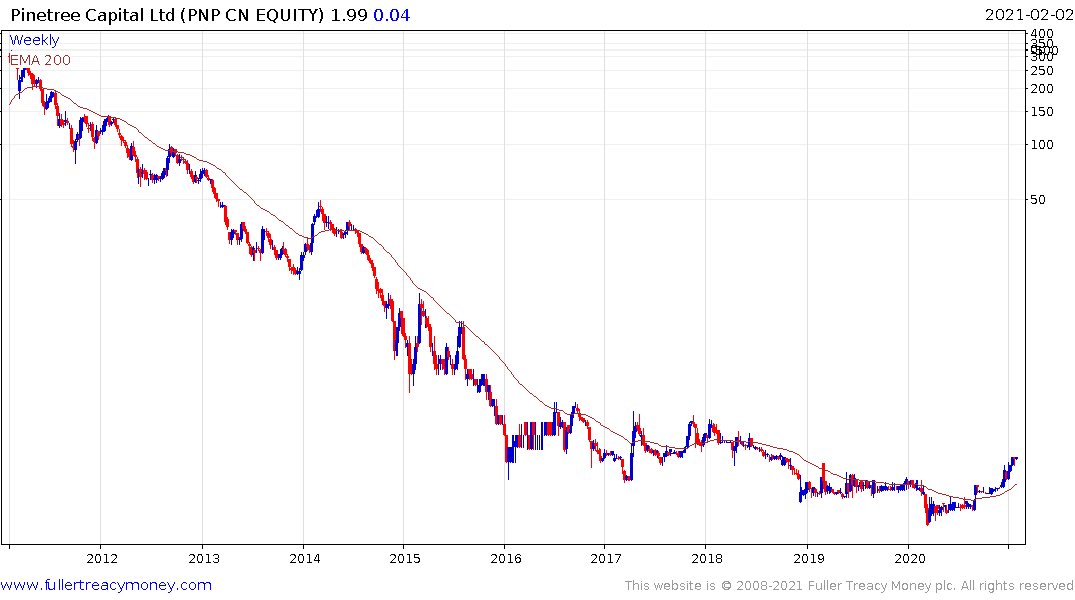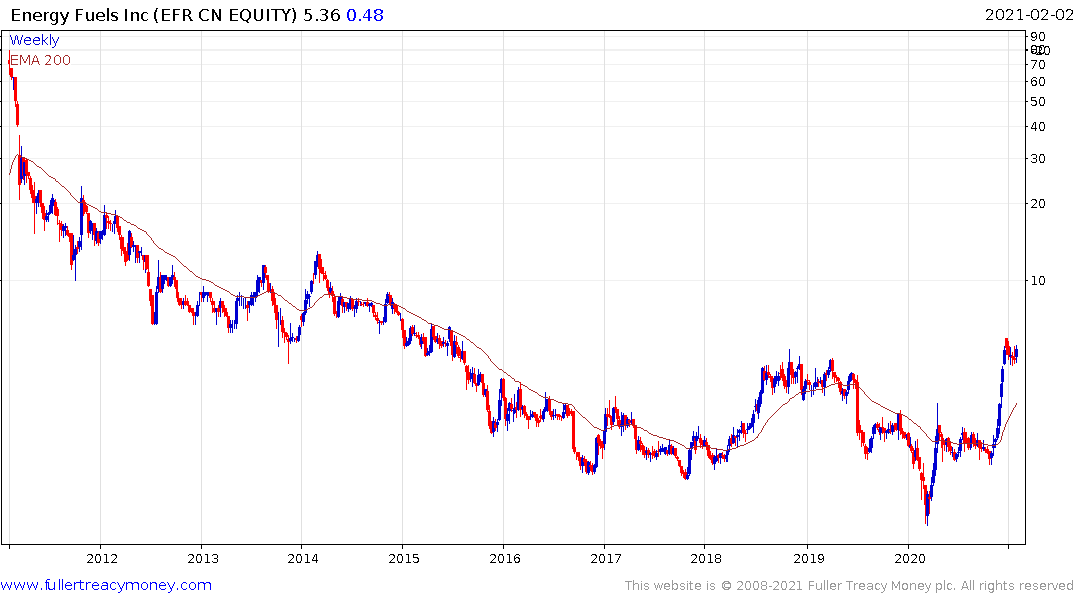 Generally speaking, the smaller companies like Paladin Resources, Boss Resources and Bannerman Resources in Australia and Mega Uranium, Pinetree Capital and Energy Fuels Inc in Canada have better evidence of trends underway.


The best performer in the sector is a relatively new entrant and is playing the sector through royalties. Uranium Royalty Corp continues to extend the breakout from the range that formed following its stock market entrance in early 2020.
Back to top