U.S. Gas Slumps to 13-Year Low as Forecasts Keep Getting Warmer
This article by Christine Buurma for Bloomberg may be of interest to subscribers. Here is a section:
Natural gas output is on course to reach a fifth straight annual record this year, even as prices decline, government data show. Production will rise 6.3 percent to 79.58 billion cubic feet a day as output from the Marcellus and Utica shale formations expands, according to the U.S. Energy Information Administration.

Gas inventories totaled 3.88 trillion cubic feet as of Dec. 4, 6.5 percent above the five-year average. Withdrawals from storage will be smaller than average as warm weather curtails demand, Dominick Chirichella, senior partner at the Energy Management Institute in New York, said in a note to clients.

"With mild temperatures still looming through the end of December (and possibly beyond) weekly withdrawals are likely to underperform versus history for several weeks to come," Chirichella said.
Natural gas is a big beneficiary of the climate agreement announced over the weekend not least because coal power is likely to face increasingly stringent environment regulation on top of that already in place. Gas more than any other fuel source will replace coal not least because energy storage solutions are not yet ready to ensure solar and wind can meet base load requirements.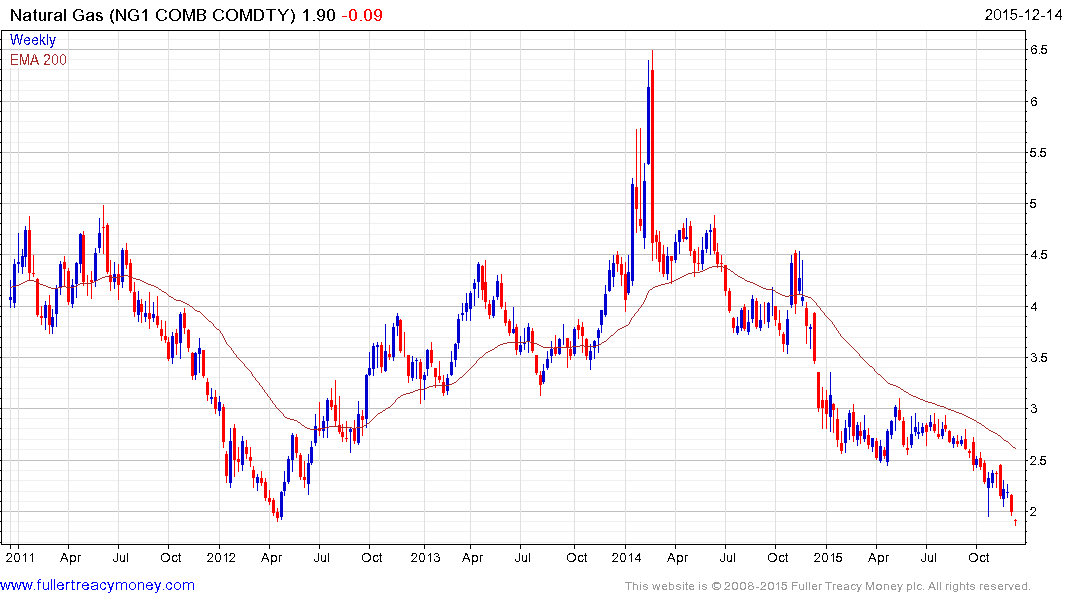 Natural gas is not in short supply and it will take what could be a considerable period for demand to transition enough to support prices much above $4. However prices are currently less than half even that level. While there is no evidence, just yet, that support has been found, prices are accelerating lower and the first clear upward dynamic is likely to signal a low of at least near-term significance.
Back to top