U.S. Boosts Crude Sales to China, Forcing Saudis to Find Other Markets
This article from Dow Jones Newswire may be of interest to subscribers. Here is a section:
Earlier this year, China agreed to buy U.S. crude as part of a broader deal meant to ease rising trade tensions between the two world powers. The Trump administration agreed to cut some tariffs on Chinese goods in exchange for purchases of American farm, energy and manufacturing exports. ~

China's buying so far is a long way from fulfilling commitments made in that deal, and to some extent it is simply restoring crude flows that were cut off amid the earlier U.S.-China trade tensions. As part of a deal, Beijing agreed in January to buy $52.4 billion worth of oil and liquefied-natural-gas from the U.S. by the end of 2021. The buying was delayed by the outbreak of the Covid-19 pandemic, but has ratcheted up more recently.

"The Chinese had to catch up," said Petro-Logistics Chief Executive Daniel Gerber. That is now upending traditional oil-trade routes world-wide and further depressing some prices. Global prices have been hammered by falling demand caused by the pandemic.

Amid the new U.S. shipments to China, Saudi Arabia recently cut prices for its crude for buyers in Asia, a move that could make that oil more attractive to other regional buyers. It is also now resorting to storing unsold oil at home and overseas, including at depots in Egypt, Singapore and China. Saudi Arabia's domestic crude-oil inventories rose 7% to 81 million barrels in the two weeks to Sept. 20, a level not seen since June, said Paris-based commodities-analysis company Kayrros.
China has a significant energy deficit and that is not about to change in the next few years. In fact, assuming continued economic recovery it may widen significantly. At the other end of the spectrum the USA, Russia and Saudi Arabia has large quantities of oil and gas available for export. That pretty much ensures competition for end markets will remain active and explains why Russia and the USA remain at odds on a wide number of issues.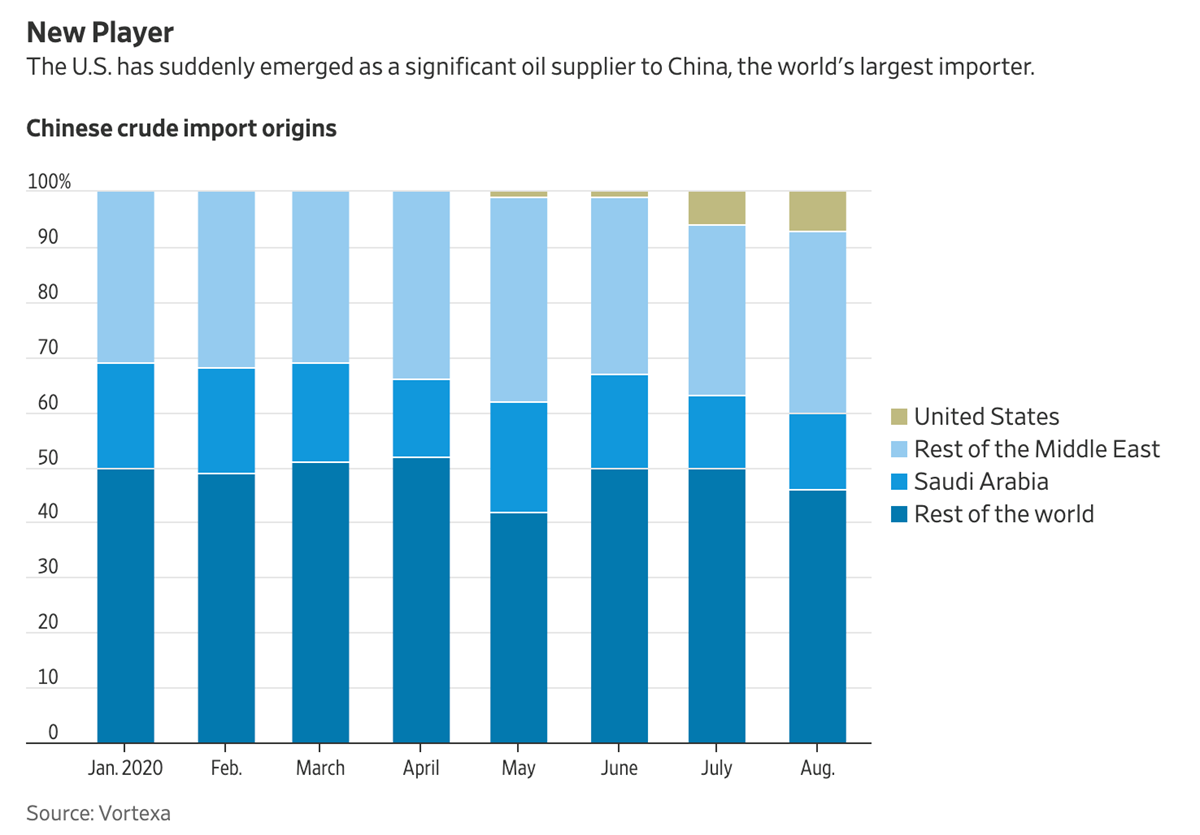 US/China relations are unlikely to improve regardless of what form the next US government takes. That suggests the recent uptick in exports to China cannot be relied upon. Meanwhile, European relations with China and Russia are not deteriorating so that is likely to become a much more competitive market US exports. That's despite the green new deal currently being implemented.

This article from Bloomberg castigating Exxon Mobil for even thinking about growing production is an example of how hysterical the green movement have become. Carbon emission radicalism appears to be moving mainstream but the transition to renewable resources will not happen overnight and that's assuming the money being spent on the sector is successful in delivering solutions.

Right now, hurricane Delta has strengthened from a tropical depression into a category 4 storm in 24 hours. This rapid strengthening of storms is a new phenomenon and makes them harder to predict. It is expected to sweep Cancun on the Yucatan peninsula then swing northeast towards the Louisiana/Florida border. That's going to take if over most off shore rigs in the Gulf of Mexico. They are all being shut down ahead of the storm.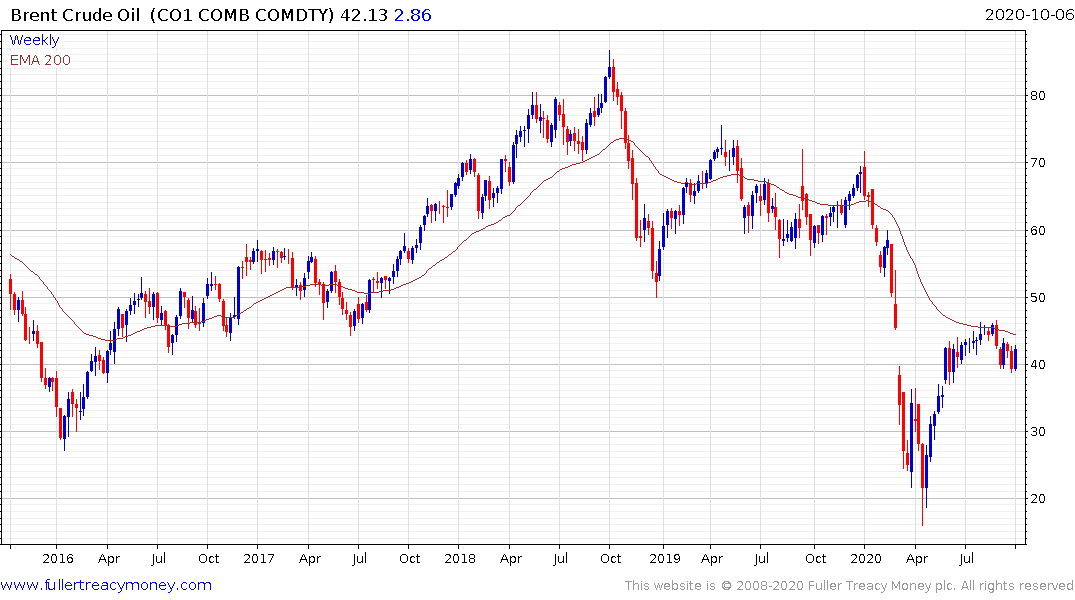 Crude oil following through on the upside today to confirm a failed downside break below $40 and a clear downward dynamic will be required to question scope for additional upside.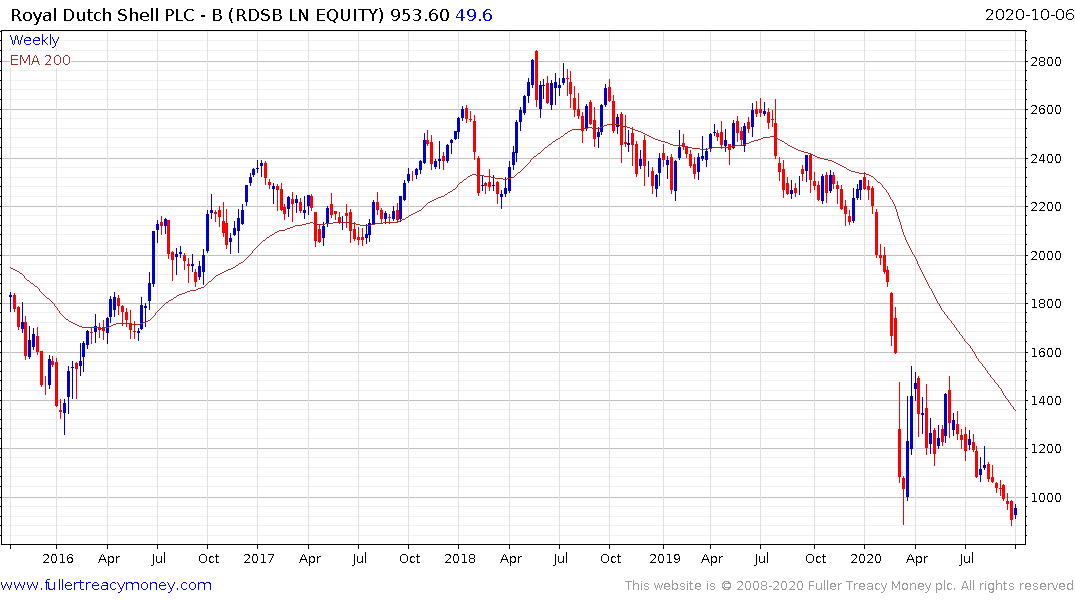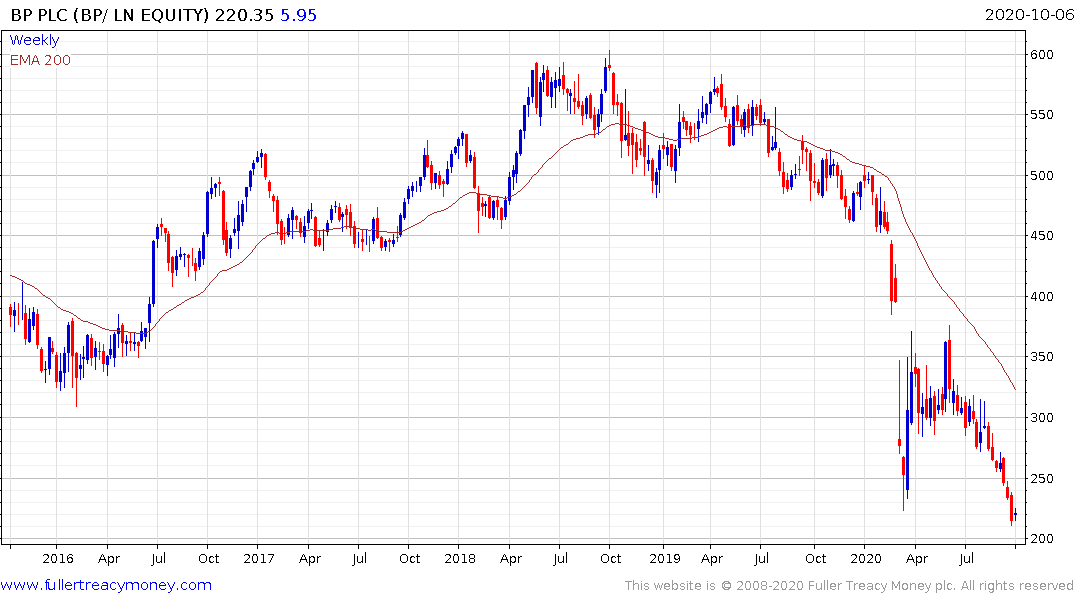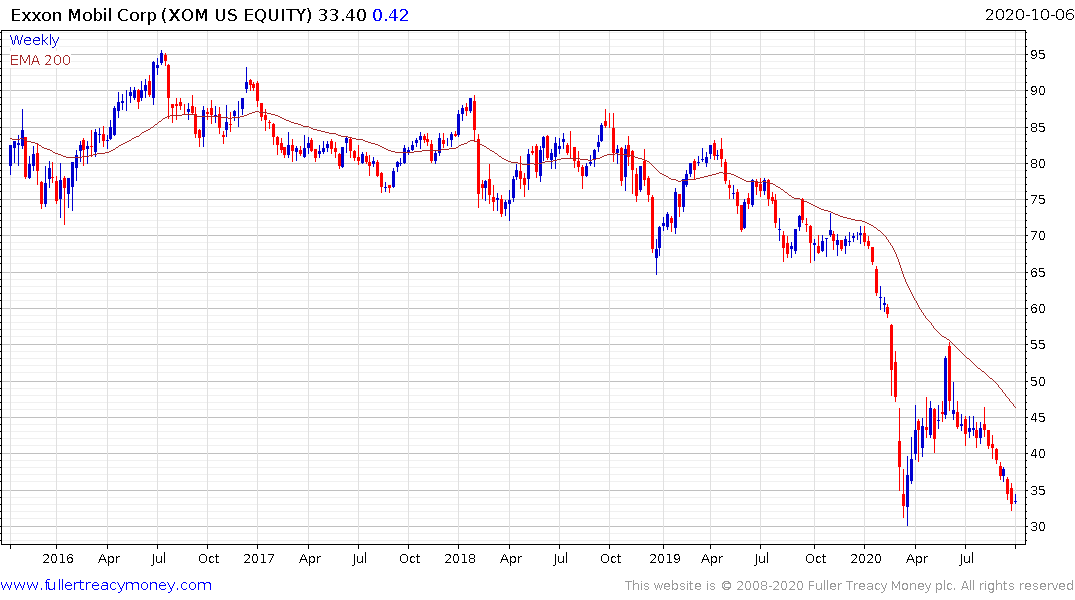 Shares like Royal Dutch Shell, BP and Exxon Mobil are all trading in the region of their March lows. Investors appear convinced they will have to cut dividends even further. That's already pricing in a worst-case scenario. If Exxon, for example, can hold its dividend it yields 10.2%. Even if it has to halve the pay-out and drop out of the Dividend Aristocrats it will still yield over 5%. When Treasuries yield 0.77% that's a wide spread and oil prices are recovering. The big question is whether doubts about imminent fiscal stimulus will weigh further on the sector before a recovery takes place.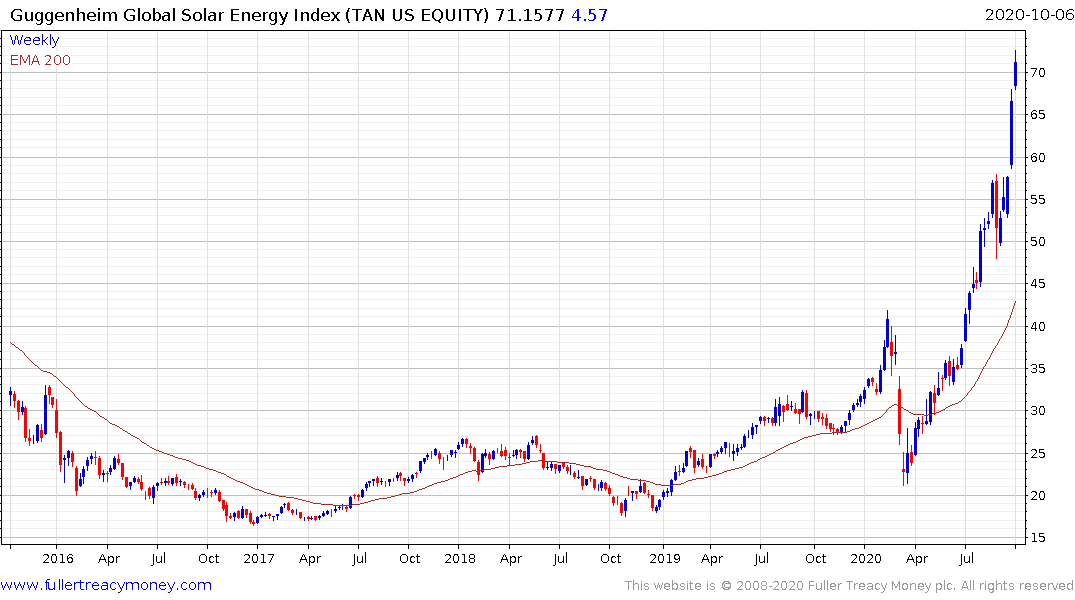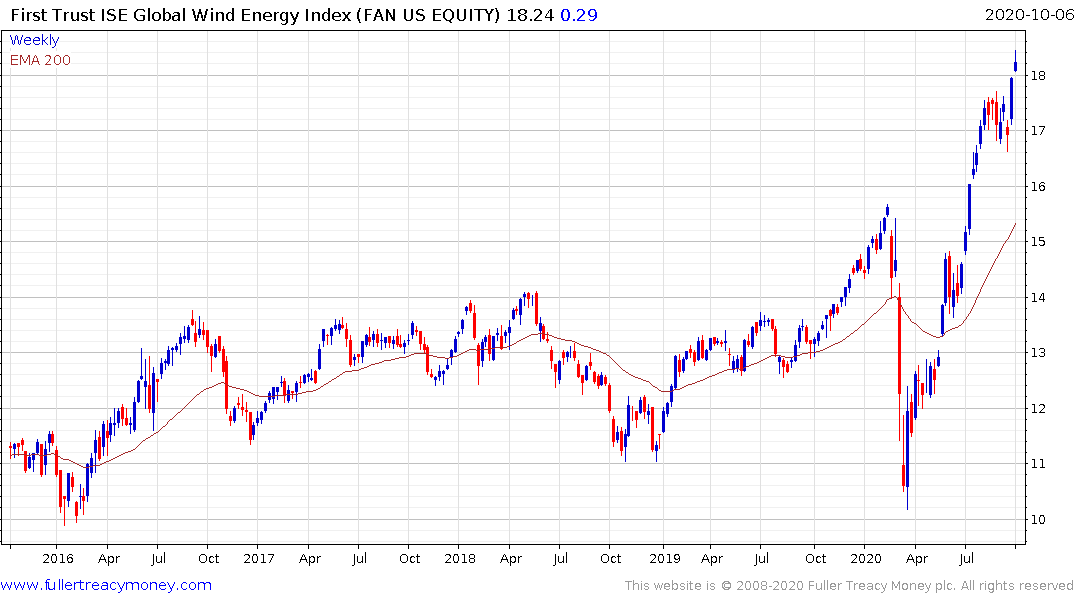 Meanwhile the solar and wind ETFs continue to extend their impressive uptrends.
Back to top