Trump Says U.S. to Compete With Russia for Europe Gas Market
This article from Bloomberg news may be of interest to subscribers. Here is a section:
But Europe may have difficulty attracting gas cargoes from overseas, given higher prices in Asia. The WGI spot LNG assessment for Northeast Asia was $10.30 per million British thermal units on July 9, while U.K.'s National Balancing Point gas futures traded at $7.50 on Monday.

Longer term, gas export project developers in the lower 48 states may face delays as they wait for regulatory approval. Sefcovic called the U.S. approval process "redundant" and said it needed to be revamped.

Gazprom is Europe's largest gas supplier and provides more than a third of the region's needs in the fuel. Its chief executive officer, Alexey Miller, confirmed in June its plan to start laying the pipes in the next couple of months and to open the Nord Stream 2 link by late-2019. The project would cut Russia's dependence on Ukraine and help meet additional demand for the fuel in the EU in next two decades as local production falls.

Meanwhile, Russia is unperturbed by the prospect of American LNG supplies to Europe. They "will never catch up with and will never surpass" Russian gas exports to the region, Miller said in June.
Gas is increasingly an international traded commodity with global markets expanding as more countries transition away from a reliance of coal for power generation and heating and from solid fuel or electricity for cooking. The USA has the potential to be a major gas exporter since it has more of the commodity than it knows what to do with but it will have a hard time competing with Russia for Europe's market.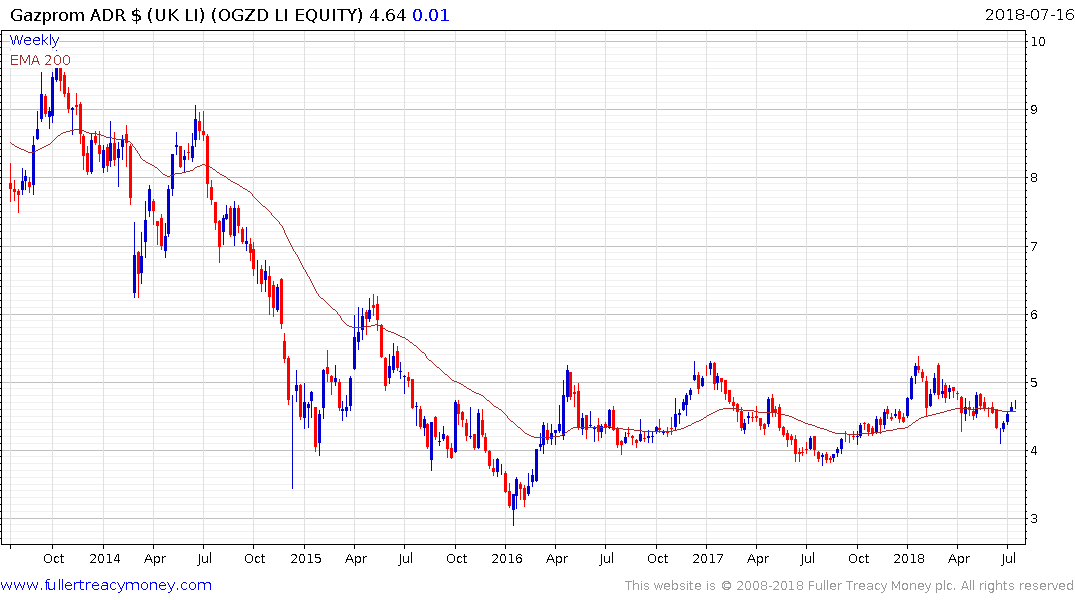 Gazprom is the Russian state's cash cow so it has been ranging mostly below $5 since early 2016 despite the rally in energy commodities.
Back to top