Toyota Maps Out Decline of Conventionally Fueled Cars
This article by Yoko Kubota for the Wall Street Journal may be of interest to subscribers. Here is a section:
Yet for now, Toyota is still highly reliant on gasoline- and diesel-powered cars. Last year, around 14% of Toyota's global sales were hybrid vehicles, including plug-ins. Most of the remaining sales were vehicles powered by gasoline and some diesel, though a detailed breakdown wasn't available.

?Toyota has posted record profits in recent years, partly thanks to growing sales of profitable but gas-guzzling sport-utility vehicles and pickup trucks in the U.S., backed by lower fuel prices.

The vision to eliminate gasoline- and diesel-powered cars was a part of Toyota's wider green car strategy unveiled Wednesday.

By 2020, Toyota aims to cut carbon-dioxide emissions from new vehicles by more than 22% compared with its 2010 global average. It ultimately hopes to take that to a 90% reduction by 2050, the auto maker said.

To do so, Toyota plans to sell roughly 7 million gas-electric hybrid vehicles world-wide over the next five years, it said. Toyota has sold around 8 million hybrids since it started selling them 18 years ago.

Toyota also plans to sell at least 30,000 fuel-cell vehicles a year world-wide by around 2020, it said.
Here is a link to the full article.

The fallout from Volkswagen's diesel emissions scandal means other manufacturers, that had not focused on a "clean diesel" marketing campaign, are capitalising on the story by promoting their own innovations. Toyota has made some big bets on hybrid and fuel cell cars and the debacle of Volkswagen's fraud enhances the potential that these decisions will succeed in enticing consumers to try a new solution over the medium term.


However for Toyota's share the relative strength of the Yen is a more pressing short-term consideration. The US Dollar pulled back sharply in August and has been ranging in the region of the ¥120 for the last six weeks. It weakened additionally today and is now testing the lower side of the short-term range. An upward dynamic would be required to signal renewed Yen weakness which has been a substantial tailwind for the domestic stock market over the last three years.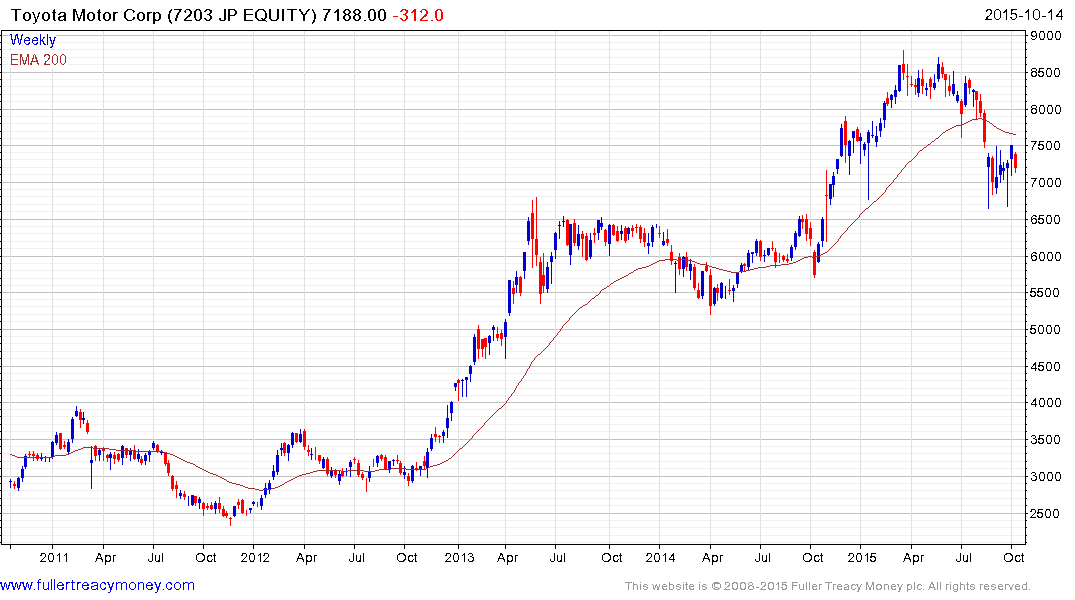 Toyota encountered resistance in the region of the 200-day MA last week and will need to hold the lows near ¥600 if potential for additional higher to lateral ranging is to be given the benefit of the doubt.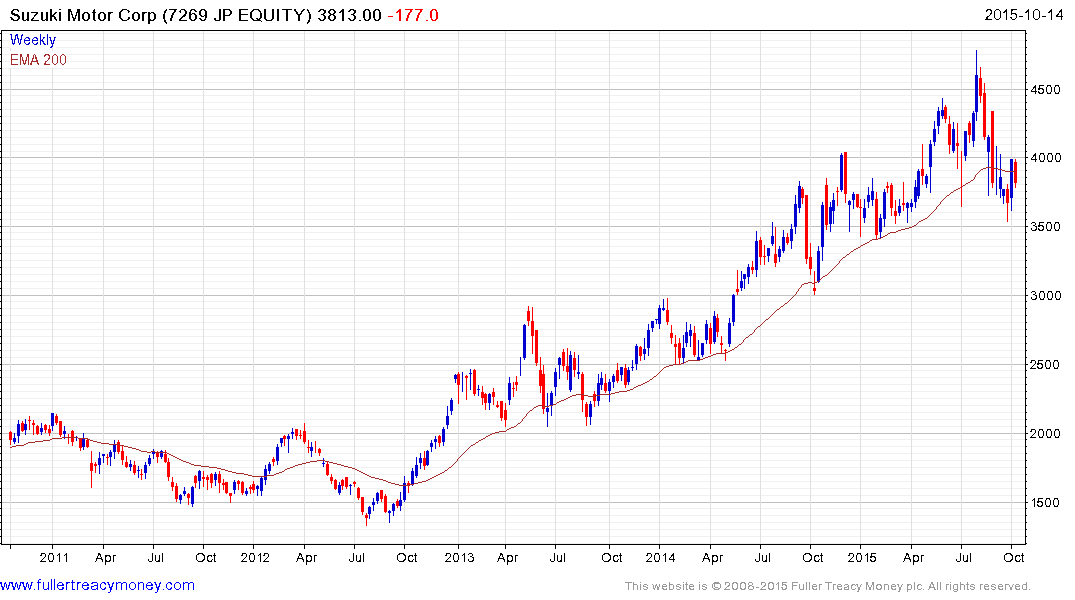 Suzuki Motor had exhibited one of the most consistent medium-term uptrends in the sector but also encountered resistance in the region of the trend mean last week. It needs to hold the ¥3500 level if the trend is to remains reasonably consistent.
Back to top