Time to add wind developers
Thanks to a subscriber for this report Deutsche Bank which may be of interest. Here is a section:
After years of efforts, China achieved breakthroughs in nuclear export this year with two mega-size contracts signed with Britain and Argentina, respectively. ? In October 2015, China General Nuclear Corporation (CGN) reached an agreement with state-owned EDF Energy to co-invest in a Hinkley Point C nuclear project in England with respective 33.5% and 66.5% stakes in a deal worth GBP18bn. It is also worth mentioning that China will be able to bring its own Generation III nuclear technology of Hualong One to a subsequent project Bradwell B.

In November 2015, China National Nuclear Corporation (CNNC) sealed a USD6bn deal with Argentina to build the country's fourth nuclear plant. According to media reports, CNNC also reached a framework agreement with Argentina on a fifth plant, which will use Hualong One technology if the deal is finalized.

China's first nuclear project based on Hualong One, Fuqing 5, achieved FCD in May. Its construction and operation, together with the recognition of developed countries with advanced nuclear tech and experience such as Britain, will help open doors to more markets for Hualong One. However, all these projects will take at least seven to eight years to complete, which suggests limited near-term upside potential for nuclear equipment exports.
Here is a link to the full report.

The current low price of oil is a benefit to China. However the fact it has to import such large quantities of energy means building domestic capacity that does not depend on fossil fuel will remain a priority for the foreseeable future regardless of slowing infrastructure investment in other sectors.
Such concerted investment in nuclear technology has also enhanced China's ability to compete internationally in what is among the most complex technology fields. This is even more important for the future because so few countries are willing to commit the capital necessary to fund development of new nuclear.
This article from Eurekalert highlights advances a Chinese/US team are making in fusion research and is another example of where China is competing on an equal footing in advanced research.
Nuclear represents medium to long-term potential but as the above report highlights there are some deeply oversold conditions evident in wind developers and the first signs of support being found are now evident.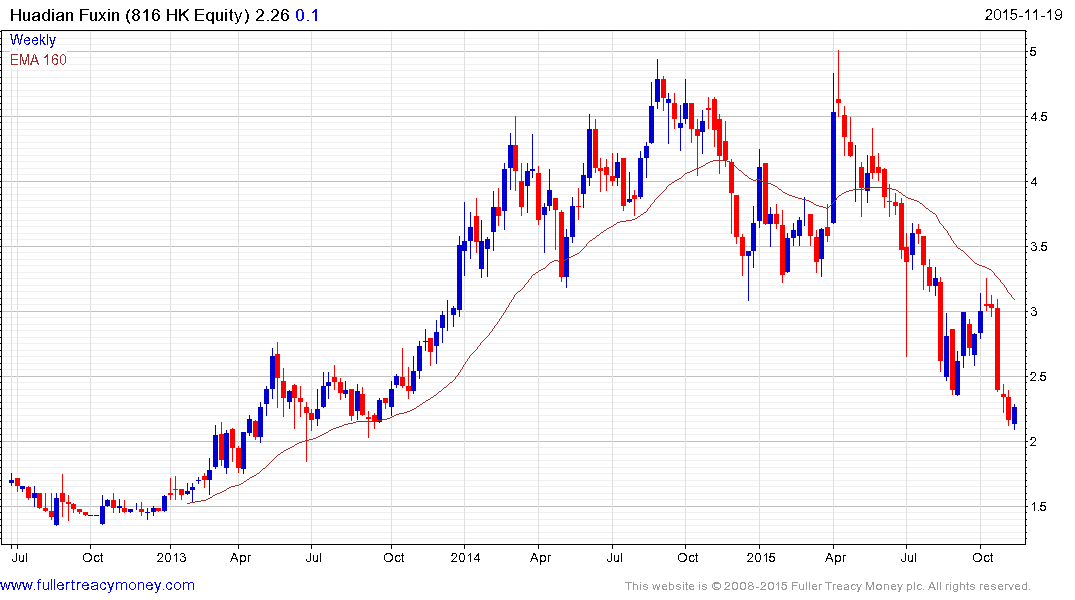 China Longyuan Power, Huaneng Renewables and Huadian Fuxin are all Hong Kong listed and potential for reversionary rallies has increased following steep declines over the last month.
Back to top