The Silicon Valley Idea That's Driving Solar Use Worldwide
This article by Mark Chediak and Chris Martin for Bloomberg may be of interest to subscribers. Here is a section:
SolarCity took the leasing model that SunEdison Inc. first developed for the solar industry by a graduate student named Jigar Shah. He founded the company and sold its first power purchase agreement with Whole Foods Market Inc. in 2003, according to his book, Creating Climate Wealth.
SolarCity adapted that model for residential consumers in 2008 and many more offered similar arrangements including Sunrun Inc., which developed the first one in September 2007, and Vivint Solar Inc. In August, SolarCity bought a developer in Mexico that was offering the first leases to businesses in that country and plans to expand it to homes there.

And now the idea is spreading to other industries trying to sell expensive capital equipment that reduce pollution and fossil fuel consumption. Cambrian Innovation, a startup out of Massachusetts Institute of Technology, has developed onsite wastewater treatment plants. While the high cost make them difficult to sell, when they combine all the benefits to a consumer like a brewery -- lower disposal fees, water use, energy use and carbon emissions -- they can finance leases and offer savings at no cost to the consumer.

"SunEdison developed the solar power-as-a-service that helped the industry take off," Matthew Silver, chief executive officer of Boston-based Cambrian, said in an interview. "Now we're offering clean water as a service that municipal utilities can or won't do."
With the COP21 conference beginning in Paris today, there are a large number of articles circulating on the advances already seen in the development of renewable sources of energy. Lease back agreements that have increased access to these solutions is certainly important, but I am curious how these will be structured when interest rates rise and the cost of funding such largesse rises.

Renewable intermittency means industrial scale storage solutions need to get substantially cheaper and battery technology needs to improve. Progress has been made on both fronts but we are still a long way from replacing fossil fuels.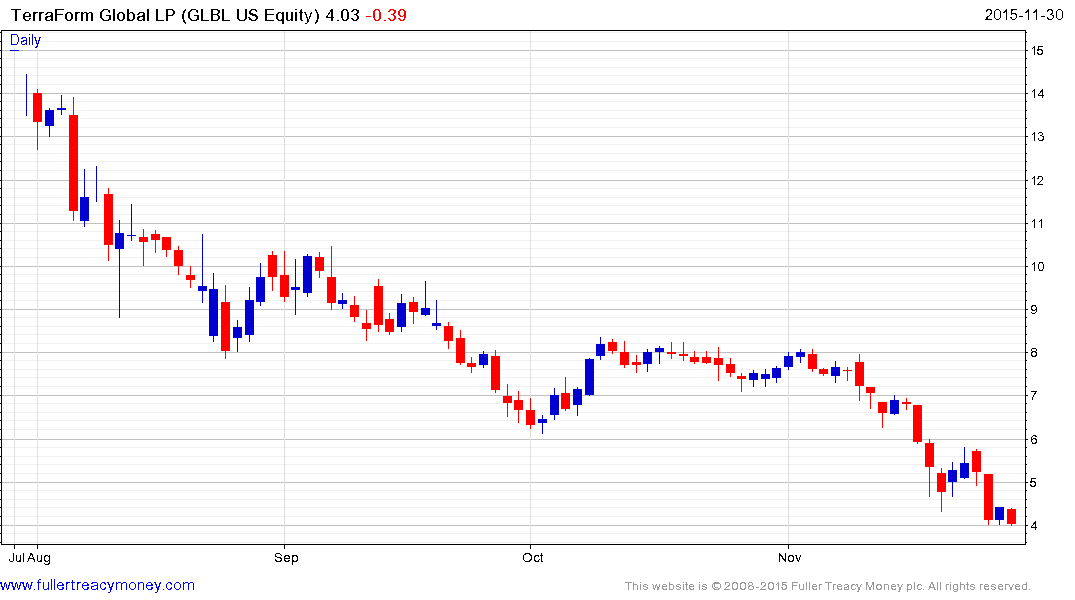 I posted a report from Greenlight in late October which looked at the value represented by SunEdison's spinoff of its international expansion into TerraForm Global (GLBL). Since then GLBL's price halved and today's news that SunEdison is pulling out of a deal to purchase a stake in Renova, which would have diluted the shares, has been welcomed by the market. The share continues to steady from the region of $4 and a sustained move below that level would be required to question support building.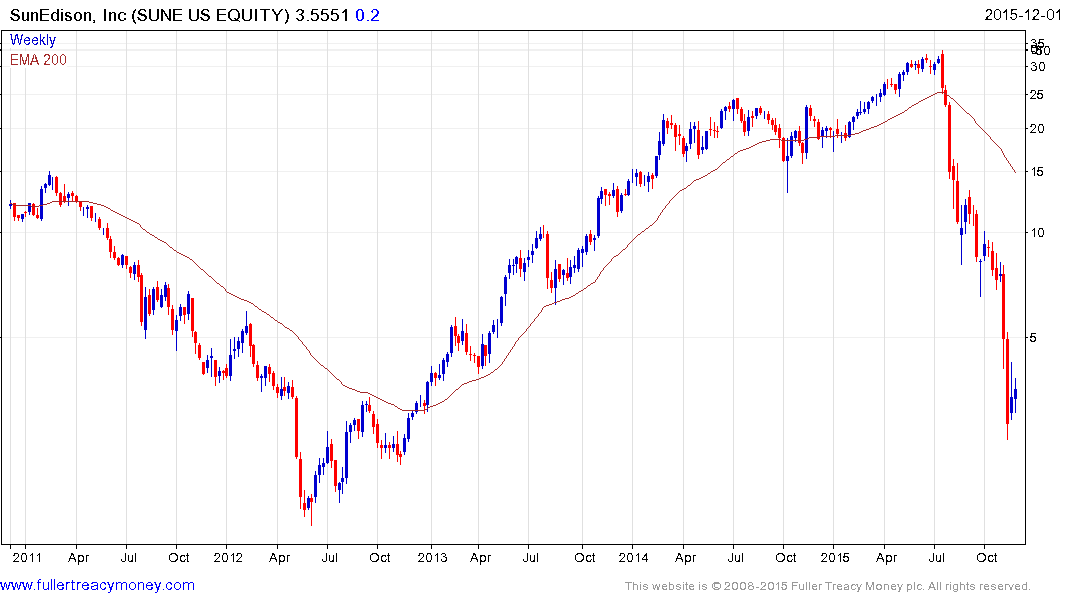 SunEdison has also paused in the region of its lows and a sustained move below $2.50 would be required to question potential for continued support building.
Back to top