The Future of Hydrogen
This report from EIA may be of interest to subscribers. Here is a section
The time is right to tap into hydrogen's potential to play a key role in a clean, secure and affordable energy future. At the request of the government of Japan under its G20 presidency, the International Energy Agency (IEA) has produced this landmark report to analyse the current state of play for hydrogen and to offer guidance on its future development. The report finds that clean hydrogen is currently enjoying unprecedented political and business momentum, with the number of policies and projects around the world expanding rapidly. It concludes that now is the time to scale up technologies and bring down costs to allow hydrogen to become widely used. The pragmatic and actionable recommendations to governments and industry that are provided will make it possible to take full advantage of this increasing momentum.

Hydrogen can help tackle various critical energy challenges. It offers ways to decarbonise a range of sectors – including long-haul transport, chemicals, and iron and steel – where it is proving difficult to meaningfully reduce emissions. It can also help improve air quality and strengthen energy security. Despite very ambitious international climate goals, global energy-related CO2 emissions reached an all-time high in 2018. Outdoor air pollution also remains a pressing problem, with around 3 million people dying prematurely each year.

Hydrogen is versatile. Technologies already available today enable hydrogen to produce, store, move and use energy in different ways. A wide variety of fuels are able to produce hydrogen, including renewables, nuclear, natural gas, coal and oil. It can be transported as a gas by pipelines or in liquid form by ships, much like liquefied natural gas (LNG). It can be transformed into electricity and methane to power homes and feed industry, and into fuels for cars, trucks, ships and planes.
Here is a link to the full report.

The dramatic decline in natural gas prices and the abundant quantities being produced and in reserve mean that it is inevitable that new sources of demand will appear to take advantage. Since natural gas is one of the primary sources of hydrogen, it makes sense to promote fuel cell vehicles or range extenders for electric vehicles. How long it will take for this evolution to have an effect on the market is questionable, but it will probably be the catalytic event necessary to boost prices out of the long-term base.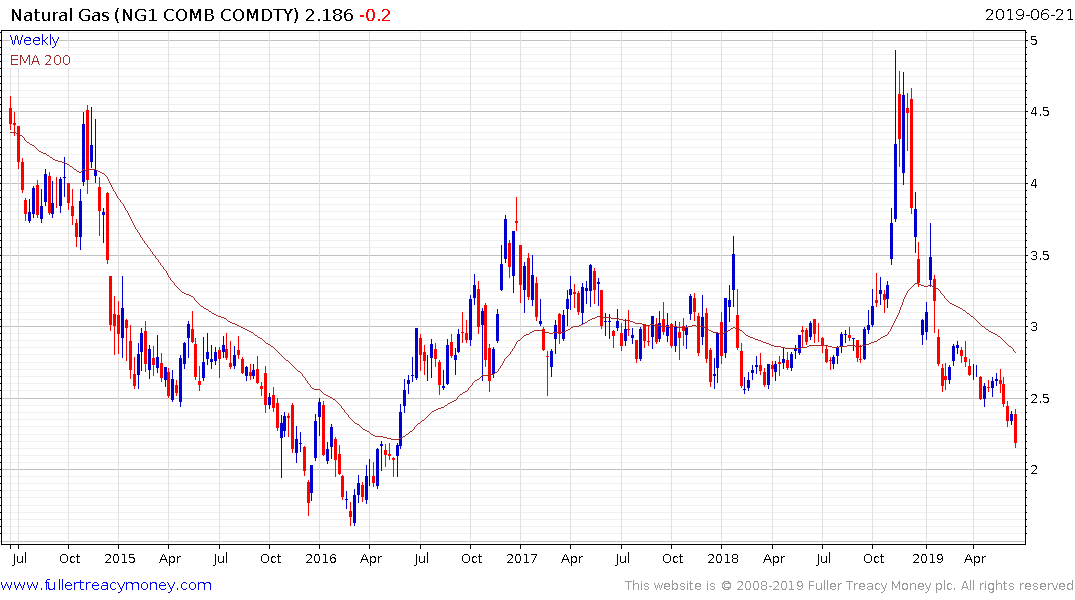 Natural gas prices steadied from the $2 area in 2012 and 2016 so it is reasonable to expect this area to offer support over coming weeks.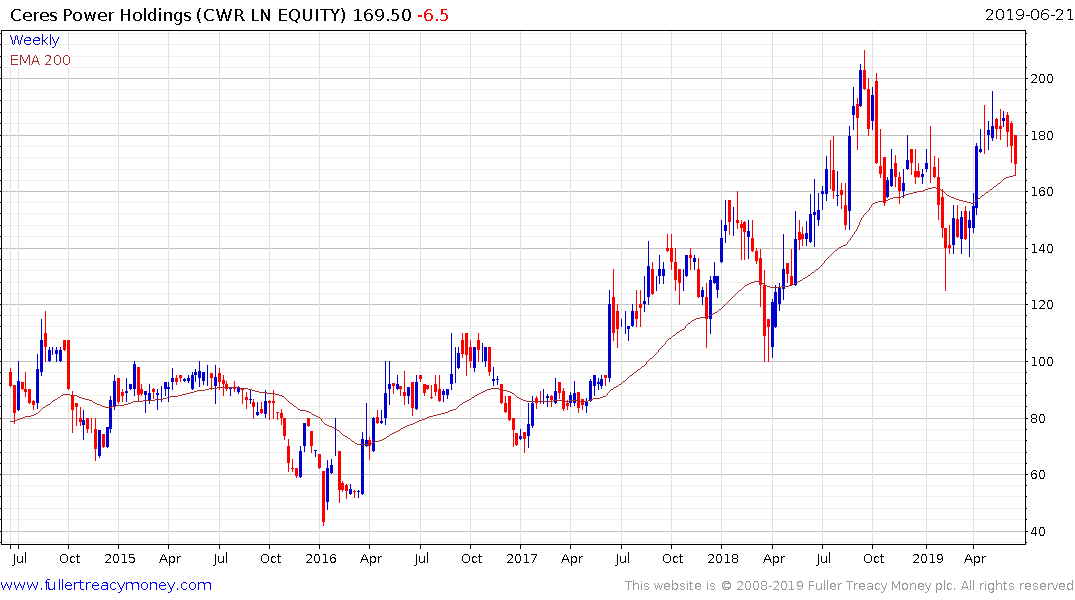 Ceres Power has signed a number of contracts with Chinese companies to develop its fuel cell technology. The share has held a sequence of higher reaction lows since early 2016 and will need to hold it if the benefit of the doubt is to be given to recovery.
Back to top