The Big Green Bang: how renewable energy became unstoppable
Thanks to a subscriber for this article by Pilita Clark for the FT which may be of interest. Here is a section:
"I have been early twice in financing the low carbon energy transition," says Bruce Huber, cofounder of the Alexa Capital advisory group. "But we feel it's third time lucky."

One reason for his optimism is what he calls the "tectonic plateshifting" in the car industry that is driving down the cost of energy storage. Storing clean power has long been a holy green grail but prohibitive costs have put it out of reach. This has begun to change as battery production has ramped up to meet an expected boom in electric cars.

Lithium ion battery prices have halved since 2014, and many analysts think prices will fall further as a slew of large battery factories are built.

The best known is Tesla and Panasonic's huge Nevada "gigafactory". Tesla claims that once it reaches full capacity next year, it will produce more lithium ion batteries annually than were made worldwide in 2013.

It is only one of at least 14 megafactories being built or planned, says Benchmark Minerals, a research group. Nine are in China, where the government is backing electric cars with the zeal it has directed at the solar industry.

Could this lead to a China-led glut like the one that helped drive solar industry writeoffs and crashing prices after the global financial crisis?

"It's something to watch," says Francesco Starace, chief executive of Italy's Enel, Europe's largest power company.

The thirst for electric cars, not least in China, means "the dynamics of demand are completely different" for batteries than for solar panels, he adds.

Still, Enel's internal forecasts show battery costs falling by about 30 per cent between 2018 and 2021 and it is among the companies already pairing batteries with solar panels to produce electricity after dark in sunny places where power is expensive, such as the Chilean desert.
Here is a link to the full report.

The main objections to renewable energy are focused on intermittency and their reliance on subsidies. However economies of scale and the application of technology represent reasons for why we should be optimistic these can be overcome over the medium term. That represents a significant challenge for both the established energy and utility sectors.

Right now we are talking about a time when solar and wind will be able to compete without subsidies on an increasing number of projects. However if we continue on that path there is potential for the sector to be a victim of its own success because the lower prices go and the more fixed prices are abandoned the greater the potential for volatility in energy pricing.
The evolution of battery technology is the true enabler for renewable energy because it eases the intermittency argument. Batteries will both allow utilities to reduce their costs through removing the need for quite so much redundant capacity and will also improve the ability of renewable power plant operators to compete.

Tesla has made a great deal of fuss about the opening up of its gigafactory but it will not be the dominant player for long. Privately held Contemporary Amperex Technology Ltd (CATL) aims to surmount Tesla's production capacity by 2020 while LG Chem will just about equal it in the same timeframe. That represents a major leap in the production of batteries and should help prices to come down. That suggests the time when electric car prices will be competitive with internal combustion engines is closer than many think.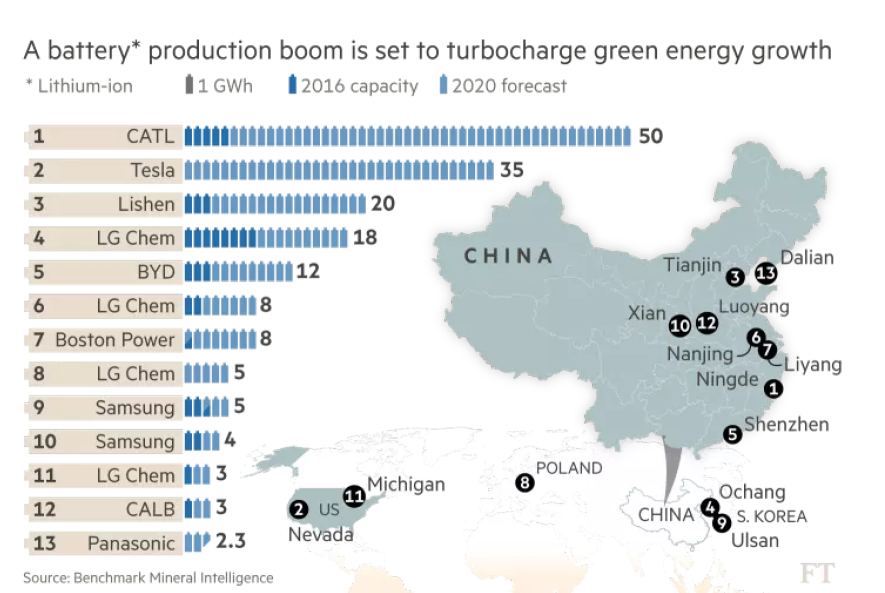 The economy of scale argument is important but improving battery energy density and charging times is even more important. A doubling from current levels which is not at all beyond the bounds of possibility within the next five years would be a gamechanger for the electricity markets. More than any other factor the greatest incentive to adopt renewables and batteries is independence. Once the price point gets to a point where the economics are compelling, demand has the potential to increase in a very meaningful way not least in energy importing countries. After all it is for that reason Europe has been the main advocate for renewables over the last 20 years. This article from arstechnica.com focusing Daimler's recent announcement of investment in its own battery production facility may also be of interest.
Among battery producers: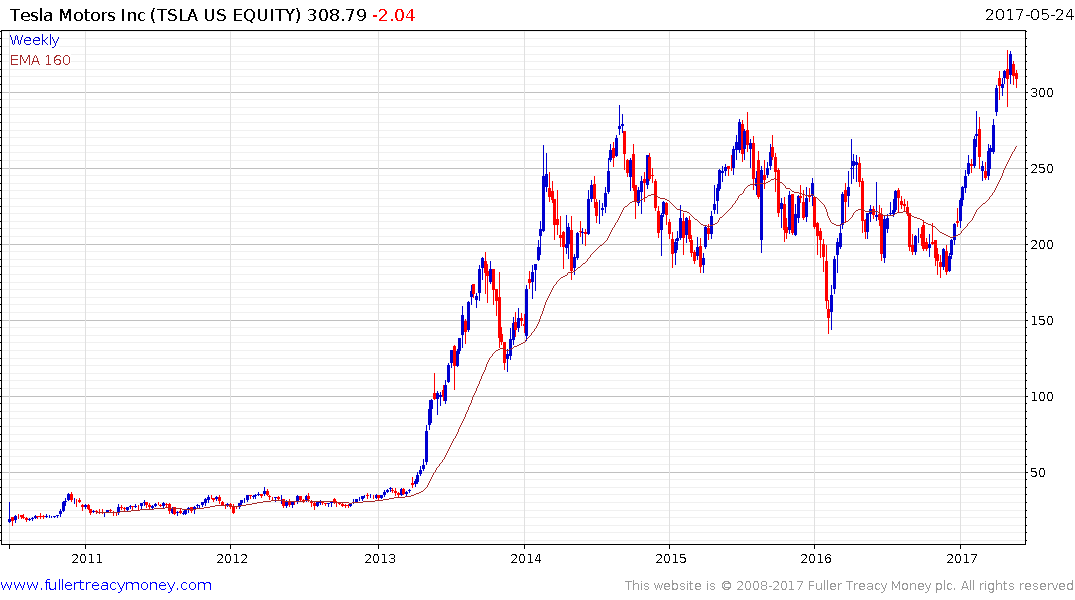 Tesla broke out of a three-year range when it announced it was done building its battery factory. The share will need to continue to find support in the region of the trend mean if medium-term potential for additional upside is to be given the benefit of the doubt.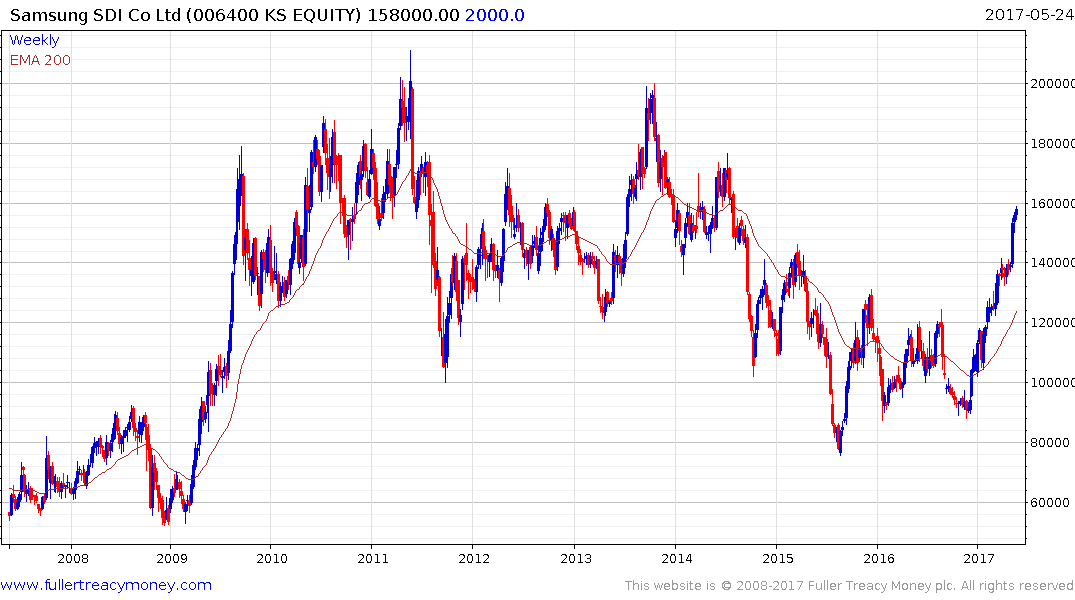 Samsung SDI rallied from January to break a more than 3-year progression of lower rally highs and continues to extend its breakout. While increasingly overextended, a sustained move below the trend mean would be required to question recovery potential.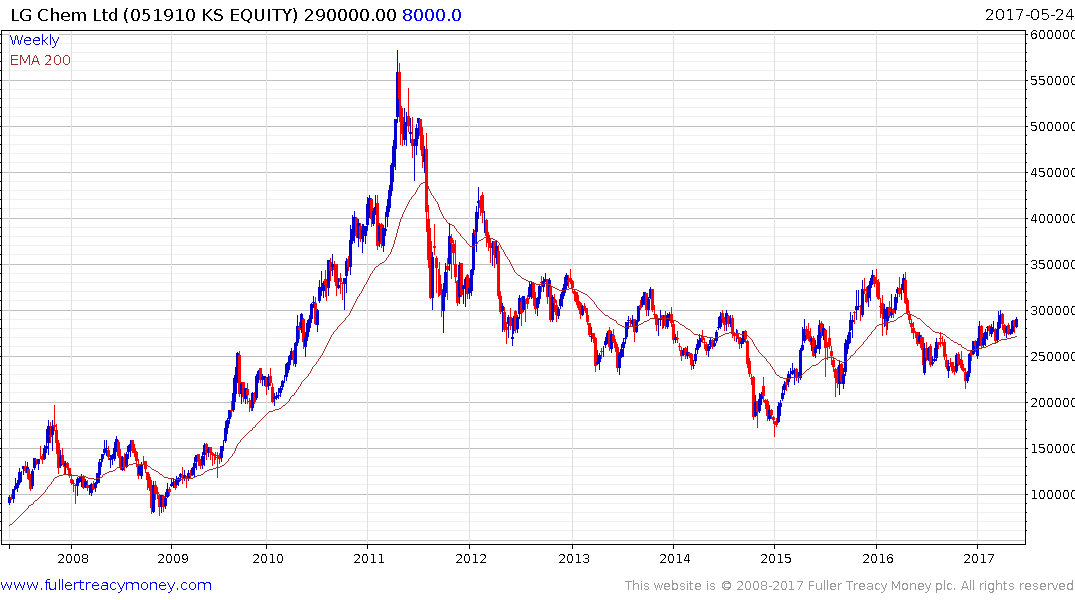 LG Chem has found support in the region of KRW200,000 since 2015 and has been bouncing from the region of the trend mean since early this year.
Back to top