The Baupost Group Letter
Thanks to a subscriber for this letter by Seth Klarman and team. Here is a section focusing on appetite for risk:
Fed policy has been magnificently successful in achieving its objectives not only of lifting securities prices but also of altering investor behavior. The Fed wanted to influence buyers of securities to be bolder in their pursuit of return. The head of a major pension fund recently authored a piece describing how the fund had responded to lofty markets and low yields on safe debt instruments. Their reaction was not to lower the fund's currently aggressive 7% risk-adjusted return objective to a more realistic threshold, but instead to direct more assets into "lower volatility" private investments while leveraging the portfolio. Private investments, of course, have the same underlying risk and inherent volatility as public investments – though because they are not publicly traded, their intermittent and privately determined appraisals may make them appear to be less volatile. And as for the choice to leverage up, we can only note that leverage is a double-edged sword that enhances returns in good times while sinking them in down markets. If markets falter, this fund will have not solved its problems but rather have multiplied them.
Pension funds, life insurance companies and other firms with predictable future outlays are in a difficult position. If they do not take on additional risk, they will certainly not be able to meet their obligations. Alternatively, if they do take on additional risks, they might be able to reach their goals. However, that chance at success comes with the implied understanding that the alternative is financial oblivion.
The low interest rate environment favours growth over value. The lower the discount rate, the less rationale there is to support investing in attract valuations over outsized growth.
The sectors with a high internal rate of return, predicated on overt government support, are those attracting some of the greatest interest at present. The fear of climate change and the virtue signaling of politicians eager to appeal to the masses is resulting in unprecedented support for renewable energy programs.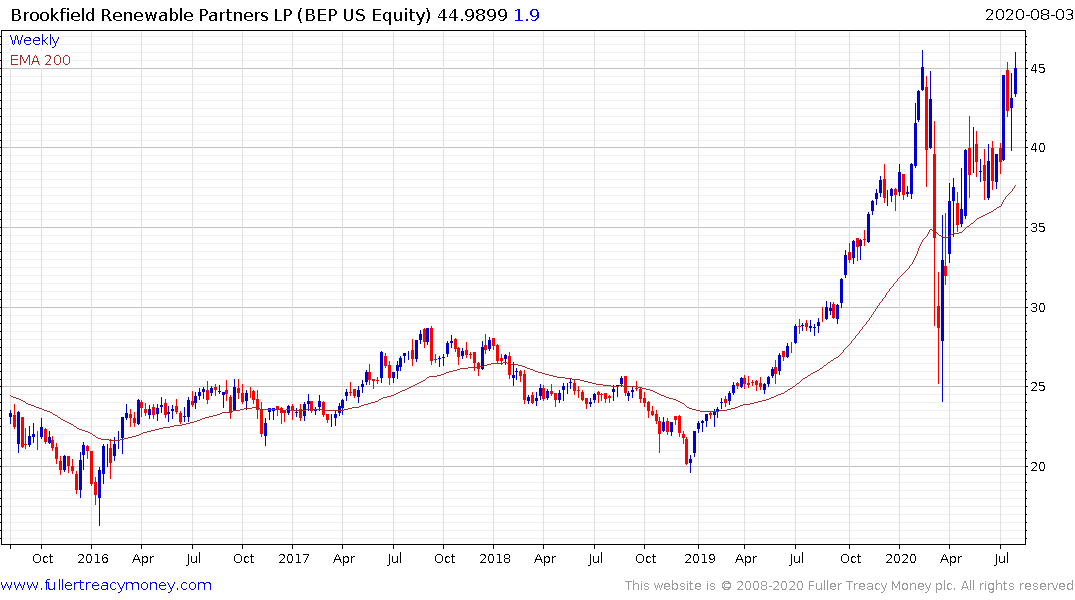 Brookfield Renewable Partners jumped back to test its peak today.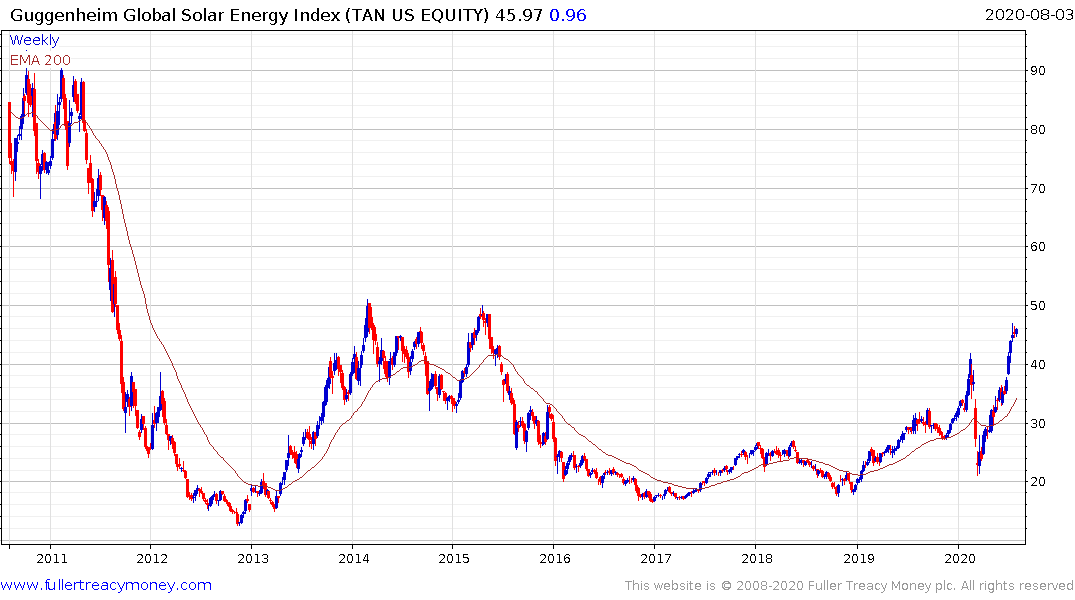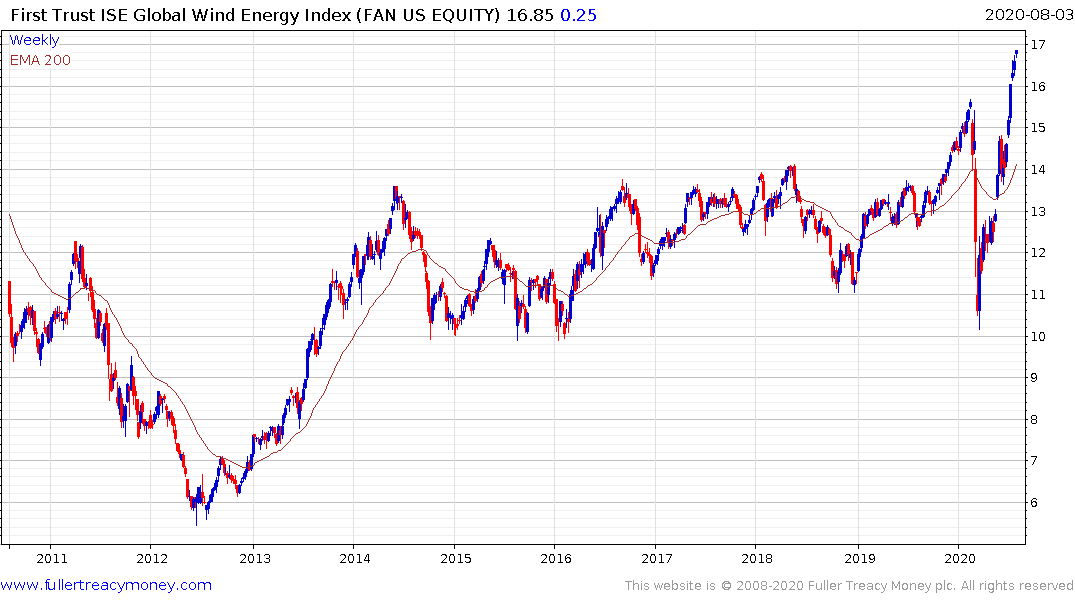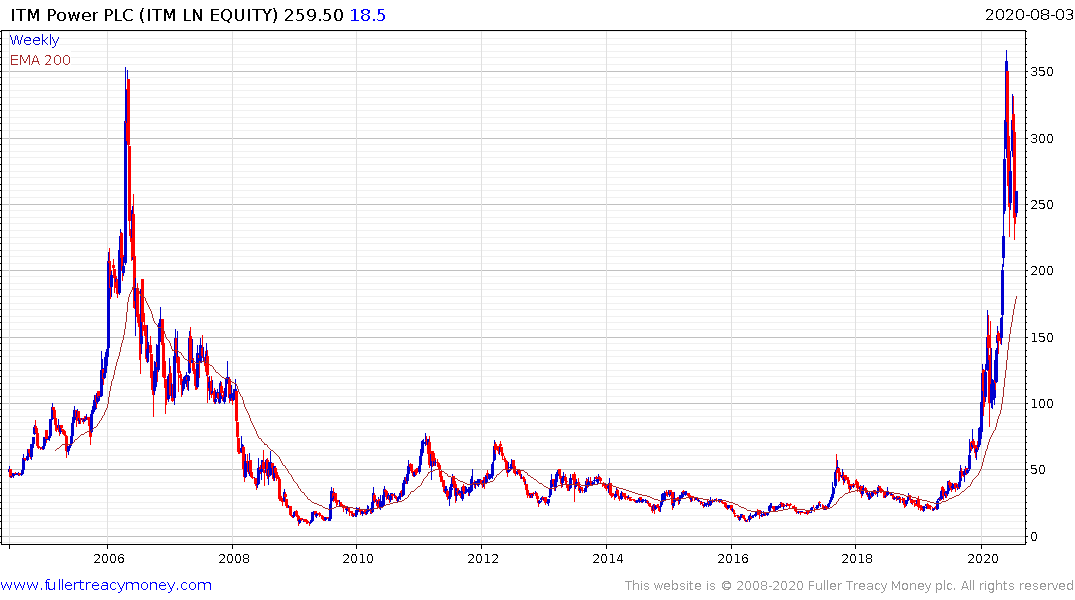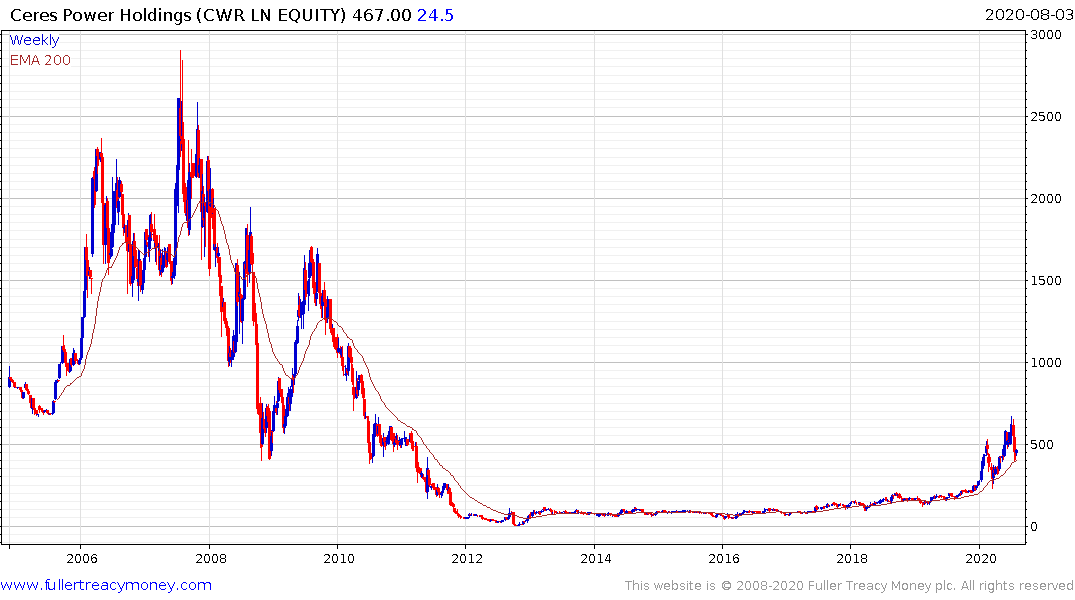 The solar and wind ETFs continue to extend their uptrends and hydrogen related stocks are firming following partial mean reversions.
The primary threat to these sectors is higher interest rates. The breakdown of their relationship to the oil prices is a clear signal there are factors at work that are clearly beyond profit motivation.
Back to top