Tesla unveils battery puzzle pieces of smart material science, design, and manufacturing innovation
This article by Fred Lambert may be of interest to subscribers. Here is a section:
"Over the last few years, Tesla has been making a lot of moves related to batteries.

We are talking about buying companies like Maxwell and Hibar, and applying for patents on new technology, like a tabless battery cell and a cell to pack design.

While all these moves were mostly evaluated on their own merits, it wasn't clear how all those things would fit together.

That's exactly what Tesla demonstrated at its Battery Day.

Tesla explained how they have made major improvements in five key aspects of batteries:

Cell design, specifically form factor.
Battery cell factory design with manufacturing innovations
New anode materials
New cathode materials
New battery pack design

And then, by combining all these things together, Tesla achieves a battery cost breakthrough with a 56% reduction in cost per kWh:

What is most impressive is how all those innovations work together. Each result in an incremental improvement to battery technology, but if you combine them together, you get breakthrough-level performance and cost:
Tesla has the ambition to become a truly globally significant car company. The much-hyped battery day supplied a long list of potential solutions to achieve that goal. The challenge is what is being suggested is complicated to begin with and that is before the manufacturing headaches have been fully appreciated. Above all else building out cell manufacturing capacity to the scale suggested is going to be expensive.
Investors were hoping for a big announcement on the million-mile battery, solid state batteries or quick charging. They got none of that. Rather this presentation was about reducing the cost batteries over the next 3 years. That should open up an additional market and it would certainly erase the price competition with internal combustion engines but it was not the knock-out blow that has been priced into the shares.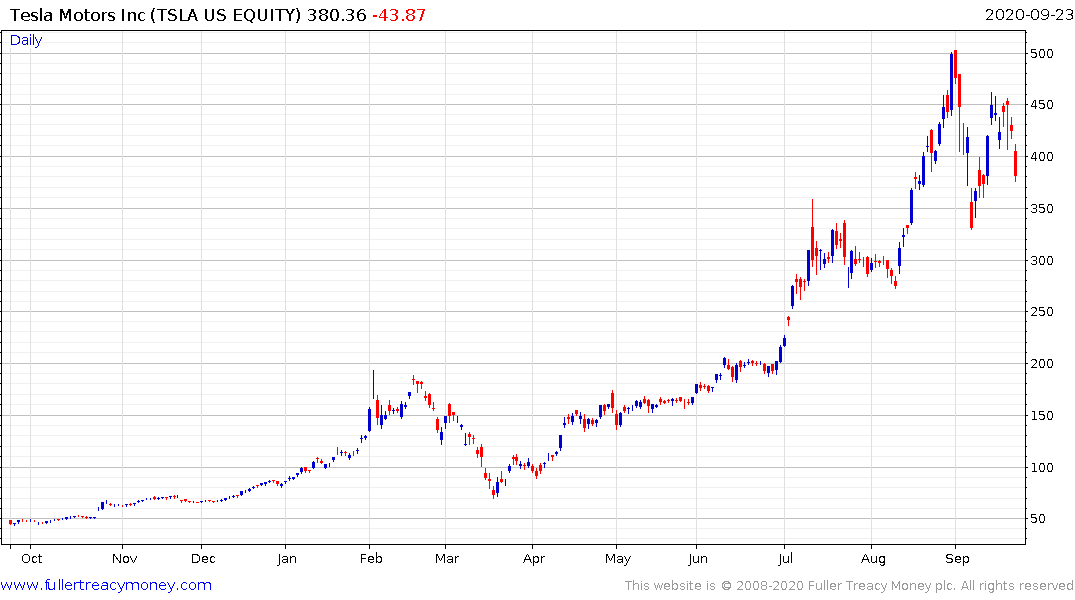 Tesla's stock has a history of rallying impressively and then going through lengthy volatile ranges. Following the announcement of the gigafactory, the stock ranged for three years. It broke out to new highs when the project was completed. Considering the valuation, it is quite likely Tesla will be prone to extraordinary volatility again, at least until it can demonstrate the technology it plans to build does in fact work.
Back to top