Tesla's $200 Billion Question Remains Unanswered
This article by Chris Bryant for Bloomberg may be of interest to subscribers. Here is a section:
And yet the earnings call — where Musk has in the past ranted about "fascist" virus lockdowns and attacked analysts for asking "boring, bonehead" questions — was a bit of a snooze. It even featured a long discussion about insurance and Musk's appreciation for the actuarial profession.

In the current economic environment, such steadiness is an achievement. Most car companies will probably suffer huge losses because of the recent closures of factories and showrooms, even if things won't be quite as bad as feared initially. By contrast, Tesla reported $104 million of net income in the April to June period, bringing its total profit over the past four quarters to $368 million.

Still, these are modest amounts for a company that's valued at an inexplicable 800 times trailing earnings, giving it a $295 billion market capitalization.

The profits are also more than accounted for by $1 billion of regulatory credits that Tesla sold to other carmakers during the 12 months to June, including $428 million in the latest quarter. It's only able to earn this income because rivals haven't gotten their act together yet on building enough electric vehicles and have to buy credits from Musk's company to satisfy emissions regulators. Tesla acknowledges this good fortune won't last forever.
Without clear support from green regulations the company would be incapable of generating a profit. That effectively means Tesla's competitors are being forced to fund its expansion. It's an odd situation which runs contrary to the basic conditions of capitalism, but it is the reality provided by the market. It's part of Elon Musk's genius that he realised that fact before everyone else.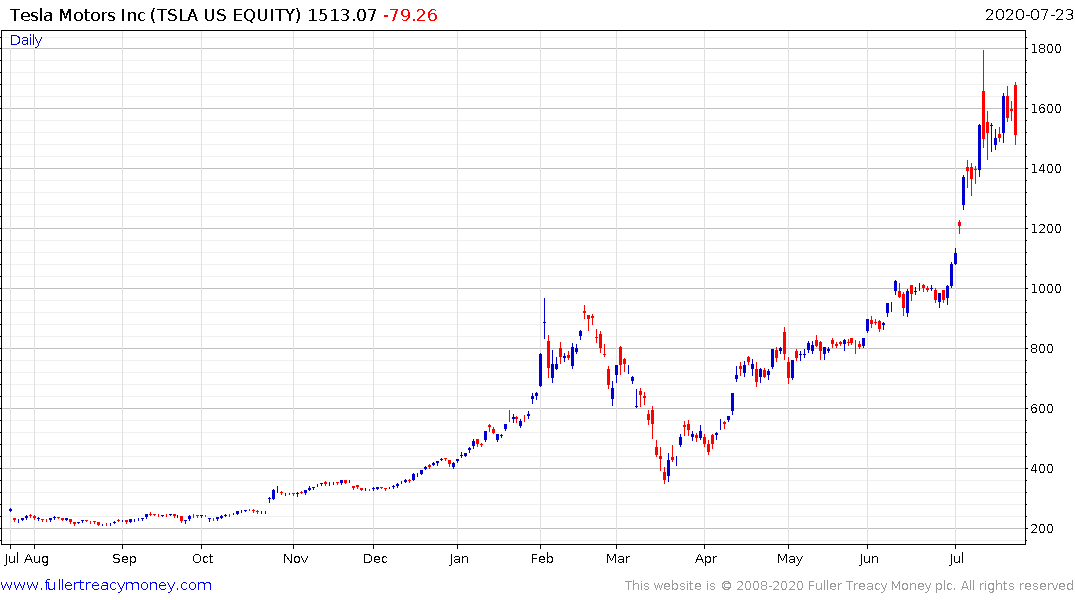 The primary impediment to other manufacturers significantly boosting production of electric vehicles is because they cannot make money from selling them. That is because they are hampered by the carbon credit deficit inherent to their business models, and they have large pieces of legacy architecture which are declining in value on a persistent basis.
The introduction of the million-mile battery later this year and the stretching of range to 400 miles, all while holding prices and even dropping them, will greatly enhance the argument for buying an electric vehicle. One might rationally argue that Tesla's valuation is extravagant and the share is overextended, but the value trap represented by other auto manufacturers is potentially even more of a risk.
Back to top