Tesla resale values
This graphic from Bloomberg may be of interest to subscribers:

It's early, but there are signs Tesla Inc.'s Model 3 could be as exceptional in the used market as it has been in the new-car world. The sedan has sold at volumes no other electric vehicle has come close to reaching, turning Tesla into the most valuable auto company in the world. Car-shopping websites still have small sample sizes to work with, yet so far, the Model 3s are retaining much more of their value than their small luxury-vehicle peers and they're selling quickly once owners list them for sale -- on average just 29.3 days from March through June -- according to iSeeCars.com.
I took a test drive of a Model 3 and a Model Y on Saturday. It's a pleasant experience. The acceleration, as reported, leaves every petrol driven car in the dust. For that reason, Tesla makes a big point of differentiating its product offering based on 0-60 times. I can't fathom how anyone can really tell the difference between 3 and 4 seconds to 60 miles an hour in a city like Los Angeles where speeds of 30 miles an hour are the norm outside of the lockdowns.
The weather at the moment is quite warm with temperatures where I live in the region 90 degrees (32C) on most days. The range on the Model 3 was 222 miles when we started. We drove about 3 miles and it declined to 215 miles. A good part of the reason is because we were running the air conditioning.
My Cayenne gets terrible mileage in the city. I filled it up yesterday for $32.50 from about half full and had driven 142 miles. By comparison a full charge on the Model 3 costs about $21. The Model Y feels like substantially bigger vehicle and has a higher ride more akin to an SUV.
With a range of around 300 miles it is not possible to drive from Los Angeles to Las Vegas in a single journey. The supercharger along the way would deliver 50% of capacity in about 20 minutes or a full charge in an hour. It seems that further improvements in battery technology are going to be required to truly extend range to what an internal combustion engine can easily accomplish.
The one thing Tesla does better than most other car companies is the fun factor. The car is full of gadgets and it feels like a luxury vehicle. That makes it desirable. The only way the company is making a profit is on regulatory arbitrage, where its competitors pay for its expansion. However, I have not yet seen a competitor come out with a comparable vehicle combining fun, performance and price. Until that happens Teslas are likely to remain desirable vehicles.


The salesperson claimed the company has 700,000 pre-orders for the Cybertruck. That's an impressive source of pent up demand, even if it is on a scale that will make parking a chore. The share has already priced in all of this news and then some. It paused in the region of $2000 today and some further consolidation is quite possible given the share's tendency to pause at big round numbers.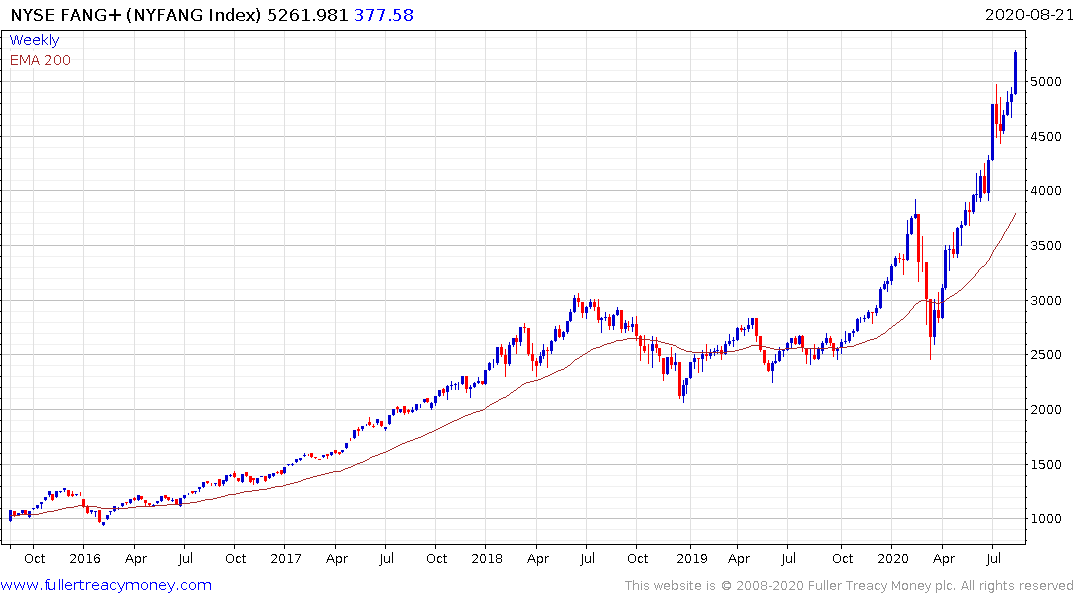 The NYFANG Index is also overbought but a sustained move below the 5000 level would be required to question the consistency of the staircase step sequence uptrend.
Back to top