Tesla gearing up for release of batteries for the home
This article by John Anderson for Gizmag may be of interest to subscribers. Here is a section:
As the company's first foray into selling directly to the home energy storage market, the batteries are expected to get plenty of attention just by virtue of the attached Tesla label. And it should be an improvement from the home batteries Tesla has been quietly supplying to its sister company, the solar panel maker SolarCity, located up the road from Tesla in San Mateo, California. Those batteries are currently available in select markets within California, and only through SolarCity. The new batteries would be more widely available.

Tesla would face plenty of competition for their batteries, with names like Bosch, GE and Samsung involved. Honda has unveiled a demonstration smart home that features a rechargeable home battery, along with an electric vehicle, solar panels and geothermal heat pump, and is driven by an energy management system.

Researchers from both Harvard and MIT have developed flow batteries for renewable energy storage, while Bloom Energy's fuel cell boxes act as a power source as well as an energy storage device.

One area where Tesla might stand out is in cost. Tesla assembles its battery packs from battery cells provided by Panasonic, and is about to do it on a massive scale as soon as 2016 at its gigafactory currently under construction in Nevada. Such an economy of scale – producing 50 gigawatt-hours of battery capacity each year – is expected to push the company's car battery costs down by 30 percent. Based on the same technology, Tesla's home battery costs should come down as well.
The same efficiency gains observed in how Moore's Law is applied to semiconductors can also be seen in solar technology. This has changed how companies perceive the growth of the domestic energy production sector. This requires a much more flexible electric grid and a utility sector that will have to evolve if it is to avoid obsolescence. As the potential to cut one's personal expenses through the application of technology develop, homebuilders will be happy to see that the benefits of owning a new home equipped with the wide range of modern gadgetry is becoming increasingly convincing.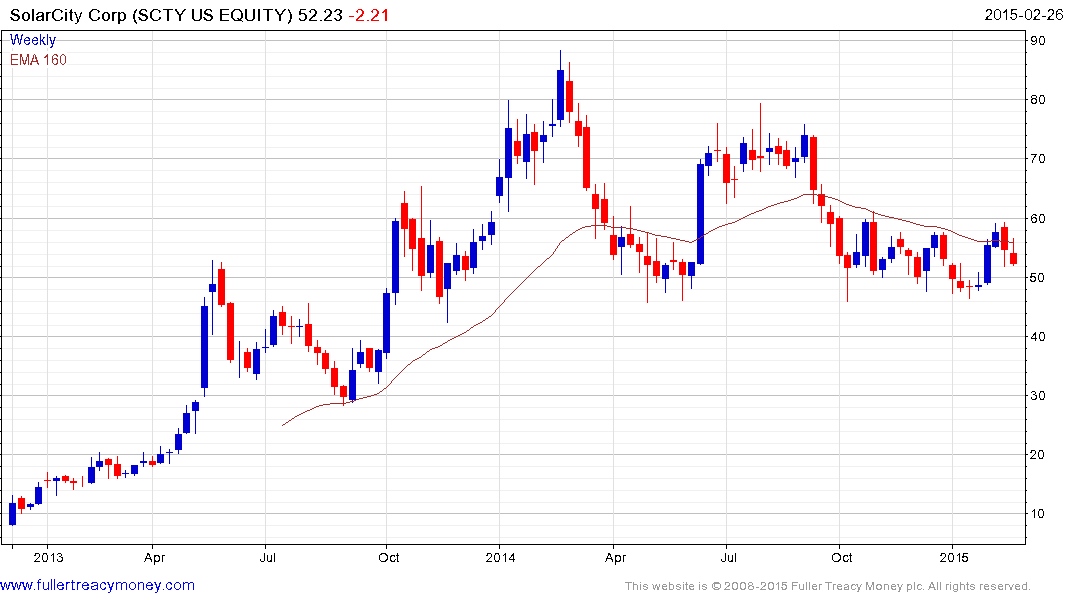 The fall in oil prices has been a headwind for solar cell installers link Solarcity because the cost advantage their business model is predicated on has been questioned. However this is likely to be a short to medium-term obstacle considering the capacity of the technology to outpace any savings from the fall in the commodity price. Solarcity has been ranging mostly above $50 since early 2014 and will need to hold that level on the current pullback to offset scope for a further deterioration.


SunEdison hit a medium-term peak in July and retested that level this week. Some consolidation of recent gains is looking likely but a sustained move below $20 would be required to question medium-term scope for additional upside.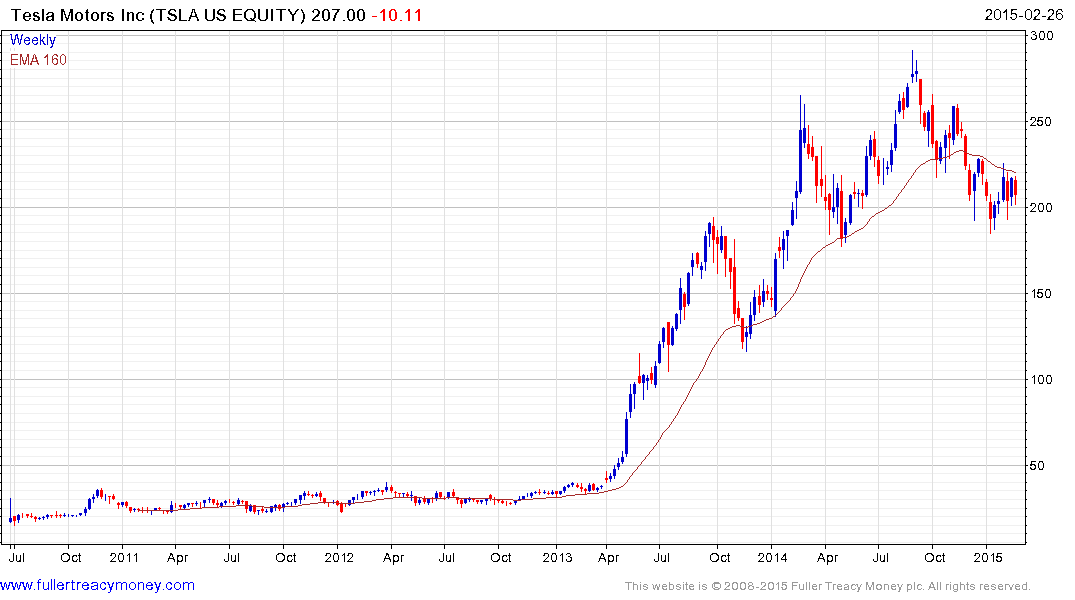 Tesla's announcement that it was going to spend billions on its gigafactory sapped near-term enthusiasm for its share which has low uptrend consistency. It continues to encounter resistance in the region of the 200-day MA and a sustained move back above it will be required to signal a return to demand dominance beyond the short term.
Back to top