Tesla Boosts Shares By Putting BMW-Fighting Model 3 on Calendar
This article by Dana Hull for Bloomberg may be of interest to subscribers. Here is a section:
Chief Executive Officer Elon Musk needed some good news for stockholders, who had been shedding shares amid fear that cheap gasoline and competing electric cars would undercut sales. While affirming that the Model 3 is on schedule, Musk also said that sales will be better than expected this year and that money- losing Tesla is "in striking distance" of positive cash flow.

"We're really looking forward to the unveiling of the Model 3 at the end of next month," Musk said during the fourth-quarter earnings call Wednesday. "I think it will be well received, and then getting into production and delivery at the end of next year."

Musk said in a tweet last night that Tesla will take deposits of $1,000 for a Model 3 starting in showrooms on March 31 and online on April 1.~

Tesla is pinning its hopes of getting out of the red and into sustainable profitability on the Model 3, whose lower price will broaden its appeal to more buyers. The Model 3 will have a price tag of roughly $35,000 before incentives like the federal tax credits or state rebates, but Tesla will initially roll out a highly optioned version, as it did with its Model S sedan and Model X SUV.
At its current valuation, even after the two-month slide, Tesla cannot afford to get anything wrong. The announcement that it is within striking distance of positive cash flow is certainly welcome and the expectation that it will deliver more cars than forecast this year is also beneficial. The fact that the loss widening in the last quarter is a further indication that the company cannot simply rely on hype and popularity to drive performance. It needs results.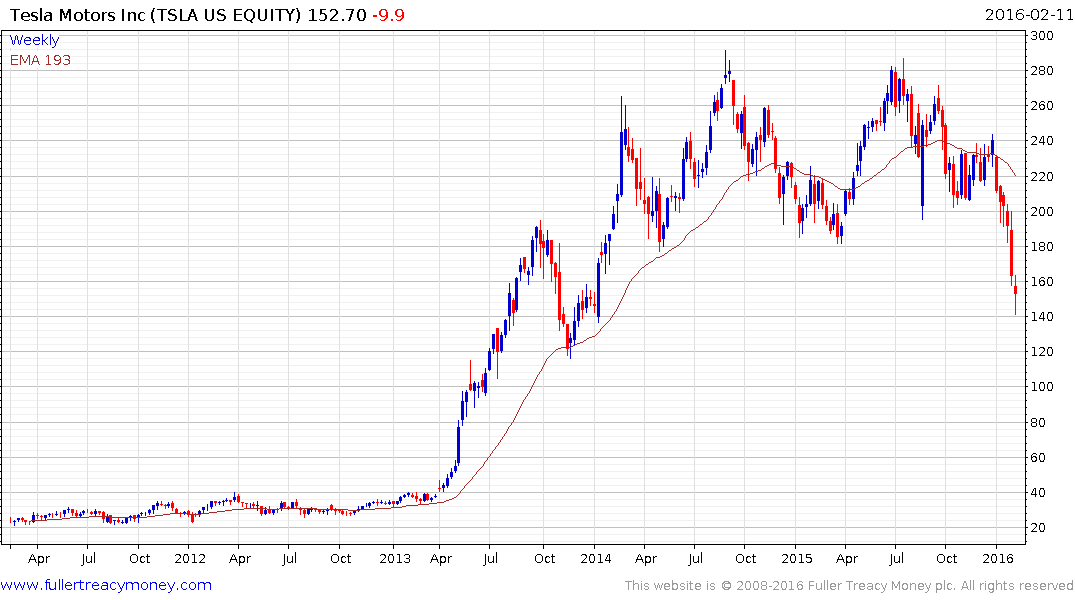 The share exhibits a completed Type-3 overhead top formation and while oversold in the short term, a sustained move back above $200 will be required to signal a return to demand dominance beyond short-term steadying.
Back to top