Technology Megatrends Leading to the Disruption of Transportation 2020-2030
Perhaps the most interesting part of the discussion focuses on the rate at which the cost of producing batteries is accelerating to almost 20% per annum.

That holds out the prospect of batteries becoming commoditised in the same way as solar cells when production comes on lines. For the shares of battery producers that is likely to represent a challenge but not quite yet considering the supply inelasticity argument that still prevails within the market.

This article from Mining.com highlights the fact Volkswagen is finally getting the electric car religion with plans to spend tens of billions on manufacturing capacity. Here is a section:
VW has been actively promoting the electric push by creating global production capacities for the construction of 1 million electric cars. On Wednesday, it announced it was converting three of its plants in Germany to build electric cars, ramping up production of zero-local emission cars ahead of tougher European emissions standards.
VW is also considering involvement in battery production.
The company said it would begin local production of electric-powered vehicles at its facilities in Emden and Hannover in 2022, adding that a plant in Zwickau has already been designated for e-car production.
Recent studies show carmakers will need to add electric cars to their sales lineups to meet the new European Union rules on greenhouse gas emissions from 2021. They also highlight how German carmakers need to rethink their business as the growing adoption of electric vehicles (EVs) is expected to cost the country's key auto industry about 75,000 jobs by 2030, according to a report carried out by the Fraunhofer Institute of Industrial Engineering.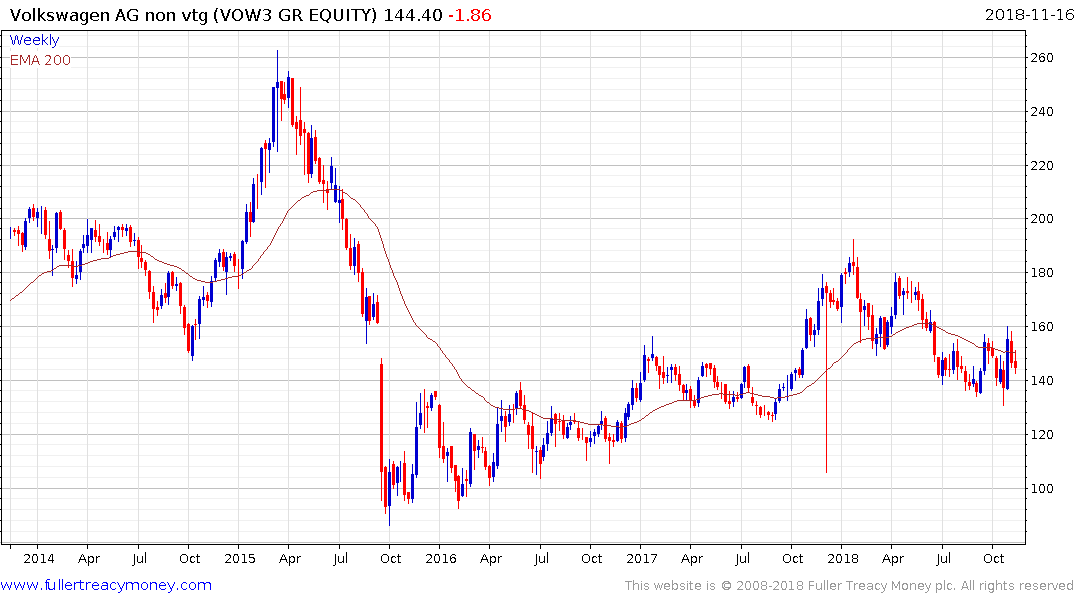 75,000 jobs lost in the automotive industry could be considered a win for the automotive sector considering how many fewer parts are required for electric vehicles and the deleterious effect that is going to have for suppliers.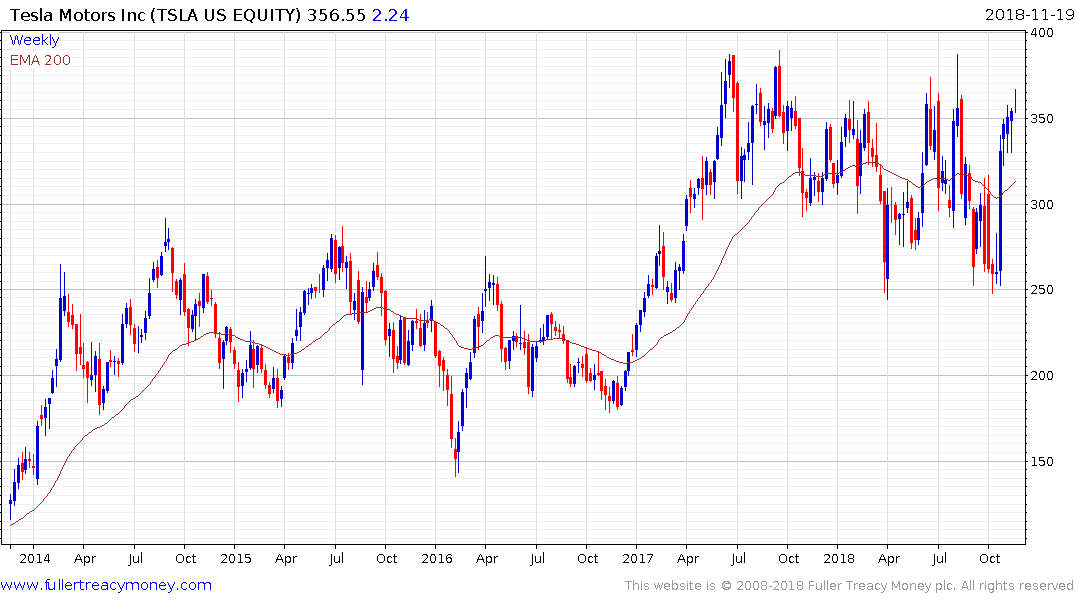 Perhaps the biggest point for the share of automakers is it takes about three years to build battery manufacturing capacity if Tesla is any guide. That's suggests the sector will be out in the wilderness for the foreseeable future.
Meanwhile Tesla is outperforming not least because it has already got its battery factory up and running.


Alphabet/Google now has an inconsistent chart pattern and needs to hold the $1000 level if succession of higher reaction lows is to be sustained. However, it remains the company most likely to come up with the first workable software for fully autonomous vehicles.
Back to top