Stocks Plunge, Oil Prices Surge After Putin Orders Troops Into Eastern Ukraine
This article from Bloomberg may be of interest. Here is a section:
Stocks tanked amid rising tensions between Russia and Ukraine: The Dow Jones Industrial Average was down 1.3%, over 400 points, while the S&P 500 lost 1% and the tech-heavy Nasdaq Composite 1.4%.

Global stock markets took a hit after Russian President Vladimir Putin decided to recognize the separatist states of Donetsk and Luhansk in eastern Ukraine, ordering Russian troops to move into the region in order to "maintain peace."

The move was widely condemned by the West, with the European Union and United Kingdom both unveiling economic sanctions against Russia on Tuesday, while the United States will reportedly release a new round of sanctions later in the day.

Many western officials continued to warn that Russian troops moving into eastern Ukraine to keep the "peace" could be a not so subtle pretext for a full invasion, with U.K. Health Minister Sajid Javid saying on Tuesday that "the invasion of Ukraine has begun."

Oil prices surged on the news, with Brent crude rising to more than $94 per barrel amid concerns that Russia's energy exports could be disrupted.
Granting official recognition to, and moving troops into a region that has been ruled independently of Ukraine since 2014 is an escalation of tensions. However, it still falls into the brinksmanship category regardless of claims to the contrary. Russia appears to be serious about their demands that Ukraine not join NATO. They are also adamant that missile batteries not be placed within its neighborhood.

All other factors aside, these are reasonable demands from a geopolitical perspective. The problem for Russia, is the charge of meddling in US elections is still fresh in the minds of the current US administration. They do not appear to be well disposed to give Putin what he wants.

Eventually, there will be a negotiated settlement, but that is not going to happen quickly. With today's escalation, we could be looking at months of wrangling and skirmishes in Ukraine.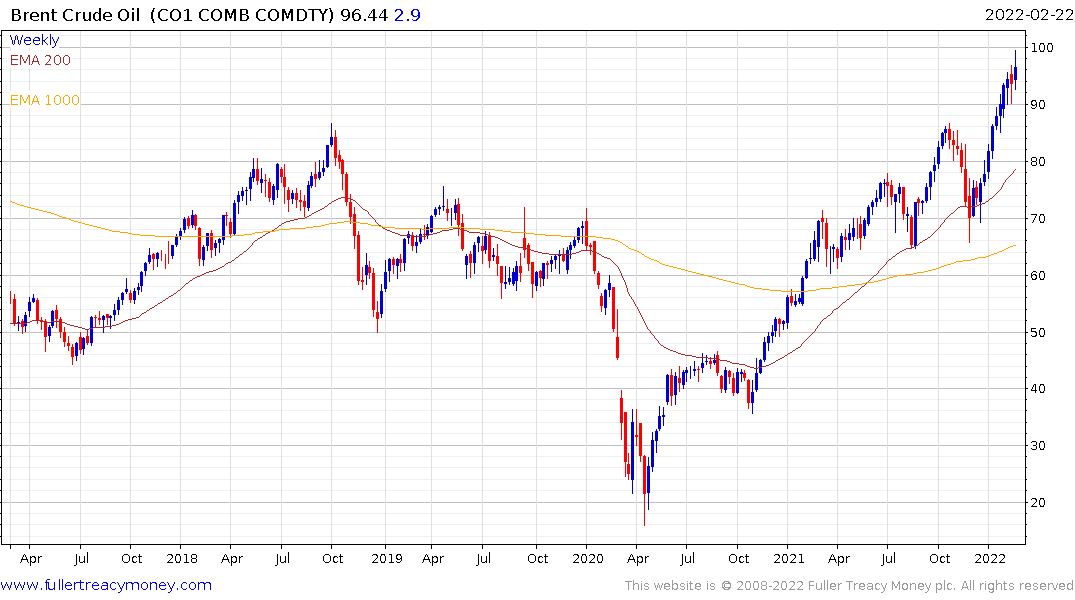 Brent Crude oil jumped to test the psychological $100 level early today and eased back from that level. A sustained move below $90 would be required to question the consistency of the uptrend.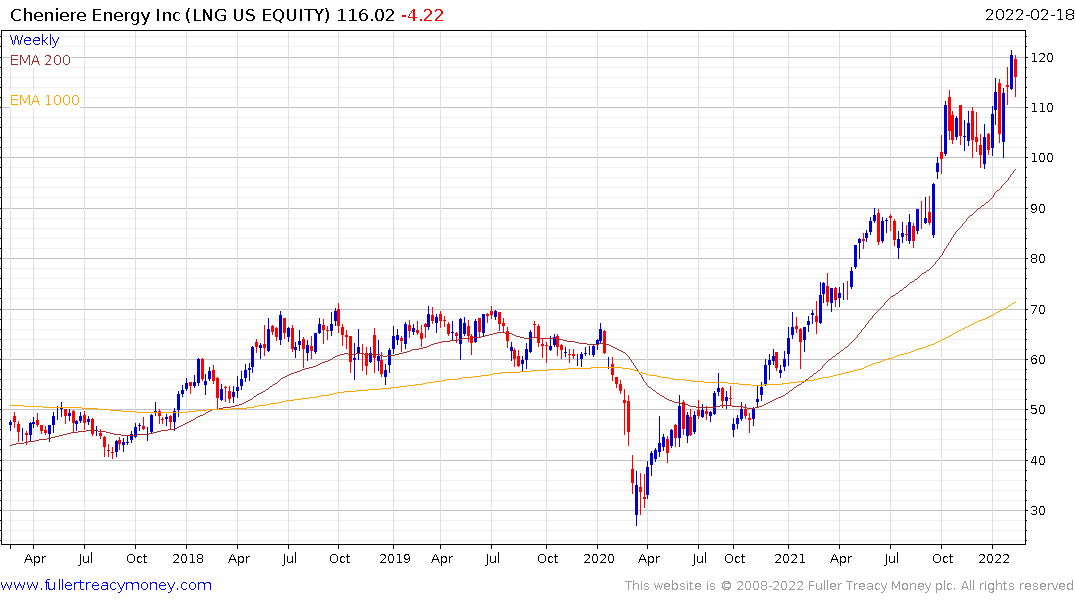 At a minimum, it will be a few years before the Nordstream 2 pipeline will be permissioned. That's a major headache for Western Europe against a background of tight supplies. It's also good news for US exporters, particularly for next winter. At present Cheniere Energy is overextended and more likely to revert to the mean than shoot higher.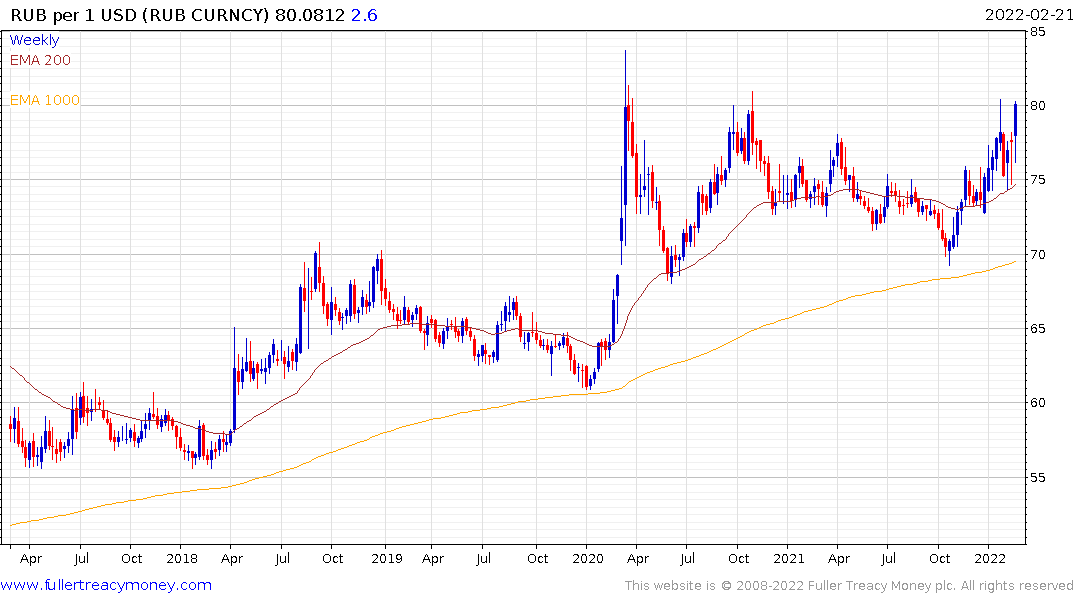 The Russian Ruble is back testing its lows from the last five years. It needs to hold the RUB80 area if support building is to be given the benefit of the doubt.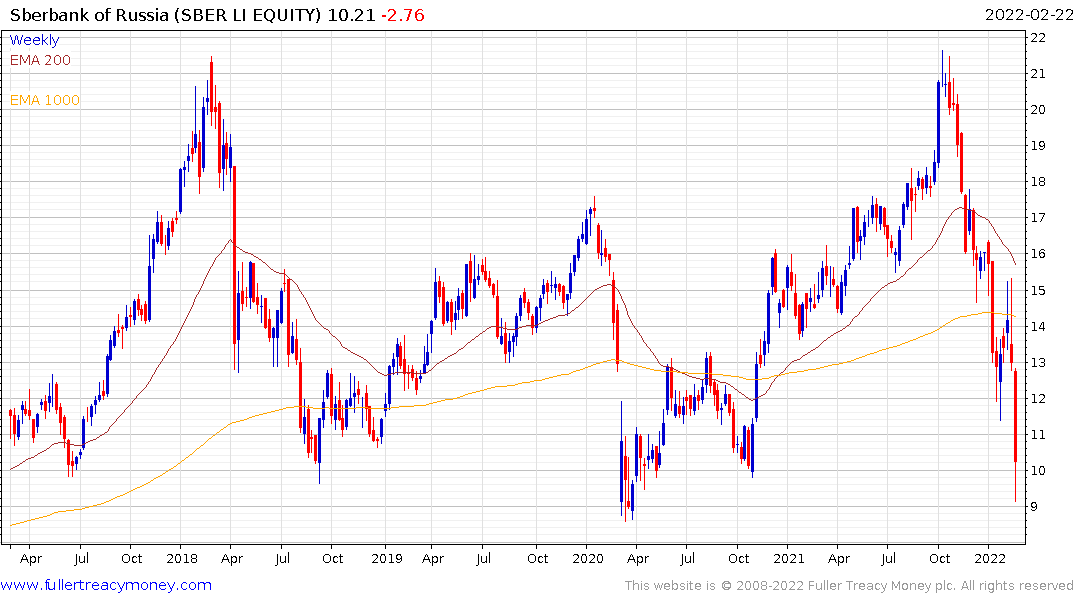 Sberbank accelerated lower over the last week and is back testing the lower side of the five-year range.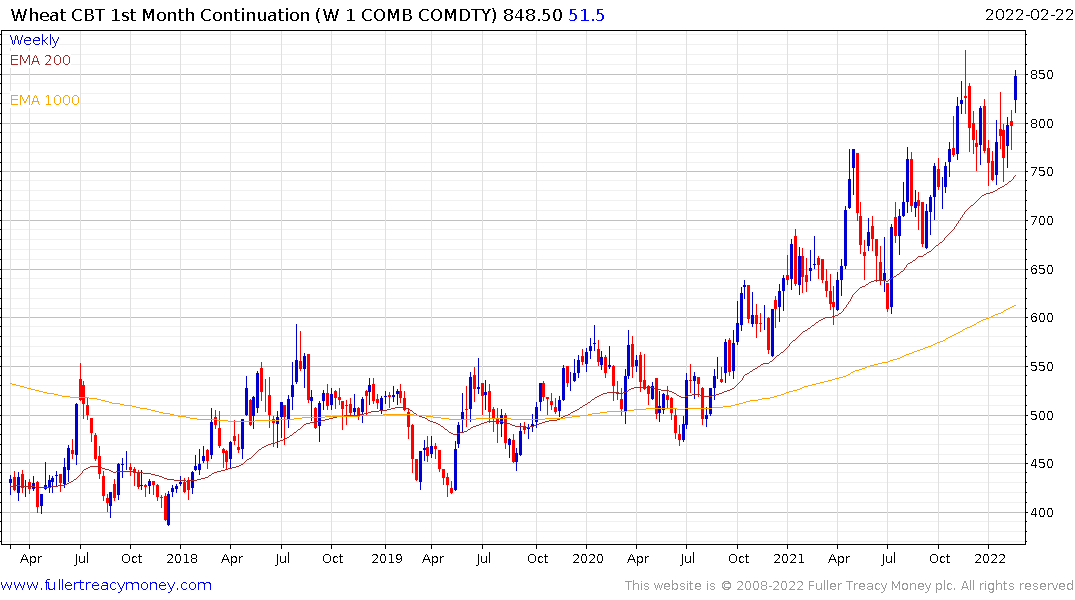 Wheat has been trending higher in a choppy manner since 2020. It is now back testing the peaks from late last year.
Back to top