Solar Stocks Rally as Tariff Expiration Nears With No Decision
This article from Bloomberg may be of interest to subscribers. Here it is in full:
Solar stocks rally Monday, with Enphase Energy and SolarEdge among the 10 best performers on the S&P 500 Index amid a broader rebound in growth stocks.

"The solar industry faces short-term volatility as political pressure mounts around the expiration of U.S. solar duties on Feb. 6," writes Bloomberg Intelligence analyst Clelia Imperiali

It's likely that President Joe Biden will renew the tariffs, which would support the domestic upstream solar industry but penalize downstream players that import solar cells and modules, she writes in a note

A key impact of the tariffs has been to ease competition for domestic producers like First Solar (up 4% on Monday)

* The Invesco Solar ETF (TAN) is up 4.3% at 10:33 a.m. in New York, with the top gainers including Shoals Technologies +12%, Canadian Solar +9.3%, Daqo New Energy +7.6%, Array Technologies +7.2%, Beam Global +7.2%, Enphase +7.1%
The solar sector is split between residential and commercial operators and then between those that offer utility scale electricity generation and those providing residential rooftop services. The efficiency of these products is good enough for commercial reality. It can get more efficient and/or durable but the products available today are fit for purpose.
The challenge for building sources of intermittent supply is they are more interest rate sensitive than conventional solutions. The headline efficiency rates are only possible during ideal conditions so it takes longer to make one's money back from an investment. The sector has experienced a very deep correction over the last year with the ETF collapsing by 55% to yesterday's low. That was driven by the withdrawal of excessive liquidity infusions and rising bond yields.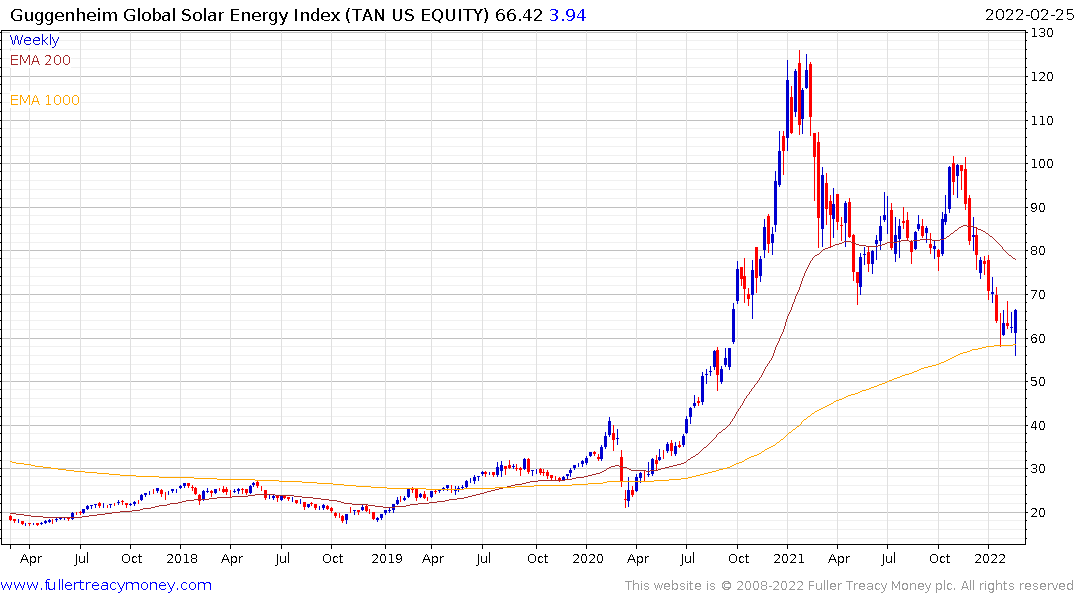 The ETF is now rebounding from the region of the 1000-day MA secular trend mean. Yesterday's low potentially represents the lower side of the evolving first step above the long-term base formation.
Solar might be intermittent but it is a domestic source of electricity supply. As geopolitical tensions mount and oil prices remain elevated, the argument for renewables on security and independence grounds will be more compelling.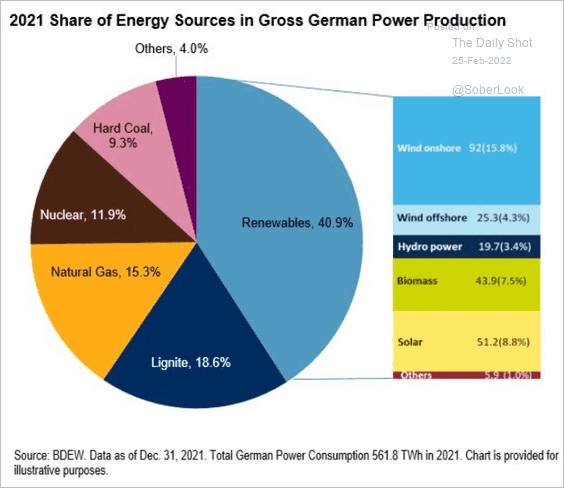 Germany generates 40% of its electricity from renewables; primarily wind and solar. Natural gas represents 15% and Russia supplies about a third of that, so the country relies on Russia for 5% of its electricity generating capacity. The challenge is coal represents 28% and nuclear 12% so if Germany follows through on dismantling that production. the onus for base load falls on natural gas.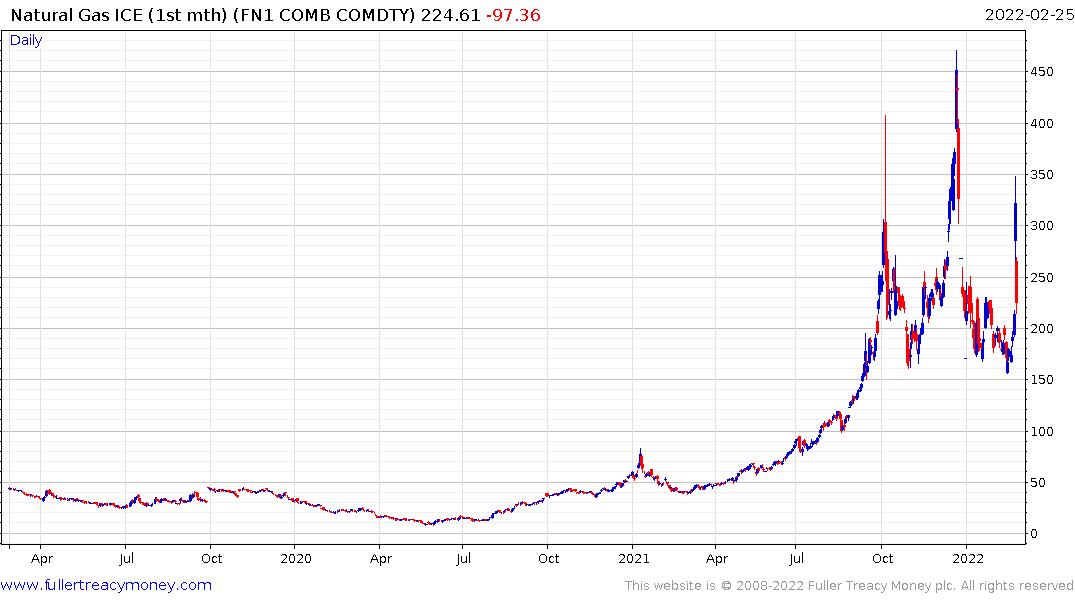 They have some big choices to make right now as a result of the Russian invasion of Ukraine. Russia is going to make that process easier. In advance of the Ukraine invasion Gazprom curtailed exports to Europe which contributed to the energy crisis. In the aftermath of the invasion, they will flood the market with gas, in a none too subtle effort to show how good an energy partner they can be. The European energy crisis is about to become much less of a political liability.
Back to top