Solar Panels Now So Cheap Manufacturers Probably Selling at Loss
This article by Christopher Martin for Bloomberg may be of interest to subscribers. Here is a section:
"Certainly it would be a challenge for anyone to make money at that price," Osborne said in an e-mail. "The blended cost for most last quarter was about 36 cents to 38 cents."

The current price is also lower than cost estimates from Trina. The biggest supplier of 2015 expected to reduce costs to about 40 cents a watt by the end of the year, from 45 cents in the second quarter, Chief Financial Officer Merry Xu said in an August conference call. The Changzhou, China-based company's shareholders on Dec. 16 agreed to a $1.1 billion deal to take the company private. A spokesman declined to comment Friday.

Some companies' cost structures remain competitive, even with prices this low. Canadian Solar Inc., the second-biggest supplier, reported costs of 37 cents in the third quarter, down from 39 cents in the second quarter. The company has said its costs are among the lowest in the industry, and it expects to reach 29 cents a watt by the fourth quarter of 2017. Many of its competitors expect costs in the low 30s by then, Osborne said.
Producing solar cells in an environment where prices are falling and likely to continue to fall as new technologies are integrated into the manufacturing process is a highly competitive business. Companies unable to compete will go bankrupt and even the most successful face the threat of obsolescence. Consumers are the primary beneficiaries.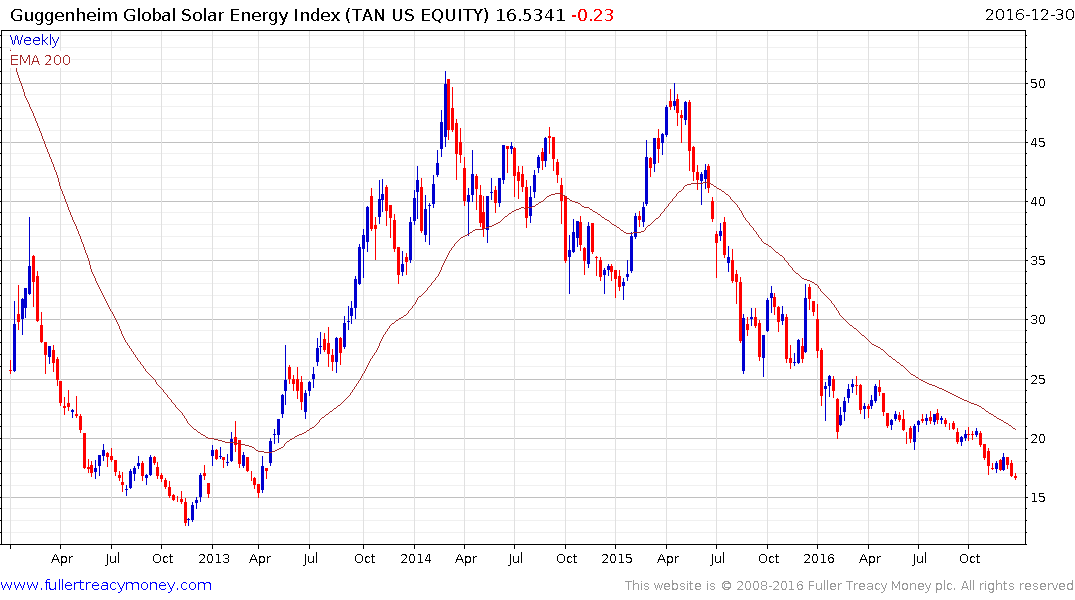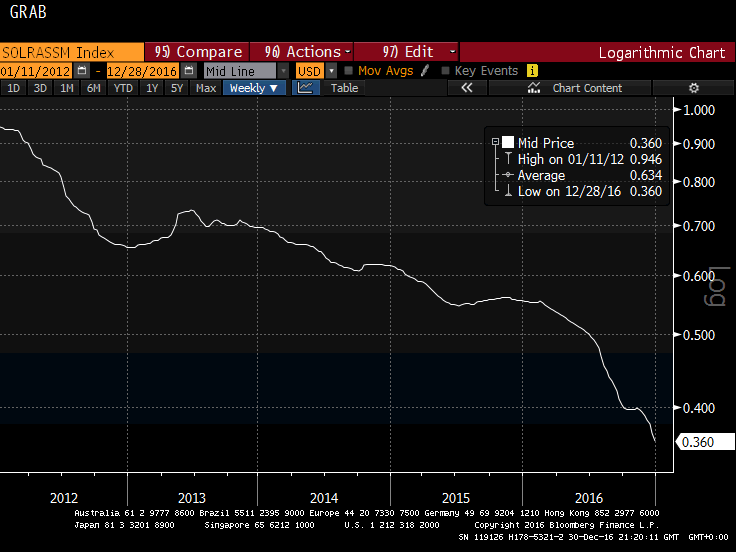 The Guggenheim Global Solar ETF remains in as consistent a downtrend as the decline in the cost of solar energy production.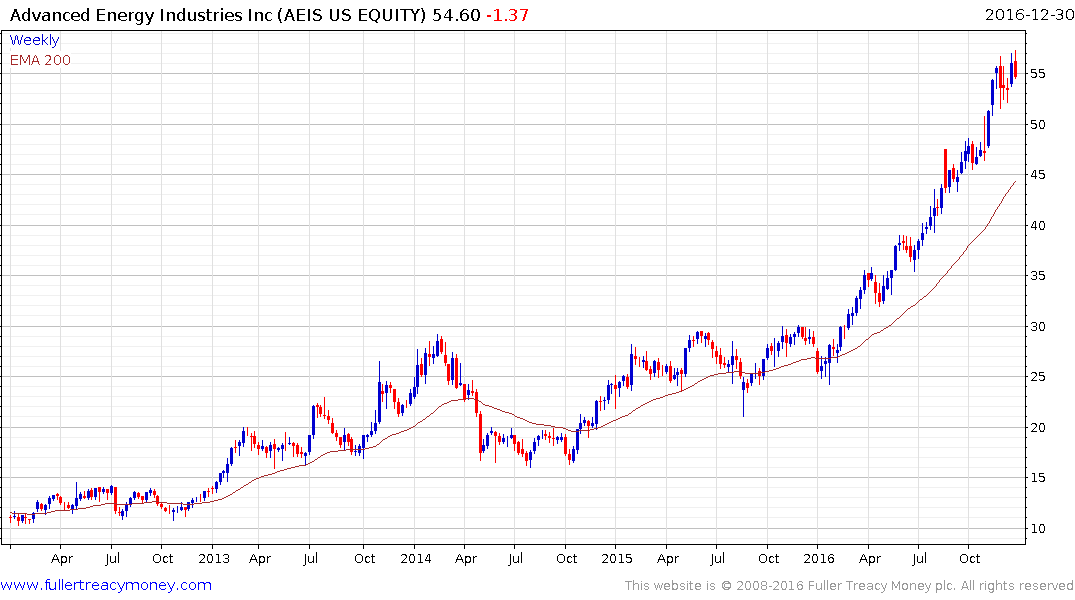 Advanced Energy Industries produces inverters, which is a business that benefits from the volume of panels sold rather than their cost. The share remains in a consistent medium-term uptrend albeit currently somewhat overextended relative to the trend mean.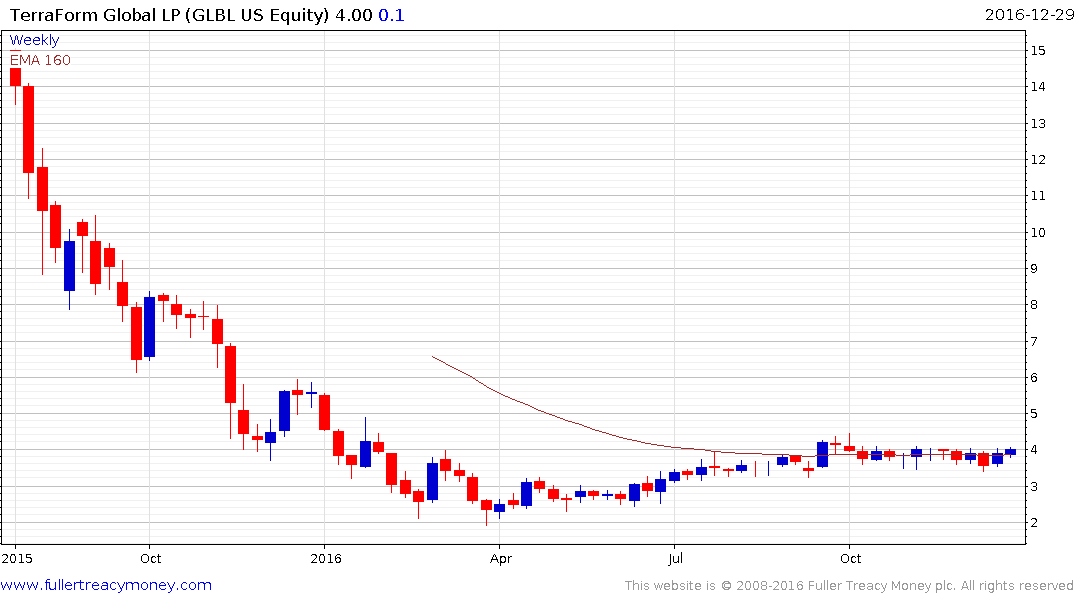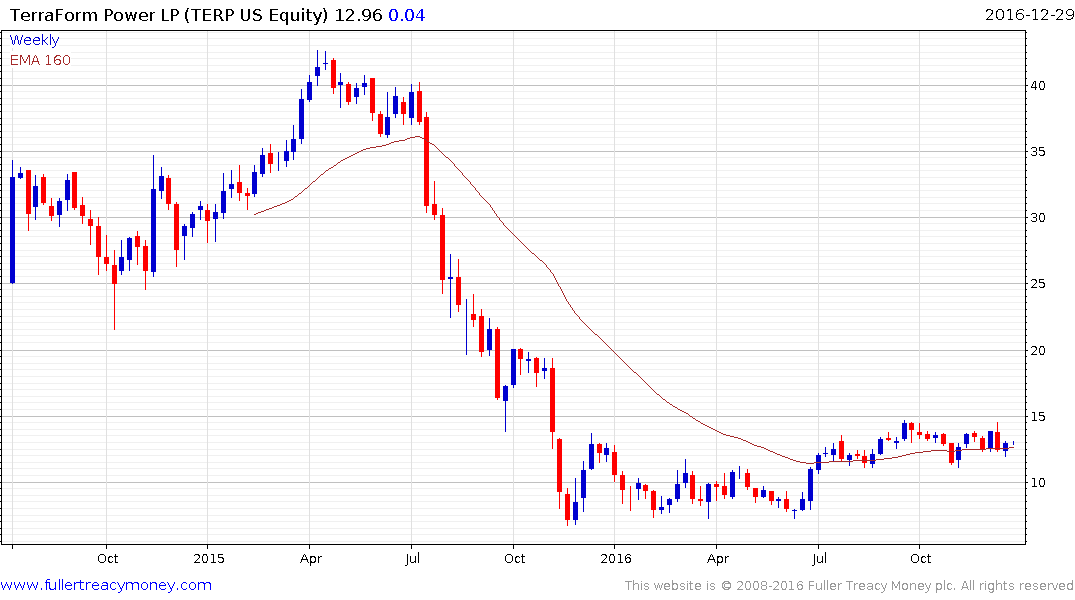 TerraForm Power and TerraForm Global are still having their power plant assets wrangled over during SunEdison's bankruptcy. The shares have been ranging above their respective lows since September and sustained moves above their trend means would signal returns to demand dominance.
Back to top