Short Term Oil Market Outlook
Thanks to a subscriber for this interesting report from DNB Markets. Here is a section:
Even though the second half of the year looks stronger fundamentally than the first half, there are some larger parts on the move in the oil market. The last two years we have seen a stronger and stronger tendency for non-OPEC production to cover a larger and larger part of global oil demand alone and the latest year non-OPEC production has been growing quicker than global oil demand. That can hardly be described as a bullish development for the fundamental supply-demand balance. The market has however the last couple of years been saved by all the lost OPEC barrels, but will that continue? Can we have as a base case that the Iran negotiations will fall apart, Iraq will fall into civil war, no barrels will return from Libya and Venezuela will break apart? It could happen of course but to have that as a base case is not prudent in our opinion.
Here is a link to the full report.

Oil markets have been pretty quiet for much of the last six months with a relatively tight range evident on both Brent Crude and West Texas Intermediate since February in particular. For a market as volatile as oil this is a reasonably unusual situation which is unlikely to persist.


At The Chart Seminar we describe how ranges are explosions waiting to happen. The $100 level is psychological but the surge in non-OPEC supply coupled with the need for geopolitical risk premia to remain high in order to sustain these prices suggests that at least the short-term bias is to the downside.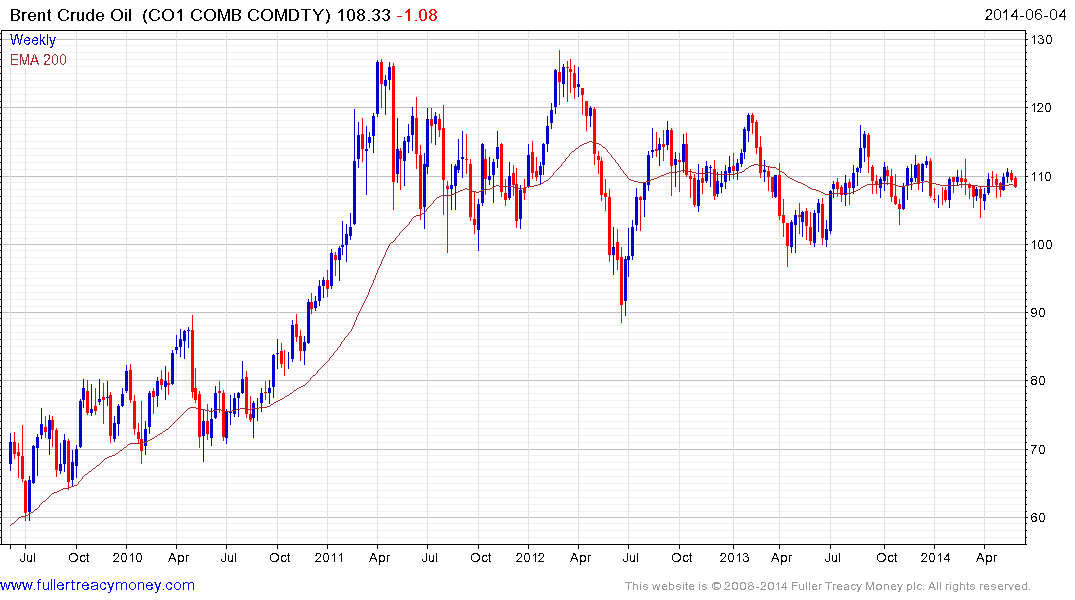 Longer-term we anticipate that the USA's technological advantage will increasingly be applied to the energy sector which will contribute to both higher production and lower consumption of oil.
However an additional consideration is that oil revenues have supported despotic regimes for decades. As their populations increase, progressively more money is needed to sustain them. Against that background a higher geopolitical premium is likely which will increase if oil prices trade below $100 for a sustained period.
Back to top