Shell Shares Continue Slide After Tense Call With Analysts
This article by Kelly Gilblom and Javier Blas for Bloomberg may be of interest to subscribers. Here is a section:
At one point, van Beurden quipped that the buyback program would be cheaper now because the shares were falling, which invited a terse response from an analyst who said: "I agree."
"Please help me with my confused state," said Christopher Kuplent, an analyst at Bank of America Corp., before asking the penultimate question on the call about whether they are
disclosing information in the right way.

Van Beurden responded that they could have avoided the cautionary note about the buybacks completely. He said that people could have done the math that lower oil prices make life more financially challenging for Shell, however, he said it was better to acknowledge a likely stormy year ahead to the market.

Then he offered another mind-bending answer as shares slipped further. "That macro does actually have an effect on our cash flow is obviously a statement of the obvious. So we could also have said: 'Well that's hopefully all understood isn't it?"' he added. "But not making a statement of the obvious it is also making a statement."
When CEOs are candid and state the obvious it tends to have unintended consequences. Royal Dutch Shell's management just told the market they may not have the money to buy back as many shares next year because oil prices are low and are likely to stay that way for the next 12 months. That's not exactly what investors were expecting to hear.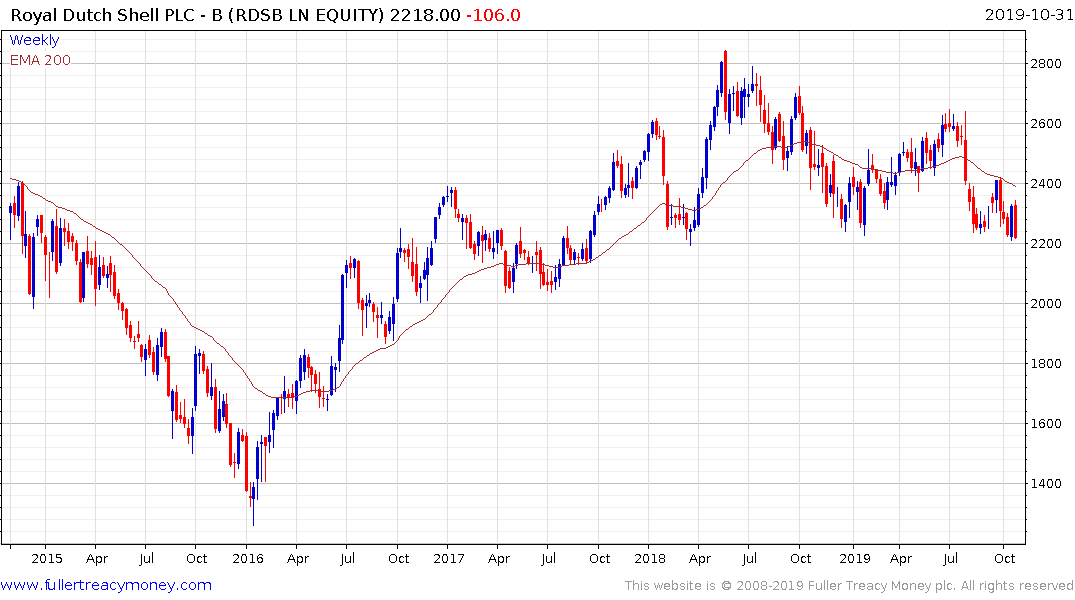 The share hit a medium-term peak a year ago and one of the primary reasons investors have been willing to continue to hold the share has been because of the sustainability of the dividend and the buyback program. It's unlikely the company will cut the dividend in the near term but the buyback program is certainly at risk and that is putting pressure on the share. The 2200p level has offered support over the couple of years but it needs to hold if support building is to be given the benefit of the doubt.
The bigger picture is company's large investment in Australian liquified natural gas is closer to big Asian buyers than the USA's burgeoning exports. However, the challenge all producers have right now is a slowing global growth story and that is pressuring all energy commodities.
Back to top