Shell Plans to Take Virtual Power Plant to the Next Level
This article by Nelson Nsitem for Bloomberg may be of interest to subscribers. Here it is in full:
Royal Dutch Shell Plc agreed to buy Next Kraftwerke, the operator of a virtual power plant that brings together clean-energy capacity across Europe to sell the electricity into the market.

Next Kraftwerke remotely connects and manages more than 10,000 off-grid units -- including solar, hydropower and bioenergy facilities -- across eight countries, the Hamburg-based company said Thursday in a statement. The deal expands Shell's footprint in low-carbon technologies as the Anglo-Dutch oil major seeks to slash its emissions.

"The acquisition of Next Kraftwerke will accelerate Shell's strategy to grow by adding smaller renewable assets to our portfolio," David Wells, vice president of Shell Energy Europe, said in the statement. The terms of the deal, which is expected to complete in the second quarter of this year, were not disclosed.

Power is a key part of Shell's ambition to become a "net-zero" company by 2050 and one of the world's largest providers of green electricity. Shell aims to double electricity sales to 560 terawatt-hours by 2030.
European oil majors have been delivered a clear message to evolve or die. The political tide of support for green energy and decarbonisation continues to favour reduced emphasis on fossil fuels. Royal Dutch Shell is at the forefront of that regional energy transition.
By first concentrating on gas over oil it gained a competitive advantage by securing assets before there was a lot of competition for them. The success of major oil companies has been in controlling all aspects of the oil market from upstream through refining to downstream distribution. That allowed them to pick up a carry on every aspect of the fuel cycle.
They now seek to repeat that model with electricity. Supplying gas for power stations and hydrogen production, buying generating capacity and electricity trading networks and power lines suggests an aim of becoming super utilities. That should at least secure dividends into the future.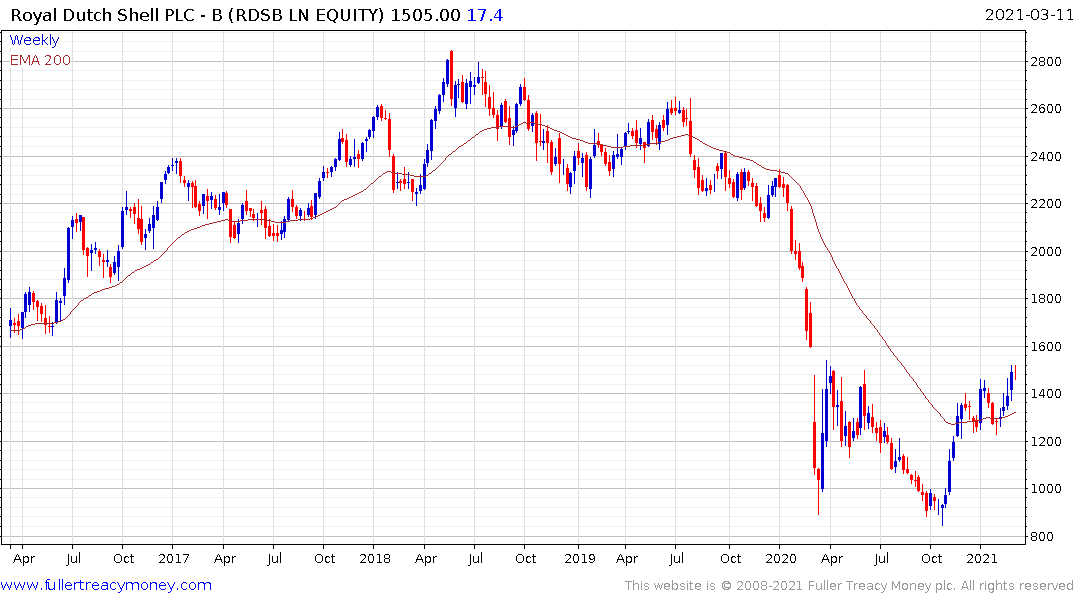 Royal Dutch Shell remains on a recovery trajectory.
This article on innovation in producing hydrogen may also be of interest.
Back to top