Shale Sends U.S. Output Past Historic 10 Million-Barrel Mark
This article by Jessica Summers for Bloomberg may be of interest to subscribers. Here is a section:
U.S. oil production surged above 10 million barrels a day for the first time in four decades, another marker of a profound shift in global crude markets.

The milestone comes weeks after the International Energy Agency said the U.S. is poised for "explosive" growth in oil output that would push it past Saudi Arabia and Russia this year. New drilling and production techniques have opened up billions of barrels of recoverable U.S. oil in shale rock formations in the past 10 years, reversing decades of declining output and turning the nation into an exporter.

The news also comes after the Organization of Petroleum Exporting Countries decided last year to extend an agreement with several non-OPEC members to curb output in response to a global supply glut fed in part by shale. That agreement was finally showing signs of working, with prices emerging from a three-year downturn. After falling near $26 a barrel in 2016, the global benchmark oil price climbed above $70 a barrel in January, and the U.S. price is following suit. Yet, increasing output from the U.S. may threaten rising price.

"You are starting to see a little bit of a shift in market sentiment on oil given the fact that production is really starting to ramp up," Joseph Bozoyan, a portfolio manager at Manulife Asset Management LLC in Boston, said by telephone.

"These U.S. production numbers are starting to take the wind out of the sails of the crude oil market."
The USA is the world's most important swing producer because its production figures are market driven rather than being forced to fund government vanity projects or social programs. The fact it is now the world's largest producer and exporting both oil and gas is further evidence of its increasing influence on the global market and also helps to explain why the USA is no longer as concerned with ensuring the status quo in the Middle East.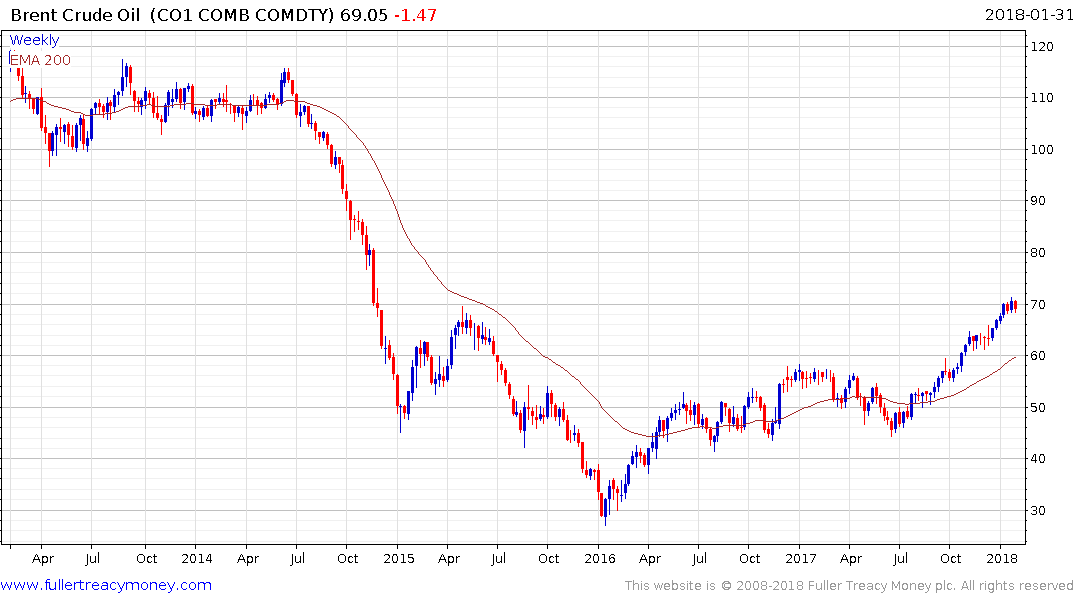 Brent Crude Oil has paused near $70 for much of the last three weeks but the reaction so far has been relatively modest. In fact, crude oil has not pulled back by more than $5 since June and continues to hold a sequence of ranges one above another. As long as it remains in a consistent uptrend we can give the benefit of the doubt to the upside. Eventually increasing supply will cause a headwind but when that happens the consistency of the trend will break down.
Back to top