SEC probes Tesla over whistleblower claims on solar panel defects
This article from Bloomberg may be of interest to subscribers. Here is a section:
Henkes, a former Toyota Motor quality division manager, was fired from Tesla in August 2020 and he sued Tesla claiming the dismissal was in retaliation for raising safety concerns. Tesla did not respond to Reuters' emailed questions, while the SEC declined to comment.

In the SEC complaint, Henkes said Tesla and SolarCity, which it acquired in 2016, did not disclose its "liability and exposure to property damage, risk of injury of users, fire etc to shareholders" prior and after the acquisition.

Tesla also failed to notify its customers that defective electrical connectors could lead to fires, according to the complaint.

Tesla told consumers that it needed to conduct maintenance on the solar panel system to avoid a failure that could shut down the system. It did not warn of fire risks, offer temporary shutdown to mitigate risk, or report the problems to regulators, Henkes said.

Tesla shares fell 5.5% at $960.25 on Monday after the Reuters report.

More than 60,000 residential customers in the U.S. and 500 government and commercial accounts were affected by the issue, according to his lawsuit filed in November last year against Tesla Energy over wrongful termination.

It is not clear how many of those remain after Tesla's remediation program.
Elon Musk's Teflon-like ability to bait officialdom, and avoid censure, has been part of his appeal for years. He has actively cultivated the persona of a bad boy as a means of personifying the "move fast and break things" culture of Silicon Valley. So far, it has worked and by attracting legions of retail investors he has a solid backing on social media to support him if the strategy goes sideways.
That's an important emotional aspect to the market. When the mob is at your back, they offer support. The personification of their zeal is held up like a messiah who can do no wrong despite mounting evidence to the contrary. It is only after a crash that investors start looking for someone to blame. It is then that the corners cut to get to where it is today, will come back and bite Tesla.
Energy generation and storage represents 6.3% of the company's revenue. It's unlikely to represent an existential threat regardless of how big the problem is. Selling self-driving technology that does not do what it says on the tin and abdicating responsibility of crashes is a bigger issue.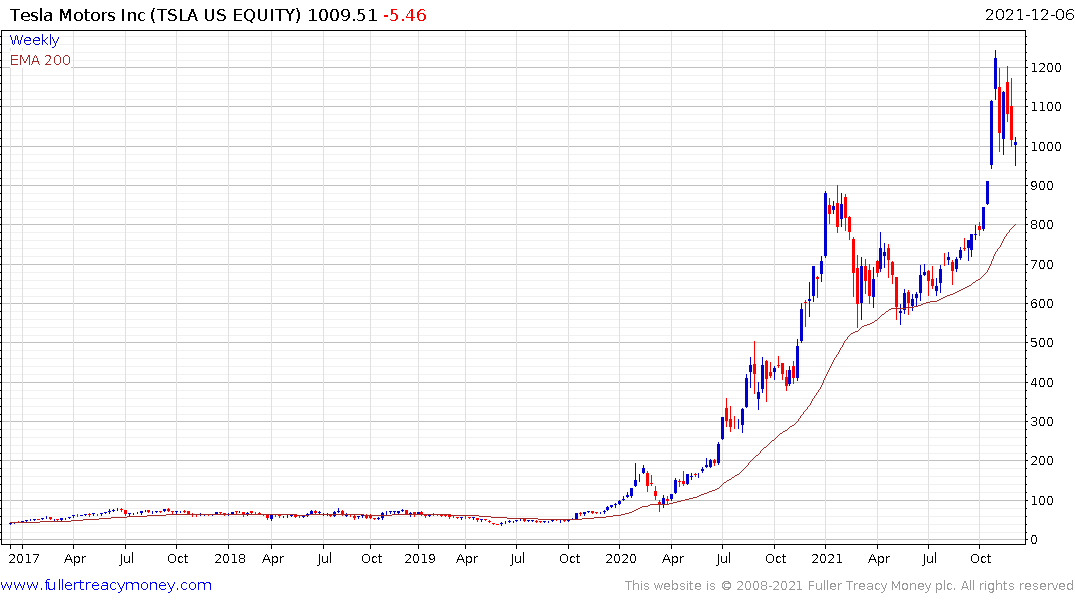 The share continues to range above the early 2021 peak and mostly above the psychological $1000 level. Provided that remains the case, the benefit of the doubt can continue to be given to the upside.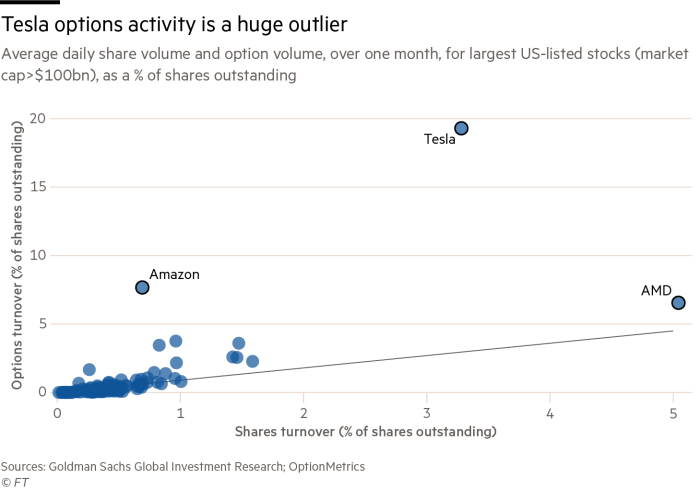 This article from the Financial Times covering Tesla's dominance of options trading may also be of interest. The share is a massive outlier in the options market which suggests when it does turn, it will have an outsized effect on investor sentiment.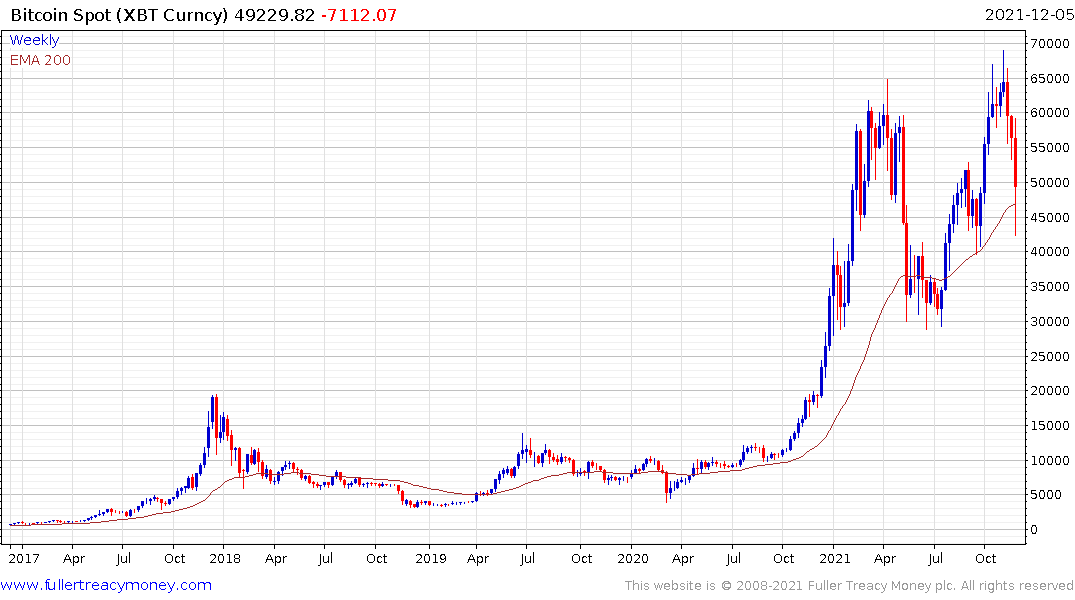 The additional wrinkle of a significant bitcoin holding is also worth considering. The flash crash on Saturday may have contributed to Tesla weakness this morning.
Back to top