Richard's Bay coal market faces changes after complaints to globalCOAL
This article by Sarah McFarlane for Reuters dated June 2nd may be of interest to subscribers. Here is a section:
One trader told Reuters that by entering bids on screen that no seller is in a position meet, a bidder could artificially push up prices.

"The way you do that is by the timing and size of those parcels," the trader said.

As the market is not particularly liquid, bids and offers help inform pricing on the API 4 index, which is calculated using data gathered by Argus and IHS McCloskey.

Traders said that the concerns over artificially high bids pushing up coal prices on the API 4 index had cut the volumes traded.

API 4 trade volumes between January and May fell by almost a third from a year earlier, data published by the CME and ICE exchanges showed.

?The index is the world's third largest behind the API 2 benchmark for northern European coal markets and globalCOAL's Newcastle benchmark index for thermal coal in the Asia-Pacific.
Coal has been a benighted sector as energy prices have declined and regulations tightened in an effort to reduce emissions. The possibility that HFT type trading practices have extended to the illiquid commodity markets is not a welcome development and suggests short-term volatility may increase.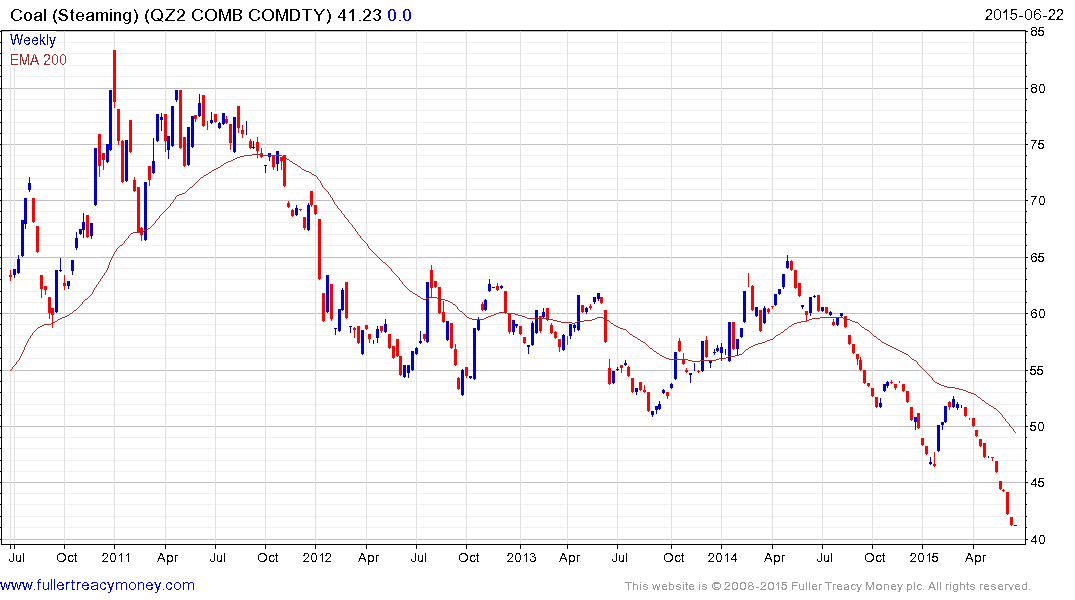 US Coal prices remain in an accelerating downtrend and a clear upward dynamic will be required to pressure shorts. The activism of the Environmental Protection Agency (EPA) and low cost of natural gas are at least partly responsible for the underperformance of US prices relative to global benchmarks.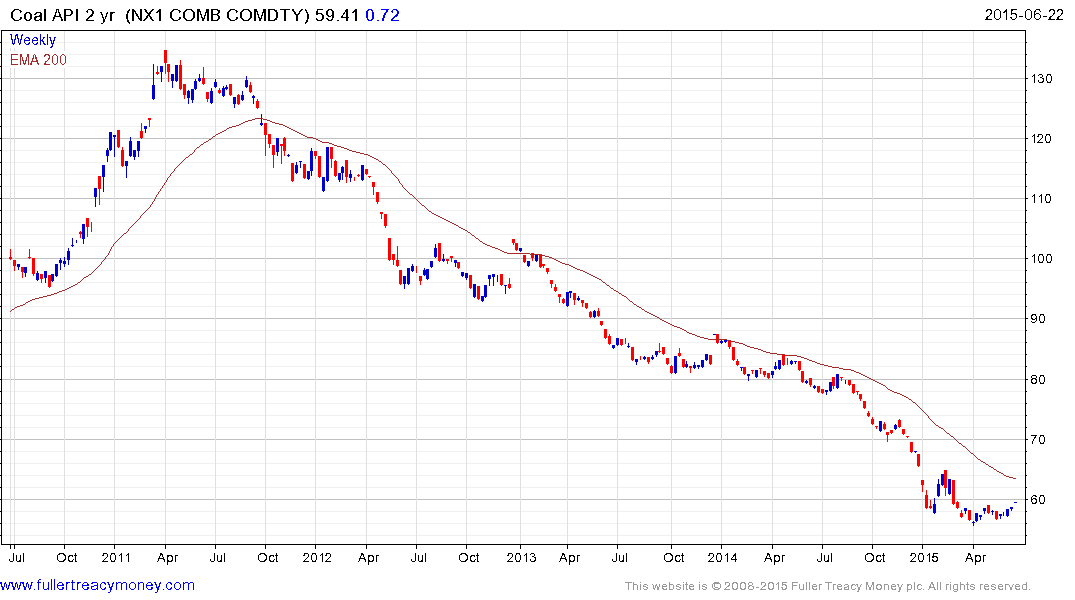 European coal prices have stabilised in the region of $60 in what has so far been a relatively gradual process of mean reversion.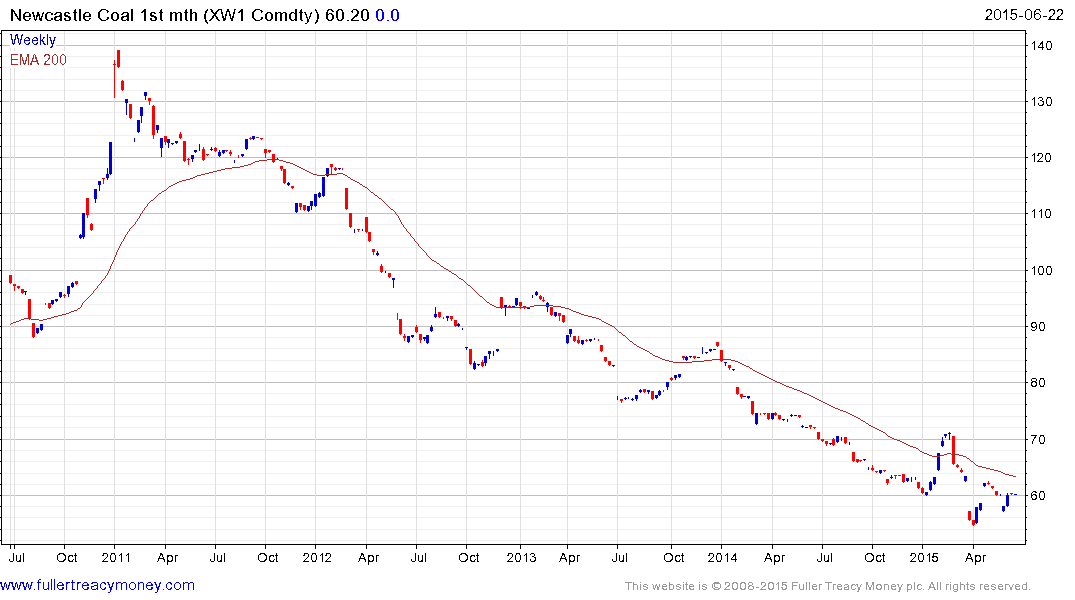 Australian prices have also been engaged in a process of mean reversion.

Against this background there are similar differences between the performance of US coal and international coal companies.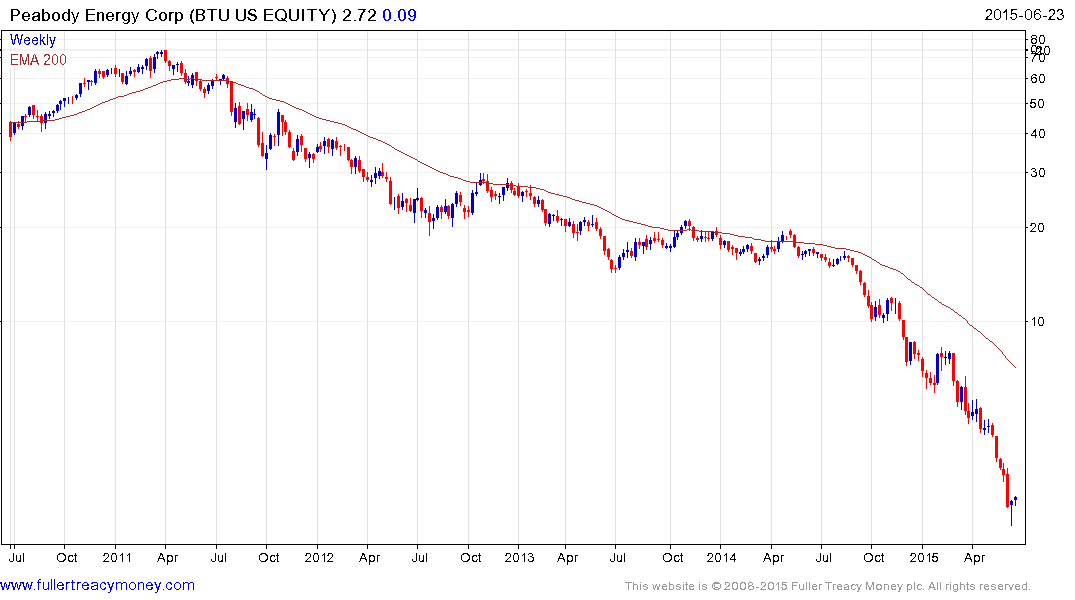 For example Peabody Energy has accelerated lower. It has steadied above $2 over the last two days and there is potential for an additional unwinding of the short-term oversold condition.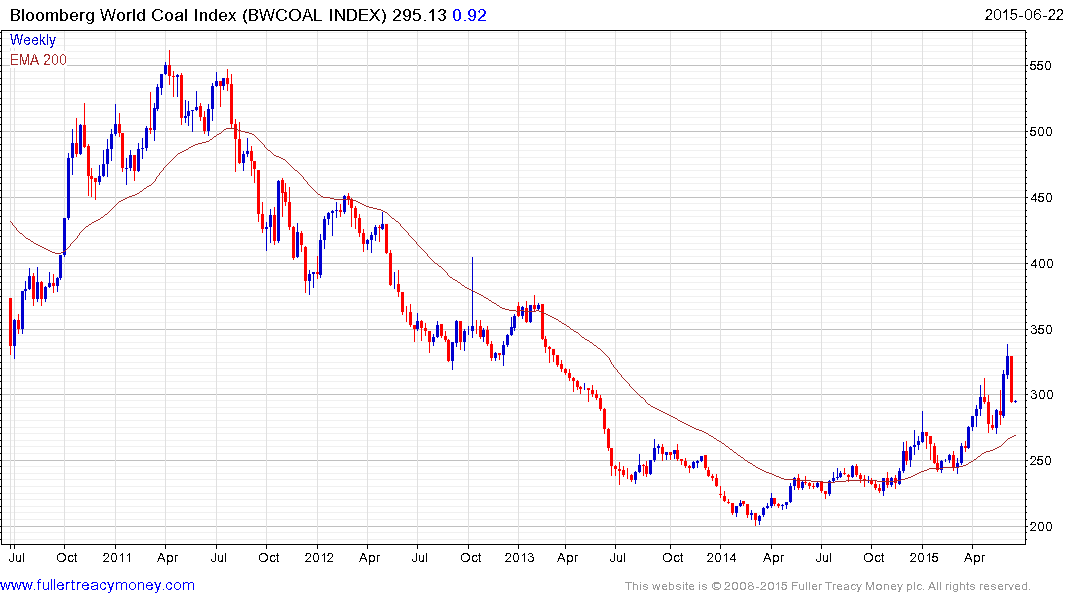 Meanwhile the Bloomberg World Coal Index has held a progression of higher reaction lows for more than a year and found support above the 200-day MA this week. The Index is heavily weighted by Chinese companies while Coal of India is the 2nd largest individual holding.
Back to top