Renault plans foray into energy market with mega battery
This article by Christoph Steitz and Edward Taylor for Reuters may be of interest to subscribers. Here is a section:
Large batteries can help stabilize the primary reserve electricity market, which is responsible for ensuring the grid has at least 50 Hertz. Carmakers can also earn money competing with conventional power stations to guarantee the provision of electricity during periods of high demand or volatility.

"We forecast the combined market for electric passenger vehicles, electric buses and battery storage to increase eight-fold to over $200 billion by 2020, a five-year compound annual growth rate of more than 50 percent," Berenberg analysts said.

With about 4 million electric cars expected to be on the roads by 2020, vehicle manufacturers looking at ways to recycle batteries, including Tesla, which already sells everything from solar panels to batteries and electric cars.

Daimler, BMW, Volkswagen and China's BYD Co Ltd are also exploring so-called second-life storage projects with batteries.

That includes partnerships such as the recent collaboration between BMW and Vattenfall, in which the luxury automaker will deliver up to 1,000 lithium-ion batteries to the Swedish utility for storage projects this year.

"What will end up happening is that BMW and Daimler will ... become utilities themselves," said Gerard Reid, founder of Alexa Capital LLP, a corporate advisor in the energy, power infrastructure and technology sectors.

"They use Vattenfall now because they need to learn but I think the amount of batteries coming back will be so big that I think they'll end up engaging directly with the end customer themselves. And they've got the brand name to do that."
The diesel scandal took a heavy toll on the growth ambitions of a number of auto manufacturers. They are now scrambling to come up with a way of ensuring their next clean energy gambit is successful. Since the batteries going into electric vehicles are a lot like bigger versions of those in phones we know that they lose capacity after a few hundred recharging cycles. That means finding new uses for old batteries could be a major field of endeavour if the price is to be kept under control.

This article from Atlas suggests power plants are not going to be the only destination for retired vehicles batteries with at least some likely to find their way into our homes.

However the challenge for this kind of thinking is that with the realisation batteries represent the linchpin for innovation in the energy sector the number of new ideas popping up is accelerating. For example this article from futurism covering the flow battery designed by researchers at Purdue offers some compelling arguments for how avoiding membrane fouling could do away with issues relating to the recharging cycle. Here is a section:

This flow battery system is unique because, unlike other versions of the flow battery, this one lacks the membranes which are both costly and vulnerable to fouling. "Membrane fouling can limit the number of recharge cycles and is a known contributor to many battery fires," Cushman said in a press release. "If battery's components are safe enough to be stored in a family home, are stable enough to meet major production and distribution requirements, and are cost effective."

Transitioning existing infrastructure to accommodate cars using these batteries would be far simpler than designing and building a host of new charging stations — which is Tesla's current strategy. Existing pumps could even be used for these battery chemicals, which are very safe.

"Electric and hybrid vehicle sales are growing worldwide and the popularity of companies like Tesla is incredible, but there continues to be strong challenges for industry and consumers of electric or hybrid cars," Cushman said in the press release. "The biggest challenge for industry is to extend the life of a battery's charge and the infrastructure needed to actually charge the vehicle."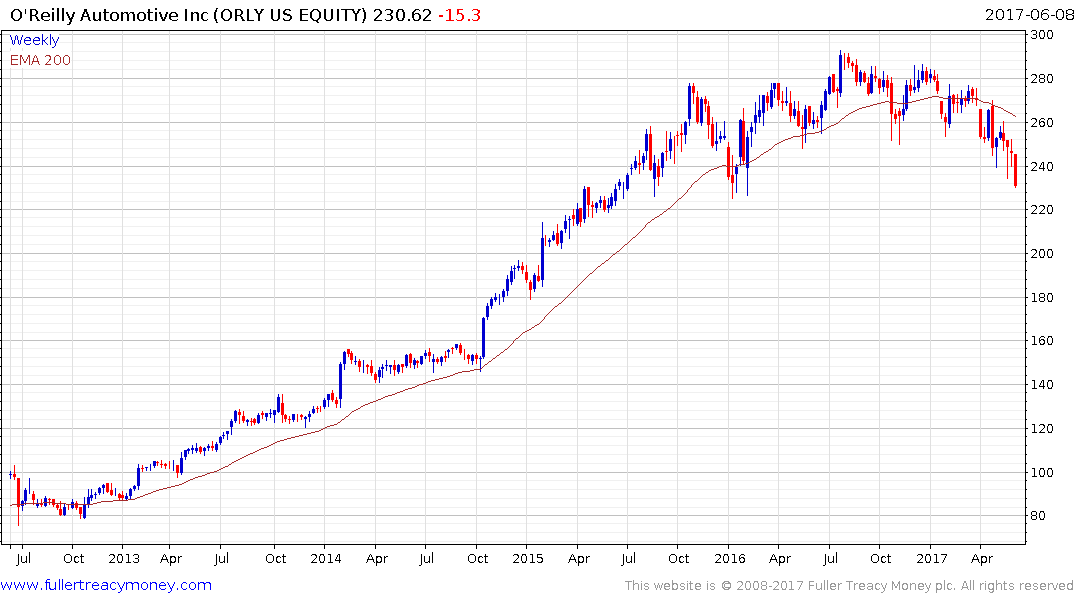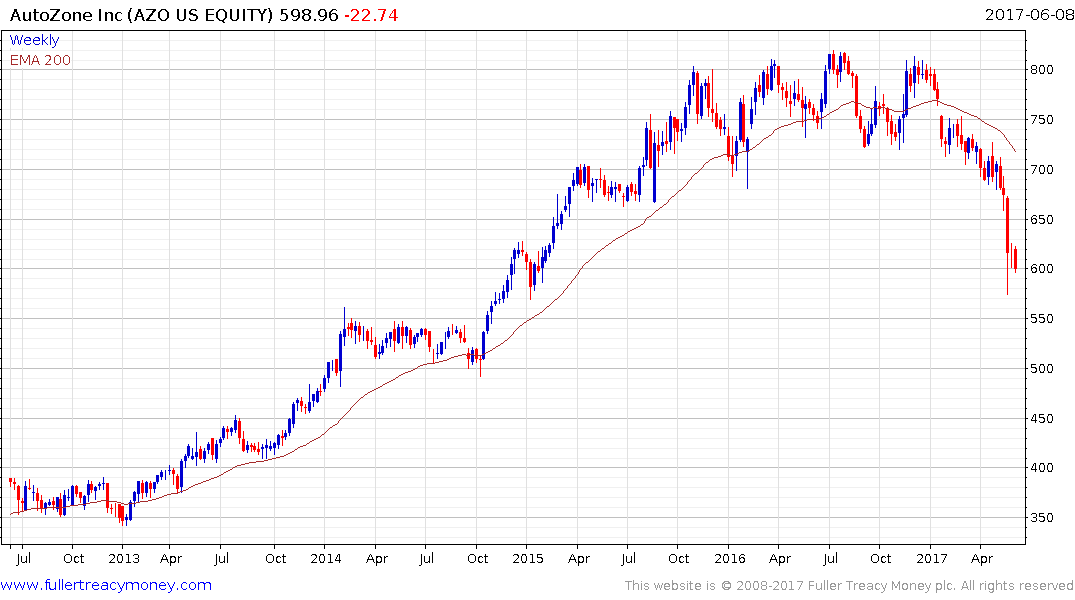 Commercialisation of these kinds of ideas takes time but the outcome of the pace of innovation adds additional weight to the argument that electric vehicles represent the future. That's bad news for companies that focus on auto parts like O'Reilly Automotive and Autozone which both exhibit completed Type-3 top formations.
Back to top