A number of subscribers have written in asking about the uranium market over the last month, not least because of increasing interest in the resources sector generally. The outlook for the sector has improved somewhat of late with Japan drawing closer to restarting some of its reactors. (Also see David's post yesterday).

In the Chart Library many subscribers have uranium in their Favourites. The most common ticker is the Metal Buttletin price (MBURNXRE) but they no longer supply Bloomberg with this data. Therefore we would suggest replacing it with the uranium future which has the code UXA3.

I thought it may be instructive to take a look at some of more the notable shares.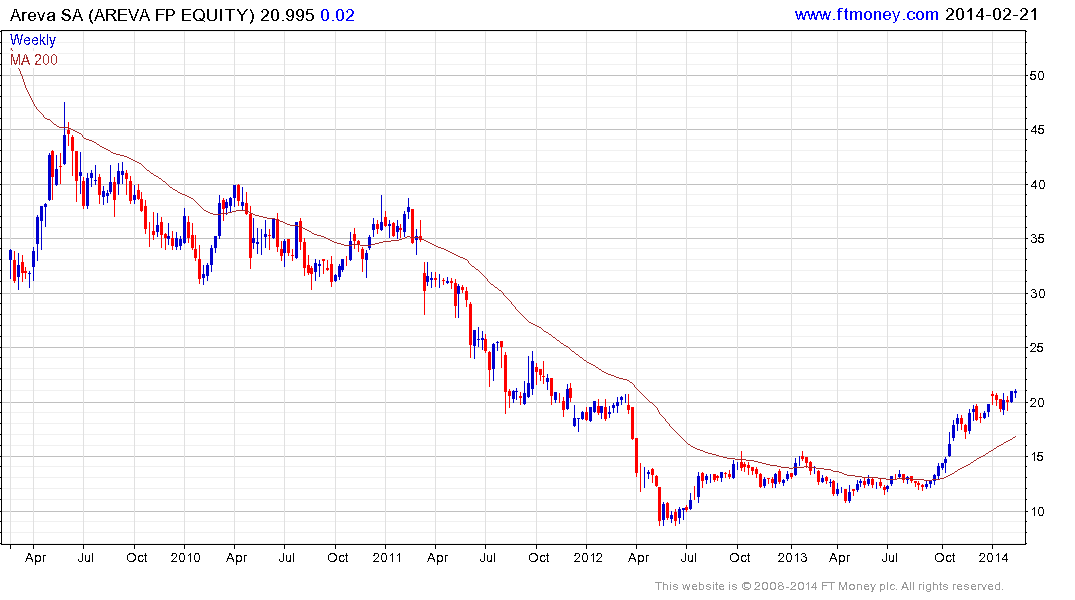 Areva (Est P/E 30) went through a painful period of rationalisation over the last three years where it discontinued its dividend, split the stock, held a 1 for 12 rights issue and embarked on a comprehensive divestiture of non-core assets. The share bottomed in 2012 and broke out of a 12-month base in October. A sustained move below the 200-day MA would be required to question medium-term recovery potential.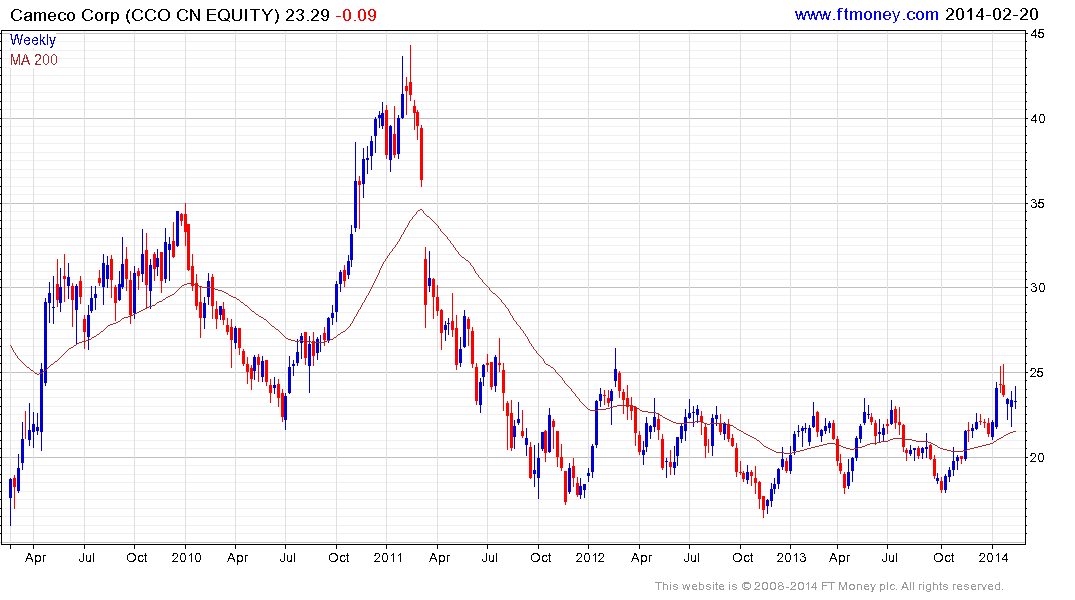 Cameco (Est P/E 26, DY1.46%) rallied to test the psychological C$25 area by late January and pulled back to find support in the region of the 200-day MA from last week. A sustained move below the C$22 area would be required to question medium-term potential for additional upside.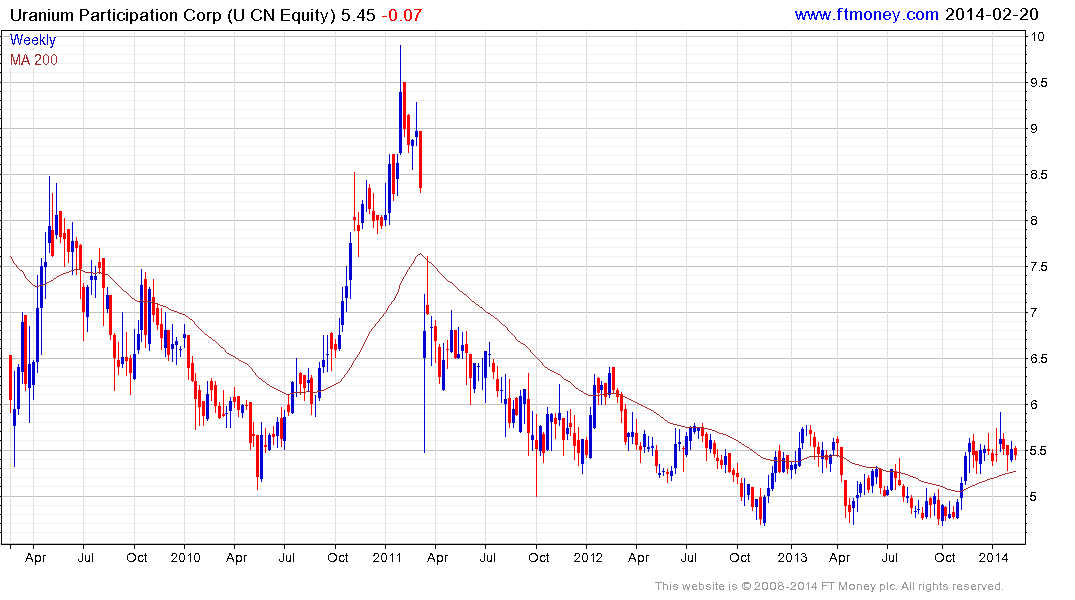 Uranium Participation Corp has been ranging above the 200-day MA for the first time since 2011 over the last two months and a sustained move below C$5 would be required to question medium-term recovery potential. Denison Mines is also ranging below the upper side of its base.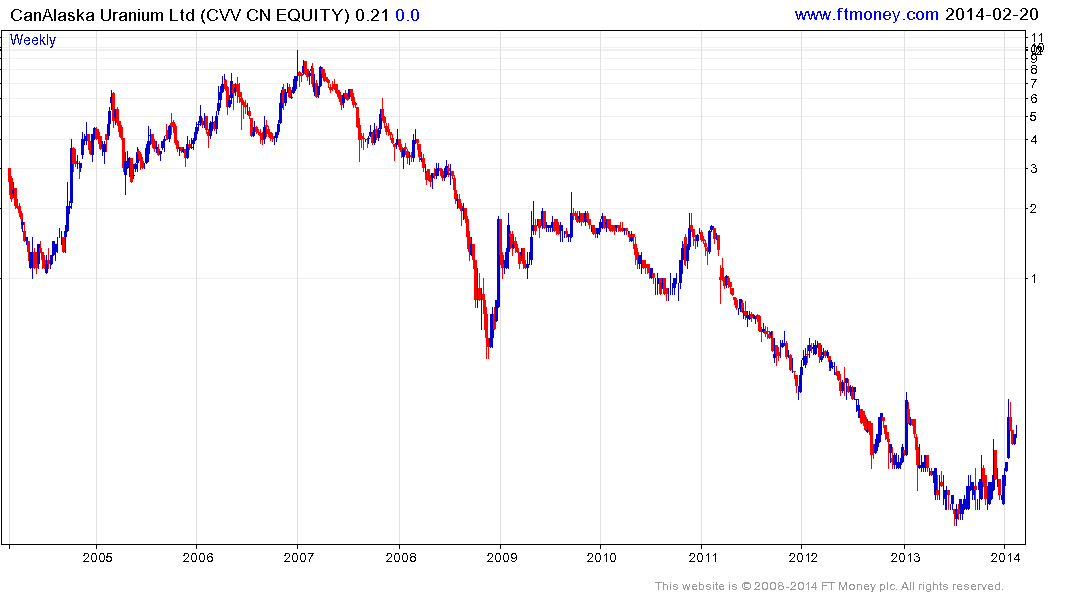 There are also a considerable number of companies that have seen their market caps reduced to such an extent that they are now trading at small fractions of what looked in 2011 to be low prices. For example CanAlaska Uranium hit a 2007 peak near C$9, traded mostly above $1 until 2011 and hit a low near 8¢ in July. The share has probably bottomed but the market cap is now only C$2.9 million. These types of shares are so illiquid that one would be hoping for a takeover attempt so that they would eventually be converted at a premium into the shares of stronger competitors.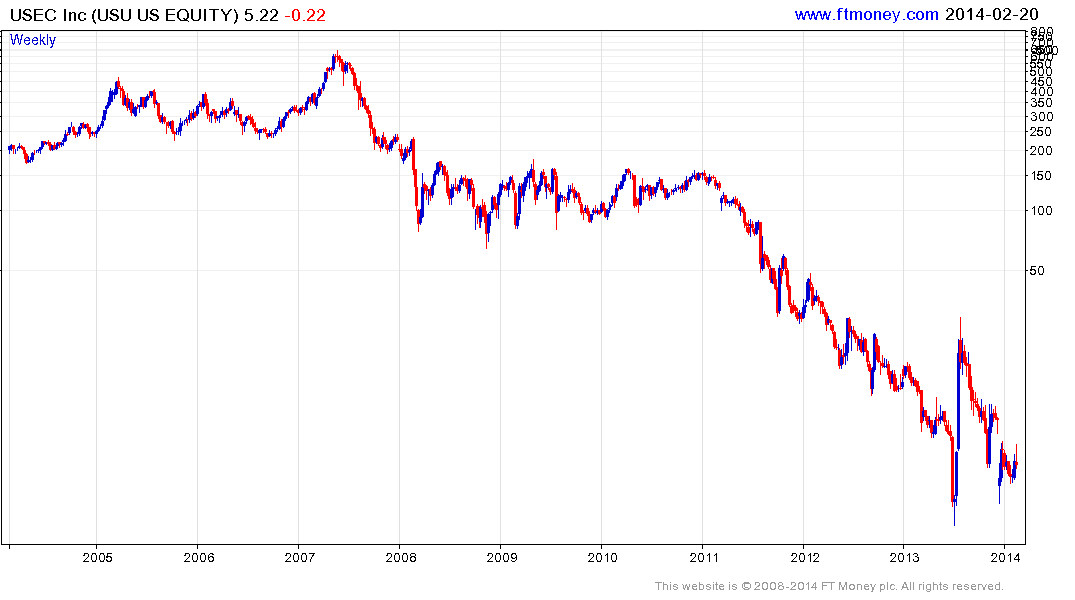 United States Enrichment Corporation (USEC) agreed with its creditors to file for bankruptcy in the first quarter of this year. The company had planned to build a nuclear reactor until loan guarantees were withdrawn by the Department of Energy which left it with a hole in its balance sheet. It was also the main beneficiary of the US/Russia Megatons to Megawatts program but that has now ended. Nevertheless, the company does have uranium refinery assets which were used to supply utilities so there is some value in the company. It will probably be worth watching for how it comes through its bankruptcy process.
Back to top