Monthly Oil Short Term Bearish
Thanks to a subscriber for this interesting heavyweight 197-page report from DNB which may be of interest to subscribers. Here is a section:
The global supply-demand balance is weakening in coming months. It will not help neither Brent-prices nor WTI prices that the spring refinery maintenance season is just in front of us. Watch the Dubai time spread which has violently moved into contango recently. This could be an early bearish warning signal for Brent prices just like we have seen before.
The full report is posted in the Subscriber's Area.

Traditional sage haven assets such as Treasuries and the Yen have rallied this week as investors sought sanctuary from increased volatility in emerging market currencies in particularly as well as from stock markets. Both gold and oil tend to offer similar safe haven characteristics in times of market stress. On this occasion West Texas Intermediate has benefitted more than Brent Crude.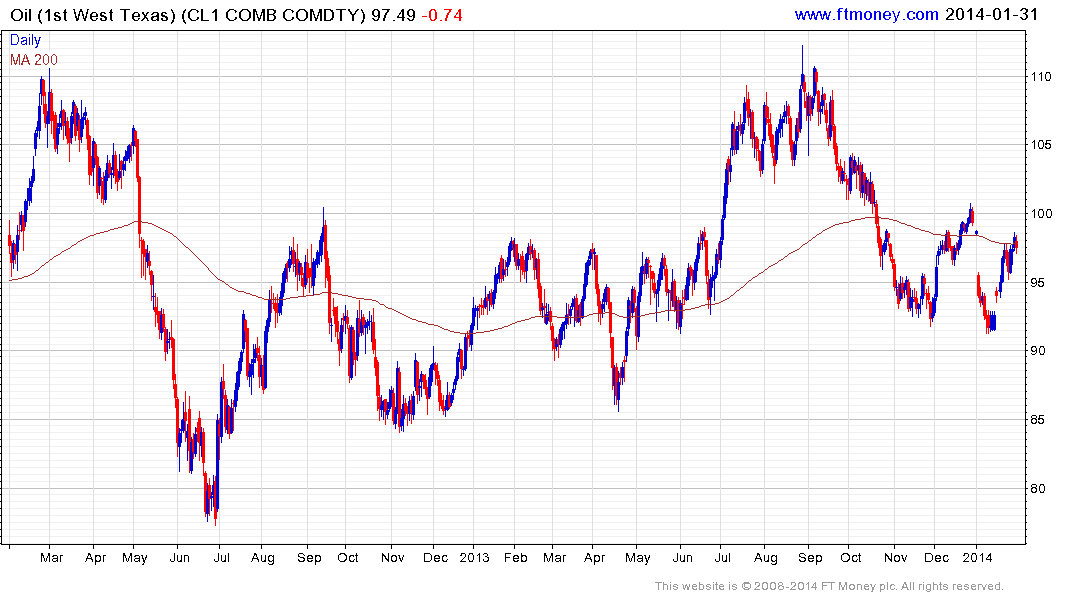 Brent crude has been ranging, mostly above $100 since 2011, and firmed near the lower side this week. West Texas Intermediate has also been rangebound by a progression of higher reaction lows is evident over the last 18-month and it rallied impressively this week to sustain the sequence. A sustained move below $90 would be required to suggest more than temporary supply dominance.
Back to top