Russia's Gazprom continues cutting natural gas supplies to Europe just as customers try to build up inventories for winter
This article from Business Insider may be of interest to subscribers.
Gazprom said Thursday it was further cutting gas flows to Europe citing more technical issues with its Nord Stream pipeline, Reuters first reported.

Russia's state-run supplier's latest reduction, the second in just two days, edges the Nord Stream's pipeline's capacity down by 40%. The move comes as European countries try to bulk up gas storage in anticipation of winter. European stores are currently 56% full, Reuters said.

Gazprom said issues with a gas compressor lead to the initial reduction. The company said that a delay in equipment sent to Canada for repairs is to blame for Thursday's reduction in flows, a claim that Germany disputes as a reason to push gas prices higher.

European natural gas prices climbed as much as 30% Thursday morning on the news. Norway, Europe's second-largest supplier behind Russia, has increased exports to make up for a curb in Russian gas in light of the Kremlin's invasion of Ukraine. The EU pledged to be 90% rid of Russian supply by the end of 2022, and fully exit from Moscow-sourced fossil fuels by 2027.

The EU has also turned to liquefied natural gas to make up for supply shortcomings in light of its sanctions against Russia, although a fire in Texas last week at a key export hub lowered supply expectations.
Russia's energy/economic military strategy will be most effective if it can prevent Europe from rebuilding inventories over the summer. The rationale is European politicians will be much more amenable to make concessions if their populations are cold and miserable this winter.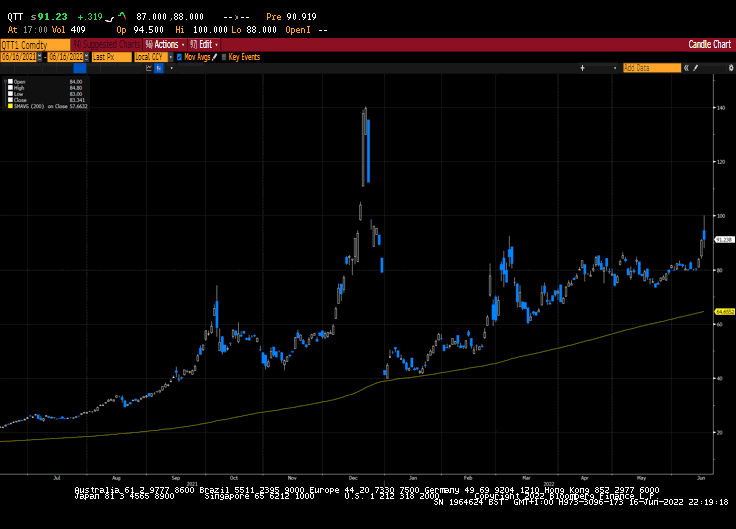 Netherlands and UK natural gas reversed earlier advances as investors price in the potential for economic contractions to reduce demand.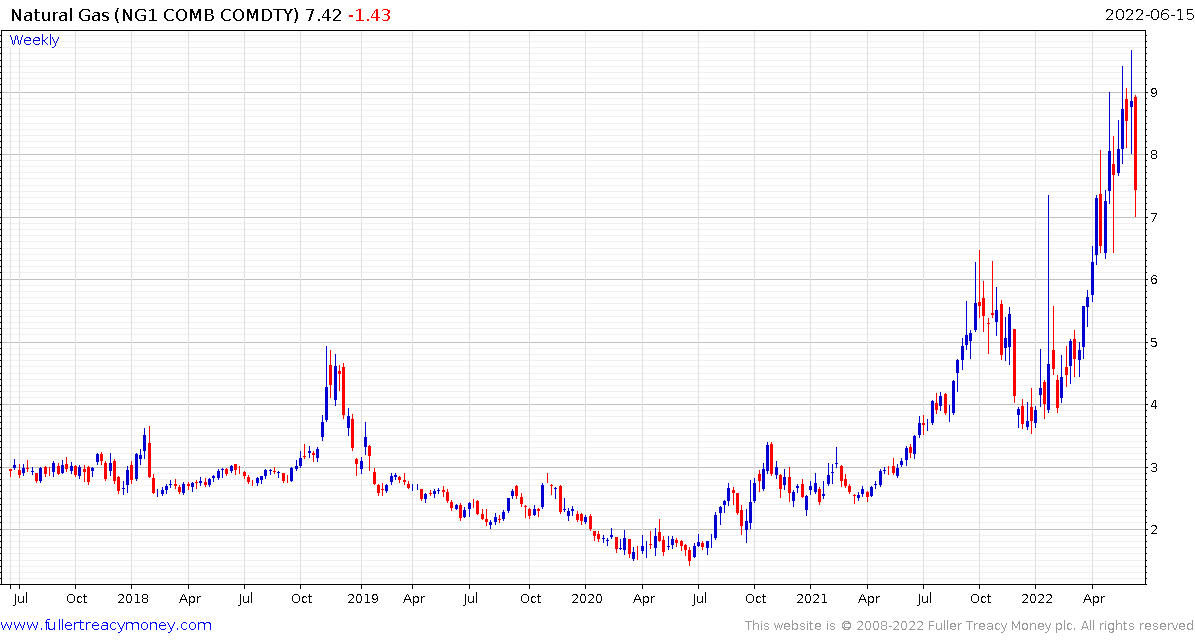 US Natural gas storage was lower than expected today which supported prices but supply is less of an issue going forward considering the time required to repair export facilities.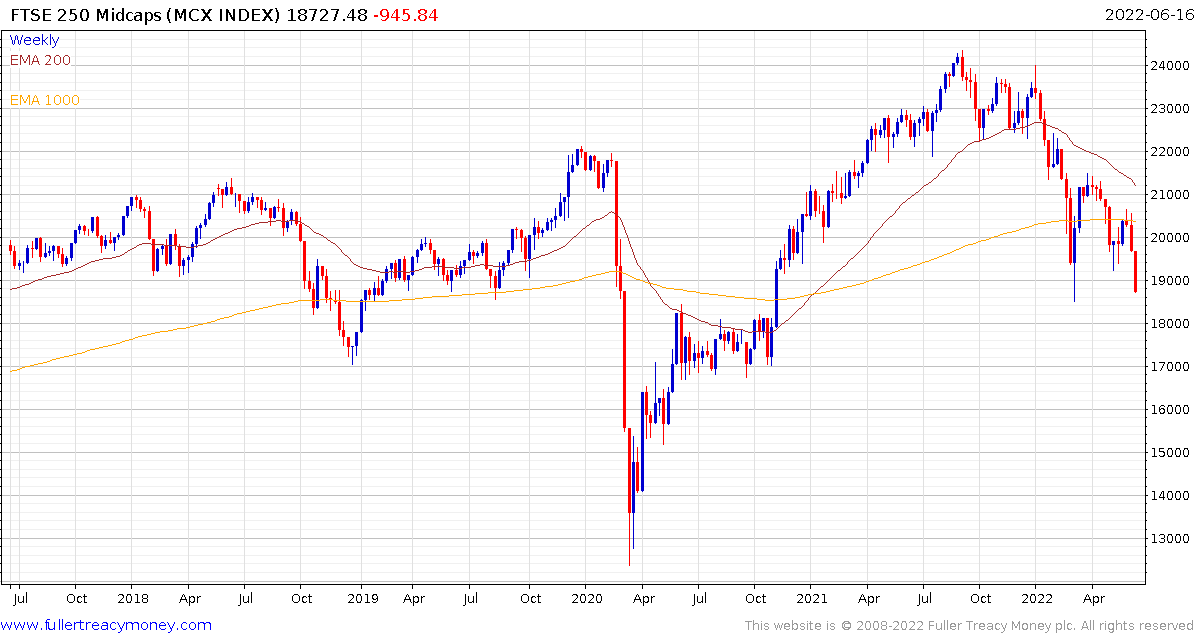 The FTSE-250 pulled back in a dynamic manner this week to test the March lows. A clear break in the sequence of lower rally highs will be required to question the consistency of the downtrend.
0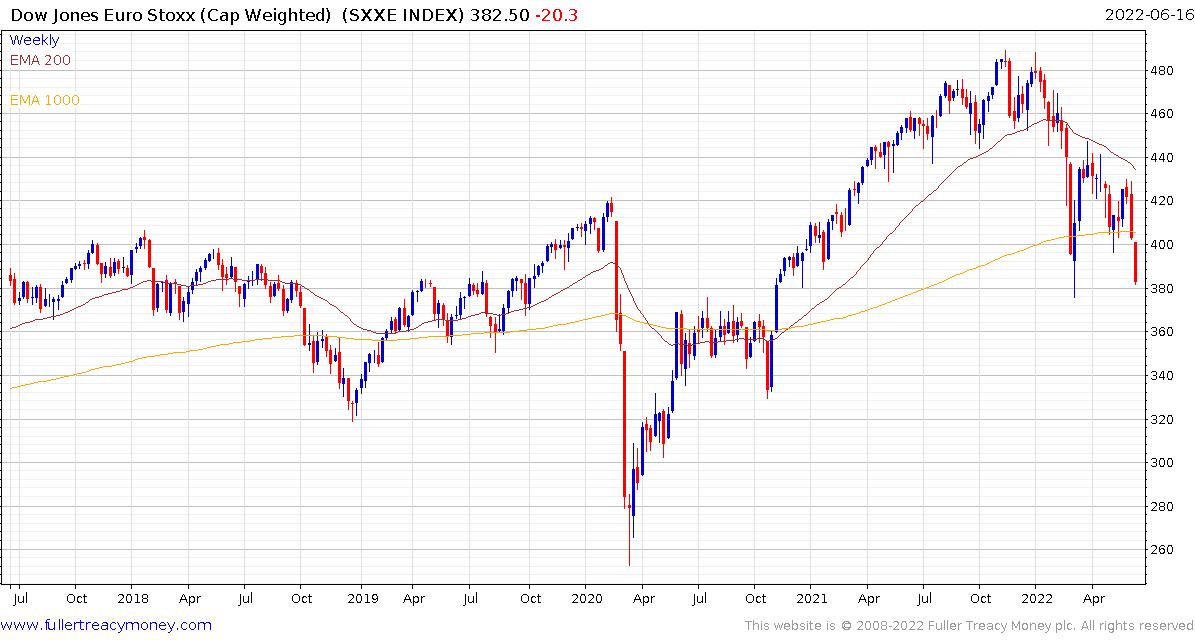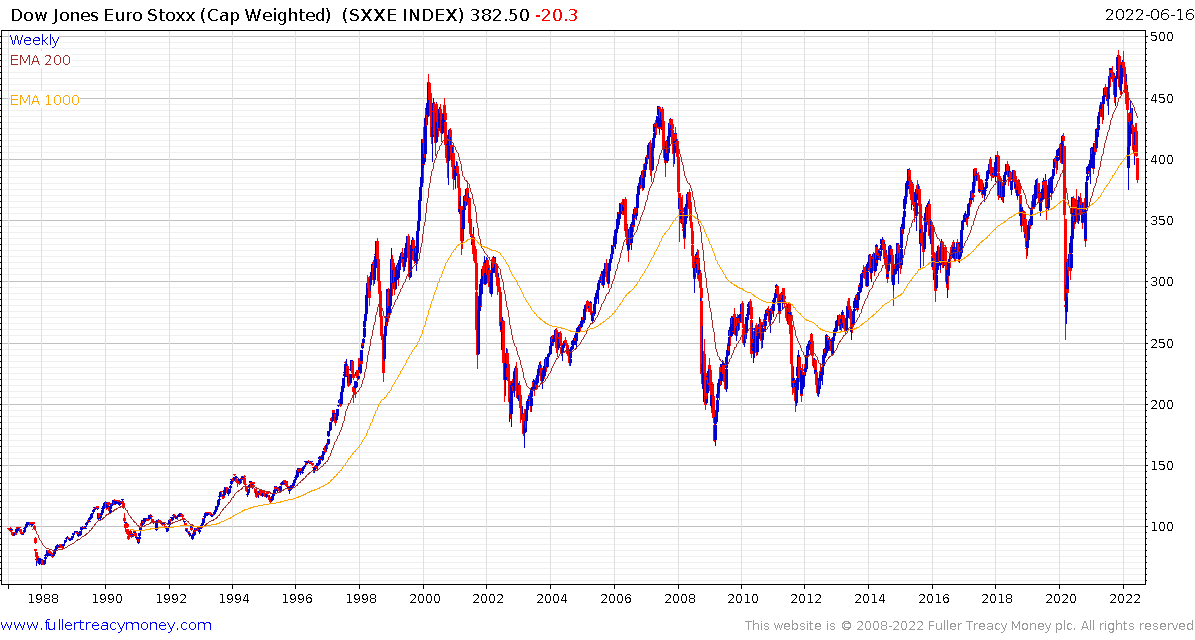 The Euro STOXX Index pulled back from the region of the 200-day MA last week and is now also testing its March low. On the long-term chart, this is looking like a substantial failed upside break and greatly impinges the potential for Eurozone equity market to emerge from its secular bear.
Back to top