Wind Turbine Behemoth Plans for Future by Getting Into Hydrogen
This article by William Mathis and Laura Millan Lombrana for Bloomberg may be of interest to subscribers. Here is a section:
It could be a compelling model. Danish utility Orsted A/S is already exploring a number of hydrogen projects for its wind farms and Royal Dutch Shell Plc plans to produce the gas from a park it's going to build off the Dutch coast. Making and selling hydrogen could provide a new source of revenue for wind projects that would offset the risk in the sometimes volatile electricity market.

No one before has used wind power alone, without a grid connection, to produce hydrogen, Nauen said. It's a project that will provide insight that could be crucial to scaling up the technology to much larger turbines and wind farms both on land and at sea.

Earlier this year, Siemens Gamesa announced plans to build a 14-megawatt offshore turbine with a rotor diameter of 222 meters (728 feet), a few meters larger than the previous record.

The company expects to conduct testing at the hydrogen pilot from October to December and then start hydrogen production in January. A Danish hydrogen fuel company called Everfuel will distribute the gas for vehicles including taxis and buses to use in Copenhagen.

European governments aim to spend billions of dollars to help nurture domestic industries to produce hydrogen. The funding could help scale production and bring down costs.
Europe and Japan's legacy automotive sector has been developing hydrogen fuel cells for decades with little to show for the investment. There was never a catalyst to spur the change from reliable internal combustion engines. The clean diesel scandal and competition from battery-driven alternatives has forced these companies to do something; anything. They don't have experience with battery innovation but they have been developing hydrogen for a long time.
It is particularly telling that Toyota wanted to ditch producing the hybrid electric Prius in favour of the fuel cell powered Mirai. Consumers protested they wanted to continue buying Prius' but the company wants to produce fuel-cell vehicles. There is nothing visually attractive about a Mirai but refueling is similar to a petrol car, range is also similar and there are no emissions.
There are long-term questions about the ability of the electricity grid to cater to battery demand while there are near-term issues about the supply of hydrogen. Both require significant investment in infrastructure. That is likely to occur at the expensive of existing energy infrastructure.
Fuel cells have advantages for long haul road, sea and air applications. They also have a lot in common with the existing energy infrastructure and natural gas feedstock is abundant and cheap. Meanwhile innovations in solar cell efficiency and the ability of a battery (million-mile batteries) to hold a charge mean there is going to be a war for market share.
In simple terms, the evolution of the battery energy cycle is heavily dependent on technological innovation. Liquid hydrogen is another future forward solution but it is not necessary to spur fuel cells. That is more a story of producing the gas at economic levels. Europe in particular is championing this transition for national security reasons and also for green motives.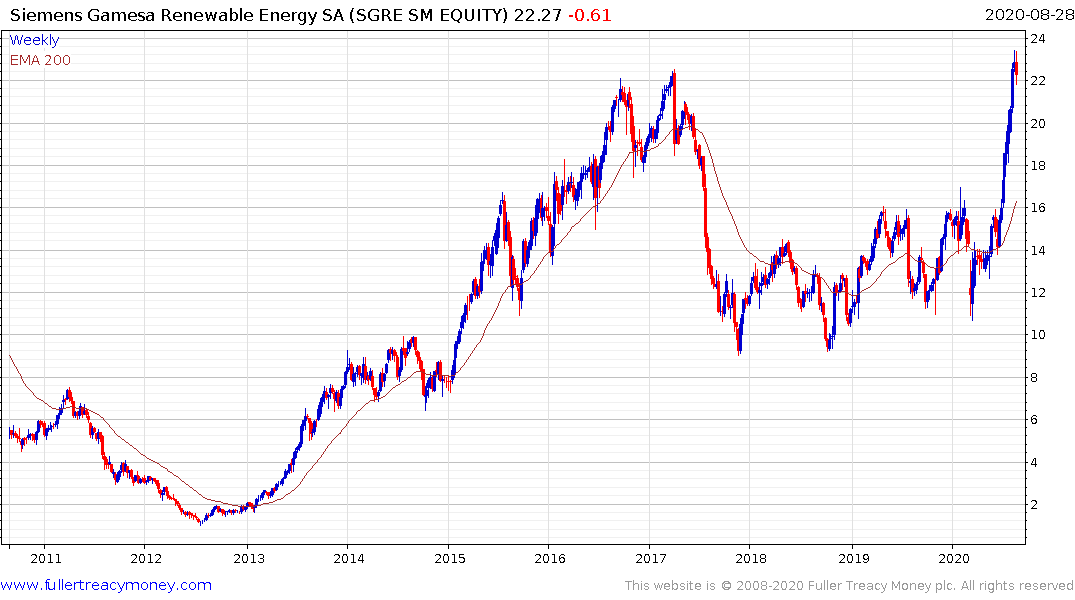 Siemens Gamesa Renewable Energy hit a new 12-year highs this week. It is somewhat overbought in the short term so some consolidation is looking likely.
Back to top