The Coming Scramble for Middle Distillates
Thanks to a subscriber for this report from Morgan Stanley which may be of interest. Here is a section:
Here is a link to the full report and here is a section from it:
Middle distillates is a group that consists of broadly three products: jet fuel/kerosene, gasoil/diesel and heating oil. Collectively, they power trucks, planes, trains, cranes, bulldozers, ships, heavy machinery, etc. They are the fuel of Emerging Market industrial growth and international trade.
With a healthy economic backdrop, and trade growing at a robust pace, middle distillate demand has already been growing strongly. Trend growth since 2012 has been ~575 kb/d per year, and this has accelerated recently, running at +800 kb/d year over year in recent quarters.
Global refiners are already struggling to keep up with this demand. At the end of February, visible inventories – i.e. those in OECD countries, reported via the IEA, and 40 non-OECD countries, reported via JODI – stood at 22.4 days of demand, down 11% y/y and 5% below the five-year average.
More timely weekly data is available for the US, the Antwerp-Rotterdam-Amsterdam (ARA) region, Japan and Singapore only. However, their data suggest that the trend has continued: middle distillate inventories have fallen another 17% since the end of February, in aggregate. In all four regions, stocks are well below their five-year averages, and collectively, they are already close to the bottom end of the historical range. For comparison, gasoline stocks globally are still well above historical norms.
Morgan Stanley's economics team sees steady economic growth and expansion of international trade continuing. Against that backdrop, we start our analysis with the assumption that underlying middle distillate demand will also continue to grow at the trend rate of ~575 kb/d per year.
The futures curves for crude oil, gasoline, gasoil and heating oil are all in backwardation which confirms there is a supply shortage. OPEC and Russia's curtailment of supply coupled with the re-imposition of sanctions on Iran and Venezuela's implosion at certainly part of the story. The surge in supply from unconventional supplies is also pulling pressure on refineries because of the differing grades from what they are set up to receive. The added pressure of tighter environmental regulations on shipping companies is the primary reason this report highlights for continued growth in demand.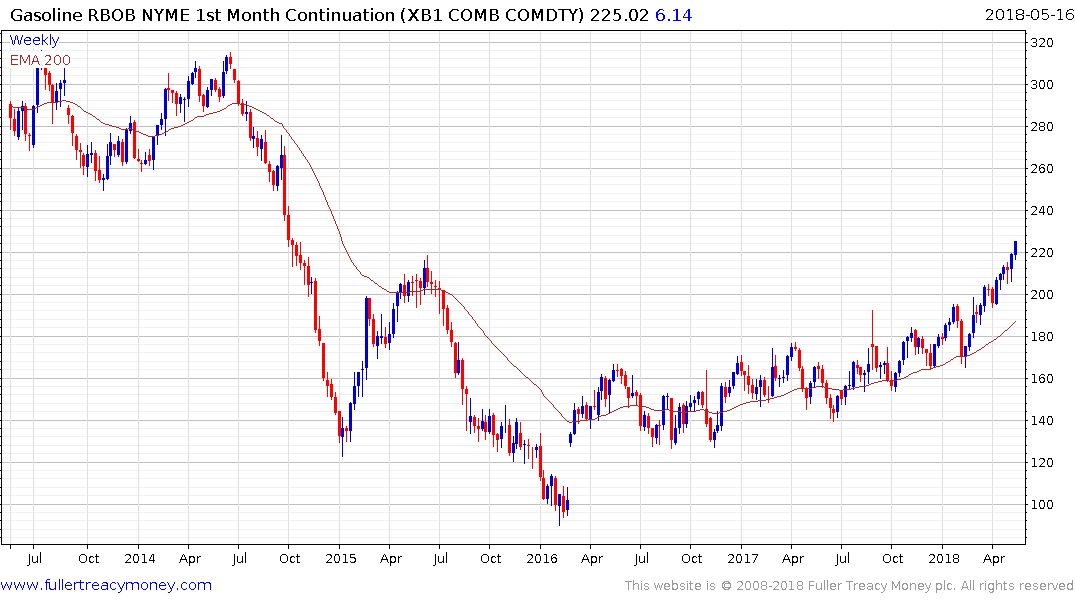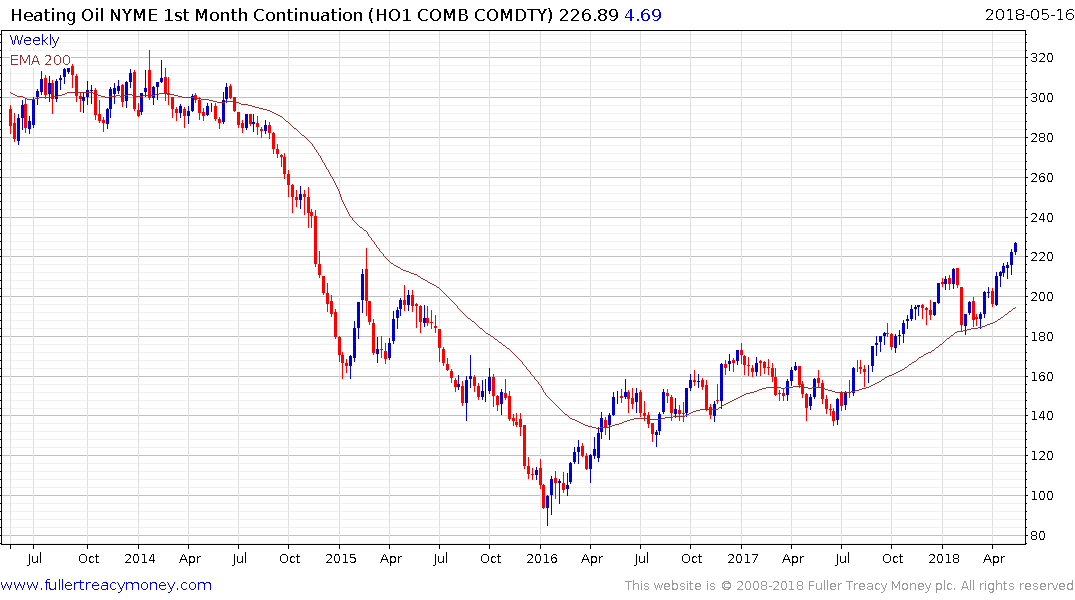 Heating oil, Gasoil and gasoline all share a high degree of commonality with crude oil. A reaction of more than $5 would be required to question crude oil's short-term uptrend.
Back to top