Chinese EV market nearing 2% penetration
This article from mining.com may be of interest to subscribers. Here is a section:
In 2016 Chinese electrical vehicle makers represented 43% of the global EV market, or 873,000 units, overtaking the United States for the first time, according to a July report by McKinsey & Company. The report notes that not only did China up its share of the EV market by 3% compared to 2015, it also made gains on the supply side of EVs including components such as lithium-ion batteries and electric motors. "One important factor is that the Chinese government provides subsidies to the sector in an effort to reduce fuel imports, improve air quality, and foster local champions," McKinsey explained.

The Chinese government has announced that "new energy vehicles" (NEVs, which includes hybrids) should account for 8% of the passenger vehicle market by 2018, 10% by 2019 and 12% by 2020, according to EV Volumes.com.
Anyone who has spent any time in Beijing over the winter knows how badly the entire north east of the country needs to combat air pollution. On my first strip in 2005 I developed a cough as if I have been smoking my entire life that only let up once I got back on the plane home. If anything, the air is worse today than it was then.
More than any other country China's regime has the wherewithal to achieve wonders in terms of infrastructure development if it so wishes. If the Party Congress decides in two weeks to pursue electrification of the transportation system that is what will happen.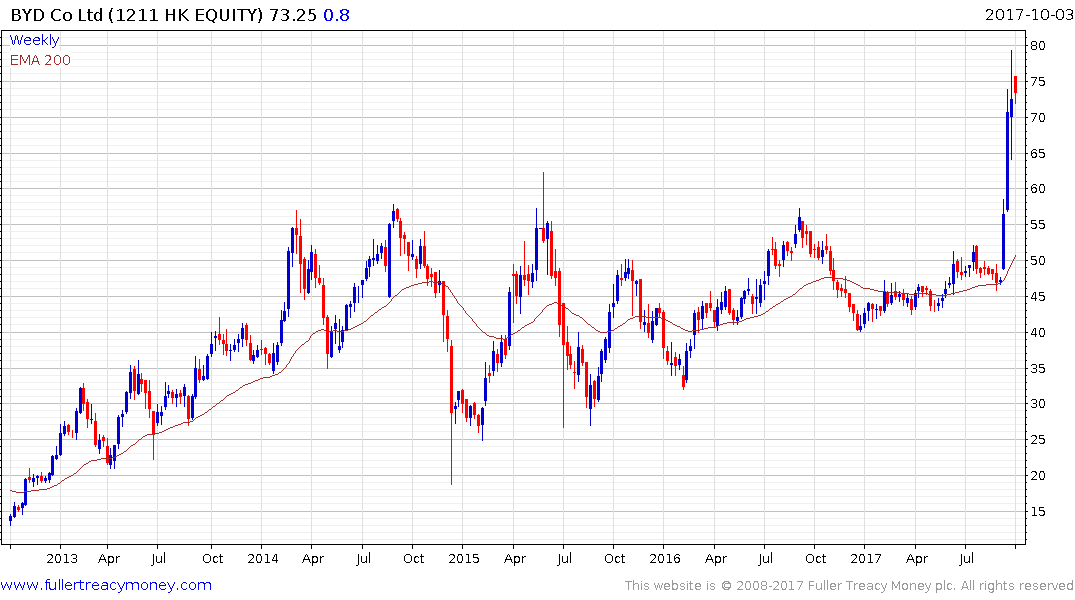 That puts a company like BYD in a favourable position to benefit. The share broke out of a three-year range last month and a sustained move below the trend mean would be required to question medium-term scope for additional upside.
Back to top